W a r t s i l a Diesel Introduces A N e w Compact V 8 Engine
— L i t e r a t u r e Available The new compact high-performance Wartsila Vasa 8V22 is the latest development of Wartsila Diesel's Vasa 22HF engine series. This small, low-weight engine has an output of 1,160-1,400 kw (1,576-1,904 bhp) at 900-1,200 rpm. Although only recently introduced, the engine has already generated great interest, and the first Vasa 8V22 has already been sold for propulsion on a Dutch fishing vessel.
The low weight and small size of the Vasa 8V22 are the result of a design concept aiming at a powerful, compact V engine using high-quality materials in the main components.
The cylinders are arranged at a 60-degree angle. The engine is fully balanced and suitable for resilient mounting. The nodular cast iron engine block is cast in one piece and combines thoroughly dimensioned channels and reinforcements to provide rigidity. The result is a frame that maintains its shape and provides a good basis for the efficient functioning of reciprocating and rotating parts.
The crankshaft, with hardened pins and journals, is forged in one piece. The shaft is highly rigid because it is short. These features result in longer service life and greater reliability for both bearings and crankshaft. Monoblock nodular cast iron pistons with hardened ring grooves and the Wartsila-patented pressure-lubricated skirt ensure safe operation.
A pulse charging system with a high-efficient turbocharger provides good load-taking capacity and high performance at all loads. The UIC test shows a low exhaust gas temperature level, 475° C after the cylinder, at an engine output of 1,650 kw and all deviations within + /— 15° C. Moreover, the emission values of the exhaust gases are low.
A new type of generating set has also been developed by Wartsila Diesel to match the compact engine design. This arrangement includes a flange-mounted alternator bolted to the engine front and to the welded oil sump. Mounting the alternator is easy because of a special coupling design that absorbs small shaft alignment divisions.
Wartsila Diesel, manufacturer of the Wartsila Vasa type engines, is a leading maker of medium-speed diesel engines. Wartsila Diesel comprises the Vasa and Turku diesel factories in Finland, the Trollhattan factory in Sweden, the La Ciotat factory in France, as well as a factory in Singapore.
With more than 4,500 diesel engines delivered to 45 countries, Wartsila Diesel has a great deal of experience in both marine and landbased installations of various types.
Detailed literature is available fully describing the new Wartsila Vasa 8V22 diesel engine and the new generating set. For free copies, C i r c l e 5 3 on Reader Service Card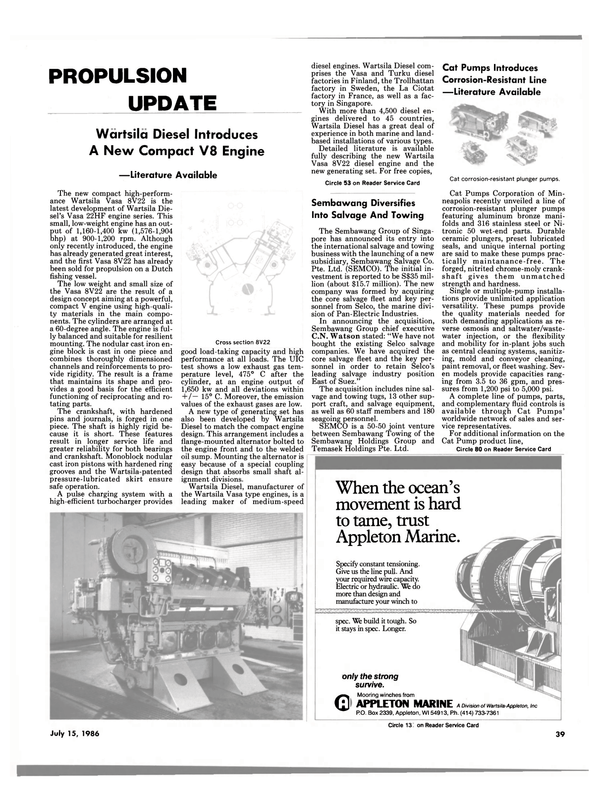 Read W a r t s i l a Diesel Introduces A N e w Compact V 8 Engine in Pdf, Flash or Html5 edition of July 15, 1986 Maritime Reporter
Other stories from July 15, 1986 issue
Content