Coast M a r i n e Celebrates 4 0 - Y e a r A n n i v e r s a r y W i th Successful Ladder Drop Test
To celebrate his 40 years in the industry, Robert M. Salvarezza, president of Coast Marine & Industrial Supply Inc., based in San Francisco, announced recently that his company has successfully completed what is believed to be the longest drop-test of a synthetic pilot ladder ever attempted by a manufscturcr The ladder was a COMAR/ MARK/I Pilot Ladder with an overall length of 160 feet. The test was accomplished with the use of a 180- foot crane. As prescribed by U.S.
Coast Guard regulations and Underwriters Laboratories, the ladder was hoisted to the top of the crane in a rolled-up position, and with the use of a trip-line was released, allowing it to free-fall to its total length. After this was accomplished a 2,000-pound block of cement was attached to the lower step and was hoisted clear of the ground.
The complete drop-test was witnessed and approved by an inspector from Underwriters Laboratories, and U.L. has issued an approval.
Coast Marine has long been a pioneer providing major improvements in pilot ladders used on seagoing vessels throughout the world. Following recommendations of pilots all over the world and using their expertise in their field, Coast is producing a ladder which offers increased safety, longer service life, and the ladder can be rebuilt by reroping and re-griding the steps/ sprGHdcrs The COMAR/MARK/I Pilot Ladder is USCG approved and accepted and indorsed throughout the world by such organizations as International Maritime Pilots Association (I.M.P.A.) and its 27 member countries; The Department of Trade England (D.O.T.); American Pilots' Association (A.P.A.); United K i n g d om Pilots Association (U.K.P.A.); Panama Canal Pilots Association (P.C.C.); International Technical Committee (I.T.C.); and the European Pilots Association (E.M.P.A.), along with other countries such as Australia, Italy, New Zealand, Belgium, Canada, Germany, France, the Netherlands, and most recently, Japan. It has also received special mention in the latest edition of "Pilot Ladder Safety" by Capt. Malcolm C. Armstrong.
This industry-wide acceptance of the COMAR/MARK/I prompted the company to produce the COMAR/DEBARKATION Ladder which, the company reports, is manufactured with the same high quality materials and the same exacting standards as the COMAR/MARK/I, but does not use spreaders as do pilot ladders.
Utilizing rope specifically designed by an American manufacturer, this debarkation ladder is U.S.
Coast Guard approved (approval #160.017/57/0) and is available in lengths up to 160 feet. Since the new SOLAS Regulation 48, Chapter III, which became effective July 1, 1986, made old style chain ladders obsolete, there should be great interest in this new COMAR ladder.
There are to date over 1,000 COMAR ladders on ships throughout the world, including approximately 300 Navy ships.
The COMAR ladders are available worldwide with assembly stations in New York (COMAR NYC), Texas (COMAR HOU), California (COMAR SFC), and Japan (COMAR JPN).
For free literature containing full information, C i r c l e 5 6 on Reader Service Card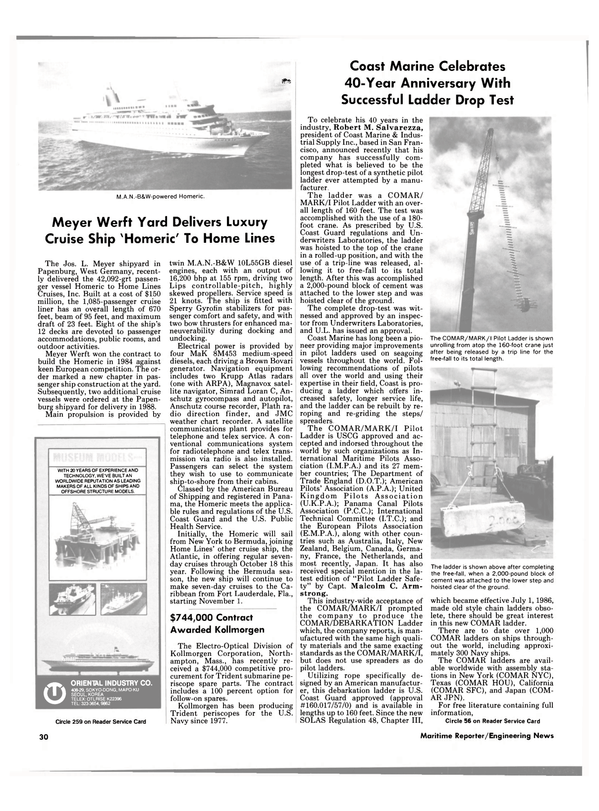 Read Coast M a r i n e Celebrates 4 0 - Y e a r A n n i v e r s a r y W i th Successful Ladder Drop Test in Pdf, Flash or Html5 edition of July 15, 1986 Maritime Reporter
Other stories from July 15, 1986 issue
Content