HDW Christens Two Containerships For American President Lines
First Two Ships Of N e w Class Of Five American President Lines (APL) recently christened two 902-foot containerships of a new class of five vessels at Howaldtswerke-Deutsche Werft (HDW) in Kiel, West Germany.
The fuel-efficient C-10 Class ships, each capable of carrying the equivalent of 4,300 TEU containers, have an efficient new "wide-body" hull design and are propelled as fast as 24 knots by some of the largest, most powerful diesel engines ever built.
The ships, the President Kennedy and President Truman, have a 129- foot beam, maximum draft of 41 feet, displacement of 75,862 long tons and a deadweight of 53,648 long tons. The vessels have been classed by the American Bureau of Shipping, +AI E, Container Carrier + AMS + ACCU. The vessels will be used in APL's Pacific Basin service.
Bruce Seaton, chairman of California- based American President Companies (APC), APL's parent organization, said the ClOs will become a key component in the company's complex land and sea distribution system.
During a ceremony at HDW, Hannelore Kohl, wife of West German Chancellor Helmut Kohl, christened the M.V. President Kennedy.
The M.V. President Truman was christened by Joyce Seaton, Bruce Seaton's wife.
A third CIO, the President Jackson, is nearing completion in the HDW yard, while two additional ClOs are being constructed by Bremer-Vulkan, of Bremen. The President Truman will be the first to enter service, while the remaining four ClOs will be phased into service later this year.
The CIO ships are the first container- carrying vessels to have a "post-Panamax" beam, meaning their width exceeds the limitations of the Panama Canal. As with the development of wide-bodied aircraft, the increased capacity and efficiency requirements for these vessels led to the new design concept.
APL president Timothy J.
Rhein said the company's focus on the Pacific Basin and Indian Ocean regions, coupled with American President's extensive intermodal (rail and truck) service to the Midwestern and Eastern regions of North America, made it possible to design ships unconstrained by the canal's dimensions.
"These are the first ships to be designed specifically for trans-Pacific service," Mr. Rhein said. "By removing the limitation on the ships' beam, we were able to significantly increase their capacity, while optimizing their speed, fuel efficiency, and stability." The 129-foot beam makes it possible to load containers 12 rows across, below deck, and 16 rows across, above deck, compared with a maximum of 10 rows below deck and 13 rows above deck for ships of a traditional "Panamax" design.
The greater stability achieved as a result of the wide beam also enables APL to stack containers five-high above deck, while eliminating the need to carry excessive water ballast during trans-Pacific voyages—a drag on vessel performance. It also means the ships can be loaded and unloaded more quickly, because containers can be stowed on the basis of logistical efficiency, with less regard for weight.
Each CIO is propelled by a 57,000 horsepower, 12-cylinder diesel engine— the most powerful internal combustion engine ever built. Designed by Sulzer of Switzerland, and manufactured in Korea, these power plants meet APL's high servicespeed requirement with a single propeller, eliminating the need for less fuel-efficient twin-propulsion systems.
By replacing smaller, less efficient ships, the ClOs will help the company reduce marine costs on a per container- mile basis by 50 percent from 1984 levels, Mr. Rhein said. The ClOs will contribute to an annual eastbound capacity increase of approximately 24 percent in 1988, which includes the full-year impact of four other large, diesel-propelled vessels introduced in April 1987, and by an additional 17 percent in 1989.
For free literature on the shipbuilding services of HDW, Circle 12 on Reader Service Card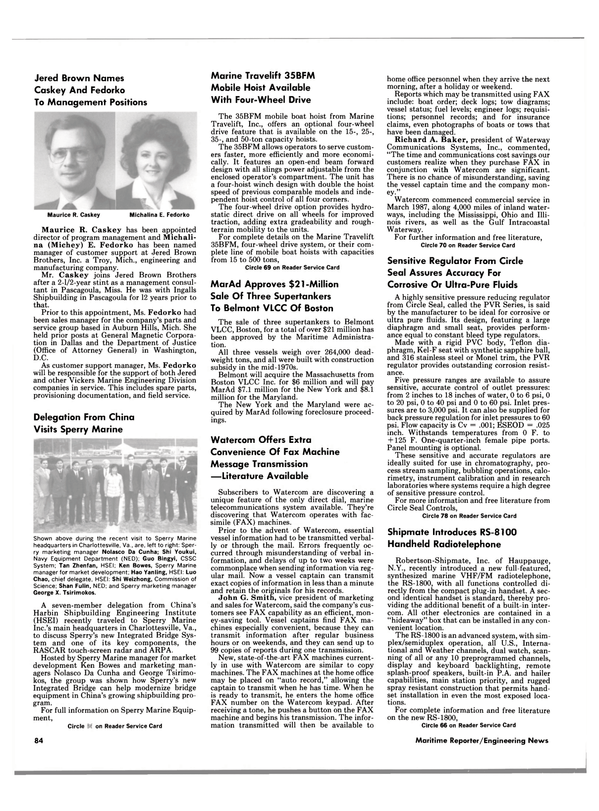 Read HDW Christens Two Containerships For American President Lines in Pdf, Flash or Html5 edition of June 1988 Maritime Reporter
Other stories from June 1988 issue
Content