World Shipbuilding
World shipbuilding orders in 1987 rose to an estimated 13.5-million gross metric tons from 12.7-million tons in 1986, according to Lloyd's Register of Shipping Annual Report.
This was an optimistic sign, reversing a three-year decline in the shipbuilding industry.
However, figures published by Lloyd's Register showed a drop in merchant ship completions during 1987 to 12.3-million gross tons, a decline of 4.6-million gross tons from 1986's total of 16.8-million gross tons.
According to the Annual Summary of Merchant Ships Completed, Japan and South Korea accounted for just over 4 million gt of the overall decrease. Despite the reduction, Japan's output of 5.7-million gross tons represents 46.6 percent of the world's total output. South Korea boasted a 17 percent market share, amounting to just over 2-million gross tons.
Orders for tankers rose substantially during 1987 to an estimated 6.1-million metric tons, an increase of about 33 percent over 1986 figures.
Newbuilding contracts for Suezmax and Very Large Crude Carriers (VLCCs) predominated, with both these vessel types realizing the largest operating profits in recent months.
Once again, for the third consecutive year, general cargo and containership building contracts increased to an estimated 3.4-million gross tons, up about 13 percent over 1986 figures.
Orders for bulk carriers were down slightly in 1987 to an estimated 2.3-million metric tons.
New Developments However, in terms of shipbuilding output, the relative positions of Japan and South Korea are likely to be reversed in 1988. According to the delivery schedule of the world orderbook at the end of 1987, South Korea is due to complete 4-million gt of its total 6-million gt, while Japanese yards are due to complete 3.2- million gt of their 5-million gt total orderbook. Of the total world orderbook of 22.5-million gt, 13.6-million gt is due for delivery in 1988.
Although a number of countries recorded decreases in their shipbuilding tonnage output in 1987, others showed significant increases.
Yugoslavia's output of 350,406 gt, an increase of 117,410 gt over 1986, was the third largest in the world, according to all available information.
Spain, with an output of 324,541 gt; Italy, 312,989 gt; the People's Republic of China, 285721 gt; Romania, 198,443 gt; the United Kingdom, 194,231 gt; and France, 167,027 gt, showed the largest gains during 1987 among the world shipbuilding leaders.
Demolitions/Removals Based on data compiled thus far, high charter rates for VLCC loading in the Persian Gulf provided some shipowners with lucrative returns and, thus, discouraged sales to breakers.
In the dry bulk sector, a secondquarter revival in demand for handy- size and Panamax type vessels similiarly created better trading opportunities and diminished the flow of ships to the breakers' yards. By late 1987, signs of upturn were emerging, too, in the steel-making raw materials trades. This meant that a higher demand emerged for larger ships as well. Accordingly, it is not surprising that across all vessel sizes, much lower scrappage duly emerged.
The fall in total demolition sales was very pronounced in 1987. Based on figures from a leading London ship broker, last year's sales to breakers were about half their 1986 levels in both the tanker and dry cargo sectors.
Laid-Up Tonnage If 1987 was notable for muchreduced scrapping and a recovery of newbuilding ordering, it was identified too with further reductions in laid-up tonnage. The inactivity total fell for the fifth year in succession.
Interestingly, there was more evidence of reductions taking place due to recommissioning of ships for active service, rather than for delivery to breakers' yards. By year end- 1987, the lay-up total was estimated to be around 10.2-million gt, a fall of over 25 percent from 1986 levels of 14-million gt.
World Orderbook Far East Once again as in 1986, Japan and South Korea dominated the merchant shipbuilding market, receiving an estimated 35.6 percent and 31.2 percent, respectively, of the new orders placed during 1987.
However, by year's end, Japanhad lost its position as the world's shipbuilding leader. By the fourth quarter, South Korea, with an orderbook of 6,021,483 gross tons, held an almost one million gt edge over Japan. This is an amazing turnaround since, just seven years earlier in 1980, Japan led the world by far with a total tonnage order of 13.1-million gt (or 38 percent of the world total) to a mere 2.5-million gt (7.2 percent) for South Korea.
The reduced demand at home and abroad forced the Japanese Ministry of Transport to approve plans by domestic shipbuilding groups to drastically cut their production capacities.
However, despite these cuts, several Japanese yards made a number of noteworthy deliveries. Mitsubishi Heavy Industries (MHI) launched nine ships during the year totaling 539,608 dwt (416,012 gt) and completed 13 ships totaling 461,521 dwt (407,917 gt) during the same period.
One of MHI's most significant deliveries was the Pacific Pintail, the first irradiated nuclear fuel carrier built in Japan.
One of MARITIME REPORTER'S Outstanding Oceangoing Vessels of 1987 was delivered by Nippon Kokan's Tsurumi yard. The 31,598-gt RO/RO-Passenger ferry Norsun was completed and delivered to her owners, Hollandse Vrachtvaart Maatschappij of the Netherlands, during the second quarter of the year. A second MARITIME REPORTER Outstanding Oceangoing Vessel, the U.S.-flag Pure Car Carrier (PCC) Marine Reliance, was delivered by Sumitomo Heavy Industries, Ltd.'s Oppama Shipyard to the U.S. shipping company Marine Transport Lines, Inc.
In South Korea, Hyundai Heavy Industries (HHI) was a major force, delivering 17 vessels to class. Included among the group's deliveries was the Americana, another MARITIME REPORTER Outstanding Oceangoing Ship. The innovative ship is a new concept container/passenger carrier (CONPASS), which has a passenger capacity of 110 and container capacity of 1,120 TEUs.
In Busan, Korea Shipbuilding and Engineering Corporation deliv- ered two 10,900-dwt RO/ROs to Gorthon Lines of Sweden.
In Koje Island, Samsung Heavy Industries, Co., Ltd., delivered the MARITIME REPORTER Outstanding Oceangoing Ship Jasmine to Korea Shipping Corporation. The 188,000-dwt bulk carrier was over 954 feet long with a beam of about 157 feet. Samsung also delivered a 95,000-dwt products carrier and began construction of six petroleum product carriers for the Kuwait Oil Tanker Co. Also in Koje, Daewoo Shipbuilding & Heavy Machinery completed a 186,000-dwt bulk carrier for Pan Ocean, while commencing a 240,000-dwt bulker for the company and the first of two 135,000-dwt crude carriers for ICB.
The People's Republic of China's shipyards were busy with a number of new construction orders as well as repair contracts. China State Shipbuilding Corporation's Zhonghua and Donghai shipyards, for example, were constructing five "Supercoaster" multipurpose dry cargo/ container carriers for European owners.
The year's main marine news in Taiwan, was the delivery of the 305,836-dwt oil/ore carrier Ruhr Ore to Krupp Handel GmbH and the commencement of a sistership for the same company by China Shipbuilding Corporation's Kaohsiung yard.
In Malaysia, Malaysia Shipbuilding & Engineering Sdn., Bhd., has been busy with repair work as well as the reactivation of two VLCCs.
Europe The big news in European shipbuilding in 1987, was the construction of Royal Caribbean Cruise Line's 874-foot Sovereign of the Seas, one of the largest and most luxurious passenger cruise ships ever built. She was constructed by Alsthom's Chantiers de l'Atlantique shipyard, St. Nazaire, France.
One of the most interesting marine contracts, the construction of a 700-cabin cruise ship for SITMAR, was also awarded to Chantiers de l'Atlantique.
Among a variety of vessels completed and under construction around the United Kingdom, the delivery of the 31,000-gt Norsea by Govan Shipbuilders was one of the most significant. The passenger ferry was put into service on the Hullto- Rotterdam run, along with her sister ship, the Norsun.
During the year, Harland & Wolff of Belfast delivered the 173,000-dwt bulk carrier Ironbridge.
In the Federal Republic of Germany, Meyer Werft of Papenburg delivered three 8,400 m3 LPG carriers, the Grajau, Gurupa and Gurupi (another MARITIME REPORTER Outstanding Ship) to Petrobras, the state-owned Brazilian oil company.
Additionally, Meyer Werft launched the cruise liner Crown Odyssey.
Howaldtswerke Deutsche Werft (HDW) of Kiel was busy with the construction of five new C-10 Class containerships for American President Lines (APL).
In the area of conversion work at German yards, the big story was the reengining of Cunard's QE2 at Lloyd Werft, Bremerhaven. She was fitted with the world's largest diesel- electric propulsion plant, consisting of nine MAN B&W Diesel engines and two GEC electric propulsion motors.
In Spain, state-owned Astilleros Espanoles yards struggled in 1987, but now, through a more aggressive management policy, seem to have turned things around. The company now has assured themselves of work well into 1989, and among its orders are six reefer vessels for the Del- Monte Fruit Co.
In Finland, Oy Wartsila Ab and Valmet Oy shipbuilding groups merged and formed a new company— Wartsila Marine Industries Inc. The new company has contracts to build three 70,000-gt cruisers, among the largest in the world.
Neighboring Sweden's shipbuilding industry delivered some notable vessels, foremost of which was the cruise ship Celebration by Kockums AB of Malmo.
Further south, in Italy and Yugoslavia, the conditions seemed to prove a better climate for shipbuilding.
New government subsidy regulations in Italy resulted in the ordering of 11 vessels, comprising two 70,000-gt passsenger cruise liners, three containerships and six fishing trawlers. Fincantieri's Monfalcone works completed the Micoperi 7000, the largest semisubmersible crane vessel ever built.
In Yugoslavia, prospects were even brighter, as eighteen ships were under construction or on order to class. Seven ships delivered during 1987 collectively registered 265,272 dwt. Brodosplit's Split Shipyard delivered three 45,308- dwt oil tankers/caustic soda carriers, among which was the Kriti Color, a MARITIME REPORTER Outstanding Oceangoing Ship for 1987. The 3. Maj Shipyard in Rijeka completed an order for three bulk carriers. Uljanik Shipyard delivered a log/bulk carrier early in 1987.
Americas The U.S. is experiencing an upturn in certain sectors of the shallow- draft market, particularly in the cruise vessel area. The U.S. large vessel shipbuilding industry continued to be supported by the ongoing U.S. Navy and Government vessel construction program. In fact, according to the Shipbuilders Council of America, government sources accounted for nearly 95 percent of the workload in major American yards.
The current U.S. Navy shipbuilding and modernization program calls for the expenditure of over $35 billion annually for a total of approximately $180 billion over 5 years (see the U.S. Navy report in this issue for details).
Among the notable deliveries in the commercial sector during 1987 were Bay Shipbuilding's completion of a three-containership contract for Sea-Land-Corporation, and McDermott's delivery of the hopper dredge Atlantic American.
However, the U.S. industry still suffers from the lack of a comprehensive maritime promotional package by the government.
North of the border in Canada, domestic shipyards suffered from a lack of commercial orders. MIL Davie's Lauzon, Quebec, yard began construction of a RO/RO-passsenger vessel, the sister ship of the Caribou.
Prospects look brighter for the coming year, as the Canadian Ministry of National Defense plans to initiate a $5-billion nuclear submarine construction program, St. John Shipbuilding will be working on a $2-billion frigate construction program for the government, and Versatile Pacific will begin plans for a Polar Class 8 icebreaker for the Canadian Coast Guard.
In Brazil, orders from the the state-owned oil company Petrobras and from the Brazilian Navy enabled the marine industry to maintain a steady workload.
Outlook With some qualifications, certain encouraging signs for the 1988 outlook could be seen as the year unfolded. The respective sectors of the shipping industry each seem less overtonnaged than in recent years and with a slimmer orderbook in the dry bulk category, for example, the threat of excessive fleet expansion is correspondingly smaller than earlier in this decade. Successful resolution of trade frictions, together with prudent newbuilding activity, could buoy trading conditions.
According to the latest publication from Drewry Shipping Consultants Ltd. of London, "Forecast Tanker Profitability 1987-1992," there is reason for cautious optimism for the ship operator in the tanker sector over the next few years.
"Forecast Tanker Profitability" bases its optimism on the fact that ship supply will be reduced through scrapping, since 58 percent of the world tanker fleet are between 10-14 years old, so that a significant number of ships will reach their useful trading life during the next few years.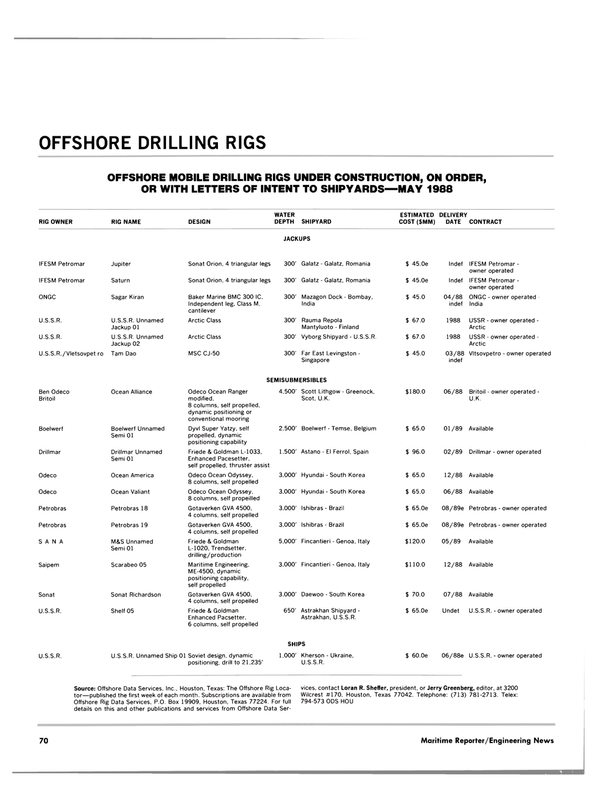 Read World Shipbuilding in Pdf, Flash or Html5 edition of June 1988 Maritime Reporter
Other stories from June 1988 issue
Content