CRUISE + FERRY '89
May 24-25, London, England Cruise + Ferry 89, the international conference and exhibition on the passenger cruise and ferry industry, will be held at the Kensington Exhibition Center in London, England, on May 24-25, 1989.
With unprecedented growth forecast for the cruise industry as it approaches the 1990s, Cruise + Ferry 89, now established as a major international forum for the passenger ship industry, will feature its largest-ever exhibition of ship, product and service developments in the booming cruise and ferry market.
Cruise + Ferry 89 will be an exciting international showcase for the latest design, product, and service developments and will bring to London hundreds of senior cruise executives to discuss new ideas for the future and to generate new business.
Topics will include: cruise ship and ferry operation; cruise programs and itineraries; cruise destinations; port and passenger terminals; duty-free supplies; cabin design and manufacture; tax-free outlets and operation; entertainment systems; refrigeration and air conditioning; ship furnishing; carpeting and floor coverings; waste treatment plant; lifesaving and survival equipment; fire-protection systems; ship classification; interior design; paints and coatings; passenger reservation systems; cruise ship and ferry design; shipbuilding; stabilizing systems; navigation equipment; safety equipment; galley and catering equipment; heating and ventilation systems; accommodation systems; cruise and ship repair and conversion; noise and vibration control; lighting systems; and security systems.
This is the age of the super cruise liner and cruise ferry—and the multimillion- dollar cruise market offers huge sales opportunities for companies seeking to increase their share of this rapidly expanding industry.
During the last 10 years, more new passenger ships have been introduced into the cruise industry than ever before. Between 1980 and 1989, no fewer than 40 ships have entered the booming cruise market.
Some 3.5-million passengers enjoyed cruising in 1988, and the increase in cruise business is forecasted to continue in 1989 with the introduction of six large new ships and, in all, the 1980s will have seen the addition of almost 31,000 new cruise berths and the extensive refurbishment of almost 43 ships.
In addition to developments in the market for cruise ships, Cruise + Ferry 89 will again focus on the design and operation of luxury passenger ferries.
As cruise vessels in their own right, this sector is also showing rapid expansion with a number of major operators recently announcing new orders for additional jumbo ferries.
At this period of massive growth, the Cruise + Ferry 89 exhibition will be a unique marketing opportunity for operators, destinations, shipbuilders, architects, designers, equipment and on-board suppliers to promote their specialist services and will be a focal point at which decision-makers engaged in the whole range of cruise liner and cruise ferry operations can view the latest industry developments.
As visitors to their displays, exhibitors will not only have more than 600 participants registered for Cruise + Ferry 89 but can also exploit a London venue on the doorstep of hundreds of major companies involved in passenger shipping.
The conference program will be divided into eight key sessions— "Markets and Marketing"; "Destination and Development"; "Shipboard Revenue"; "Interior Design"; "Operational Efficiency"; "Fast Ferries"; "Passenger Terminals"; and "Ship Design." Of particular interest will be "Fast Ferries," which is new for Cruise + Ferry 89. The conference will highlight developments in this specialist ferry market while the exhibition will provide further support for shipbuilders, designers and equipment suppliers meeting future capacity, speed, stability and comfort requirements in this sector.
For vessels with speeds of up to 55 knots and carrying up to 500 passengers, this is again a rapidly expanding and valuable market with newbuildings worth £250,000,000 a year.
On Friday, May 26, as part of the post-conference program, a special cruise aboard the latest Scandinavian cruise ferry has been arranged by the Cruise + Ferry secretariat.
Interested delegates will have the opportunity to take a 24-hour cruise aboard the Athena, Royal Viking Line's new 2,200-passenger cruise ship built by Wartsila Marine Industries of Finland which will enter service on the Stockholm-Mariehamn- Stockholm route this spring.
The Athena is one of Viking Line's five new jumbo class vessels ordered for the traffic of the 1990s.
The visit has been arranged to provide participants with a unique understanding of the Scandinavian 24-hour trip concept.
Described as "a ship to break all records in Baltic cruising luxury," the Athena offers passengers many "firsts." Most cabins are located on the upper decks, with 70 luxury cabins.
A large congress area totals 475 seats, including the main 210-seat auditorium.
Sponsored by Rederi AB Slite, Wartsila Marine and the shipbrokers Simonship AB, the Cruise + Ferry delegates will experience the complete 24-hour cruise on the Athena for a joining fee of £45.
The voyage begins on May 26 at 7 p.m. when the Athena departs from Stockholm. The ship will be back in Stockholm on May 27 at 7 p.m. Delegates who wish to participate must arrange for their own air travel between London and Stockholm.
For details on Cruise + Ferry 89, contact: Cruise + Ferry Secretariat, 2 Station Road, Rickmansworth, Herts WD3 1QP, England; telephone: 923-776363; fax: 923-777206; telex: 924312 gastec.
CRUISE + FERRY 89 Conference Program WEDNESDAY, MAY 24 9 a.m.-Exhibition opens.
9:15 a.m.-Conference opens.
Session 1: Markets and Marketing "The Short Cruise Market-Europe and North America," by S. Buchin, vice president, Temple, Barker & Sloane, Inc.
"The Cruise Ferry-Responding to the Market," by K. Levander, senior vice president, Wartsila Marine.
"Cruise Line Pricing and Distribution: An Analysis of Industry and Technological Changes," by D.L. Tatzin, senior consultant, Arthur D. Little International.
Papers discussed by ship operator panel— G. Hughes, managing director, Canberra Cruises and Princess Voyages; B. Crisp, UK director, Cunard Line Ltd.: E.T. Phippin, director, CTC Lines; and N. Costa, chairman, Costa Crociere SpA.
Coffee.
"The Theme Cruise Concept," by P.J.
Compton, Zeller Compton Stafford & Associates, Inc.
"Niche Marketing in the Cruise Business (Opportunities for New and Existing Cruise Lines)," by J. Lewis, president and D. Sarel, director, Market Scope.
Papers discussed by ship operator panel.
Lunch for registered delegates.
Session 2: Destination Development "Cruise Tourism Infrastructure—Onshore Satisfaction," by R.V.P. Kaufman, executive vice president, TC International Inc./Concorde Group.
"Destination Development," by R.J. Zeller, Zeller Compton Stafford & Associates, Inc.
"Development of the Underwater Leisure Industry," by M. Mouton, president, Sea Designers, Inc.
Coffee.
Session 3: Shipboard Revenue "Shipboard Revenues—Meeting the Challenge of Change," by F. Taylor, director, retail operations and development, Allders International Ltd.
"The Control of Shrinkage (Theft, etc.)," by K.P. Dulieu, managing director, Capitol Consultants.
"Hotel Maritime Catering for Cruise Vessels," L.A. Fraser, formerly, chief executive officer, Poseidon Services.
"Casino Management on Land and Sea: Oceans Apart?" by P. Hoetzinger, vice president, Casinos Austria International.
Session 4: Interior Design This session will be held in parallel to Ses- sion 2. Speakers and panellists to be announced.
Official evening cocktail reception for all delegates and spouses.
THURSDAY, MAY25 Session 5: Operational Efficiency "Ferry Goes Cruising—The Development of Common Denominators Between Ferry and Cruise Shipping," by F. Widell and K.
Brogren, Marine Trading.
"A Hotel Approach to Shipboard Management and Operation," by U.F. Baur, president and managing director, Flototel Management Service AG.
"Shiphandling Simulators for Optimization of Maneuvering Strategies of Cruise Ships in Ports. A Case Study for the M.S.
'Fantasy' of Carnival Cruise Lines," by V.
Fabietti, chief coordinator, newbuildings, Carnival Cruise Lines; S.M. Payne, naval architect, technical marine planning, London; Th. Elzinga, head port and traffic analysis department; and A. Rem, project manager, MARIN, Wageningen, The Nether- lands.
Coffee.
Session 6: Fast Ferries Held in parallel with Sessions 5 and 7.
"Swath Ocean—Now a Serious Market Contender," by T.D. Kelly, corporate secretary, Swath Ocean Systems, Inc.
"Jetfoils on the Ostend-Dover Route. A technical and Commercial Appraisal," by J.J. Charlier, research associate NFSR, In- stitute of Geography UCL, Louvain-la- Neuve, Belgium.
"Thames Riverbus—Innovation in a Traditional Environment," by R.M. Mabbott, Thames Line Pic.
"The 71-Meter Wave Piercer Ferry— Comes of Age," by P.C. Hercus, managing director, International Catamarans Designs Pty. Ltd.
"Application of Waterjet Propulsion Systems to Fast and Slow Passenger Ferries," by A. Gasparri, Riva Calzoni SpA.
"45-Knot/800-Passenger Ferry—A New Realistic Alternative for Ferry Routes," A.
Ulvesaeter, vice president, Cirrus a.s.
Coffee.
Session 7: Passenger Terminals "London's New Cruise Facilities and their Impact on Tourism in the 1990s," by J.
McNab, chief executive, Port of Tilbury, and D. Jeffrey, chief executive, River Division, Port of London Authority.
"Multipurpose Passenger Terminals in the 1990s," by C.T. Burke, Port Everglades Authority, Fort Lauderdale, Fla.
"Ferry Terminal Design Considerations," by S.M. Kowleski, marine consultant, K&W International.
Lunch for registered delegates.
Session 8: Ship Design "Naval Architecture and Cruise Ship Design— the Design Process," by B. Naerstad, manager, Platou Ship Design.
"Fire Safety in Passenger Vessel Design," by M. Murtagh,* chief, and B. Cameron, staff engineer, Fire Protection Section, Ship Design Branch, Marine Technical and Hazardous Materials Division, U.S. Coast Guard Headquarters, Washington, D.C.
*Marjorie Murtagh is also chairman of U.S. SOLAS Working Group on Fire Protection.
"Features of the First Modern Cruise Vessel Built by Japan, 'Fuji Maru'," by K. Keiji, general manager, technical division, Mitsui O.S.K. Lines, Ltd., and M. Kobayashi, deputy manager, ship design department, Kobe Shipyard and Machinery Works, MHI.
"How the New Pollution Regulations Affect the Cruise Industry," by F. Hovland, manager, Norsk Hydro AS.
" F e r r y Vessel S t r e t c h — E f f i c i e n cy through Modernization (A Limited Budget does not Necessarily Preclude the Satisfaction of a Rising Demand on Ferry Space)," by R.S. Dossett and W.J. Owens, Ferry Division, North Carolina Department of Transport.
5:30 p.m.—Conference closes.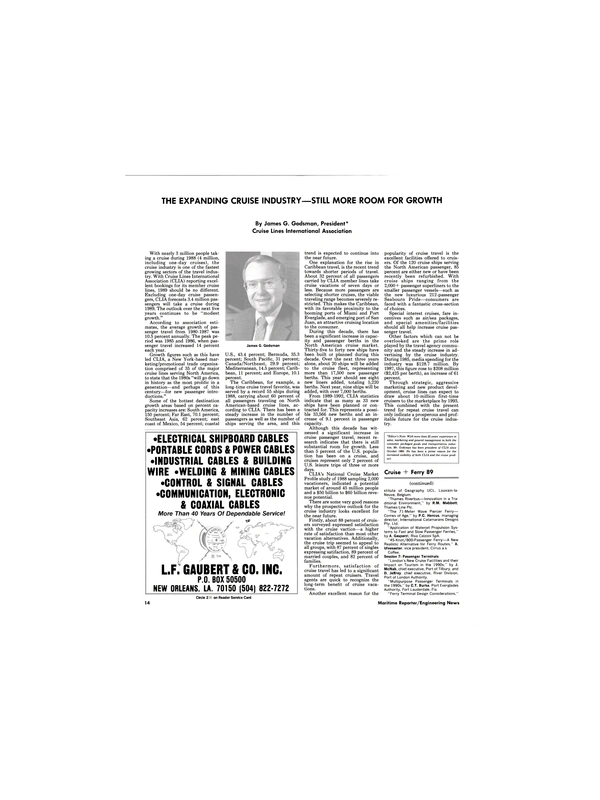 Read CRUISE + FERRY '89 in Pdf, Flash or Html5 edition of May 1989 Maritime Reporter
Other stories from May 1989 issue
Content