THE EXPANDING CRUISE INDUSTRY—STILL MORE ROOM FOR GROWTH
By James G. Godsman, President* Cruise Lines International Association
With nearly 3 million people taking a cruise during 1988 (4 million, including one-day cruises), the cruise industry is one of the fastest growing sectors of the travel industry.
With Cruise Lines International Association (CLIA) reporting excellent bookings for its member cruise lines, 1989 should be no different.
Excluding one-day cruise passengers, CLIA forecasts 3.4 million passengers will take a cruise during 1989. The outlook over the next five years continues to be "modest growth." According to association estimates, the average growth of passenger travel from 1980-1987 was 10.5 percent annually. The peak period was 1985 and 1986, when passenger travel increased 14 percent each year.
Growth figures such as this have led CLIA, a New York-based marketing/ promotional trade organization comprised of 35 of the major cruise lines serving North America, to state that the 1980s "will go down in history as the most prolific in a generation—and perhaps of this century—for new passenger introductions." Some of the hottest destination growth areas based on percent capacity increases are: South America, 150 percent; Far East, 70.1 percent; Southeast Asia, 62 percent; east coast of Mexico, 54 percent; coastal U.S., 43.4 percent; Bermuda, 35.3 percent; South Pacific, 31 percent; Canada/Northeast, 29.9 percent; Mediterranean, 14.5 percent; Caribbean, 11 percent; and Europe, 10.1 percent.
The Caribbean, for example, a long-time cruise travel favorite, was served by a record 55 ships during 1988, carrying about 60 percent of all passengers traveling on North American-based cruise lines, according to CLIA. There has been a steady increase in the number of passengers as well as the number of ships serving the area, and this trend is expected to continue into the near future.
One explanation for the rise in Caribbean travel, is the recent trend towards shorter periods of travel.
About 32 percent of all passengers carried by CLIA member lines take cruise vacations of seven days or less. Because more passengers are selecting shorter cruises, the viable traveling range becomes severely restricted.
This makes the Caribbean, with its favorable proximity to the booming ports of Miami and Port Everglade, and emerging port of San Juan, an attractive cruising location to the consumer.
During this decade, there has been a significant increase in capacity and passenger berths in the North American cruise market.
Thirty-five to forty new ships have been built or planned during this decade. Over the next three years alone, about 20 ships will be added to the cruise fleet, representing more than 17,500 new passenger berths. This year should see eight new liners added, totaling 5,220 berths. Next year, nine ships will be added, with over 7,000 berths.
From 1989-1992, CLIA statistics indicate that as many as 33 new ships have been planned or contracted for. This represents a possible 33,566 new berths and an increase of 9.1 percent in passenger capacity.
Although this decade has witnessed a significant increase in cruise passenger travel, recent research indicates that there is still substantial room for growth. Less than 5 percent of the U.S. population has been on a cruise, and cruises represent only 2 percent of U.S. leisure trips of three or more days.
CLIA's National Cruise Market Profile study of 1988 sampling 2,000 vacationers, indicated a potential market of around 45 million people and a $50 billion to $60 billion revenue potential.
There are some very good reasons why the prospective outlook for the cruise industry looks excellent for the near future.
Firstly, about 88 percent of cruisers surveyed expressed satisfaction with the cruise vaction—a higher rate of satisfaction than most other vacation alternatives. Additionally, the cruise trip seemed to appeal to all groups, with 87 percent of singles expressing satifaction, 89 percent of married couples, and 82 percent of families.
Furthermore, satisfaction of cruise travel has led to a significant amount of repeat cruisers. Travel agents are quick to recognize the long-term benefit of cruise vacations.
Another excellent reason for the popularity of cruise travel is the excellent facilities offered to cruisers.
Of the 120 cruise ships serving the North American passenger, 85 percent are either new or have been recently been refurbished. With cruise ships ranging from the 2,000+ passenger superliners to the smaller passenger vessels—such as the new luxurious 212-passenger Seabourn Pride—consumers are faced with a fantastic cross-section of choices.
Special interest cruises, fare incentives such as air/sea packages, and special amenities/facilities should all help increase cruise passenger travel.
Other factors which can not be overlooked are the prime role played by the travel agency community and the steady increase in advertising by the cruise industry.
During 1985, media spending for the industry was $128.7 million. By 1987, this figure rose to $208 million ($2,425 per berth), an increase of 61 percent.
Through strategic, aggressive marketing and new product development, cruise lines can expect to draw about 10-million first-time cruisers to the marketplace by 1993.
This combined with the present trend for repeat cruise travel can only indicate a prosperous and profitable future for the cruise industry.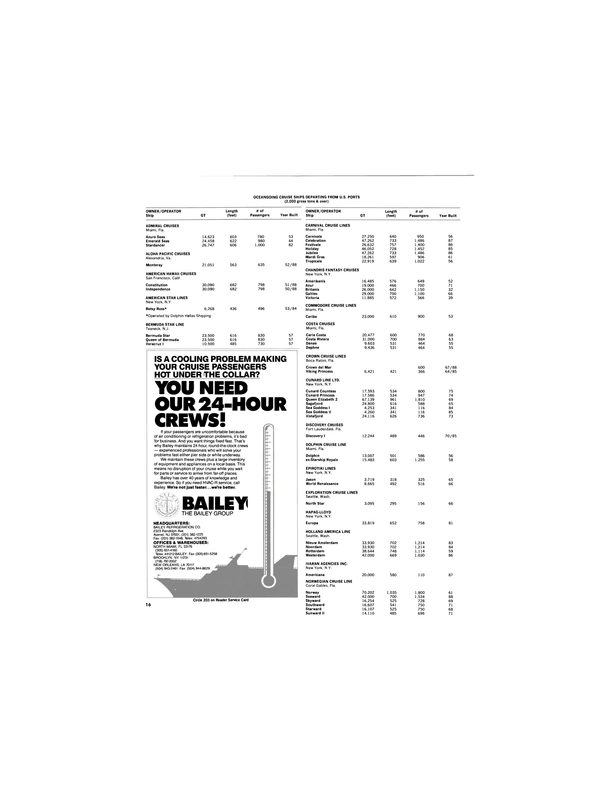 Read THE EXPANDING CRUISE INDUSTRY—STILL MORE ROOM FOR GROWTH in Pdf, Flash or Html5 edition of May 1989 Maritime Reporter
Other stories from May 1989 issue
Content