REVIEW OF SHIPBUILDING AND REPAIR AT U.S. YARDS
Backlog Of $16.6 Billion In Navy Construction Work At Yards; Shallow-Draft Vessel Construction On The Rise Navy Construction The prime generator of new ship construction remains the U.S. Navy.
According to the Shipbuilders Council of America (SCA) 1988 Ship Construction Report, the Navy contracted for 32 ships in 1988 which increased the backlog at U.S. yards to $16.6 billion. This compares favorably to the $9-billion backlog at the end of 1987. Table 1. shows the final FY 1989 appropriation data.
One of the beneficiaries of the Navy work is Avondale Indust r i e s ' Shipyards Division, Avondale, La. Avondale recently received a $319-million contract to construct three T-AO-187 Class fleet oilers. According to Avondale chairman and chief executive officer Albert L. Bossier Jr., with the inclusion of the latest award, the yard has been contracted to build a total of 16 Henry J. Kaiser Class oilers since 1982, amounting to $1.9 billion in work. The yard also has six Landing Ship Docks (LSD-41) on its orderbook.
Another Navy contractor, Bath Iron Works, Bath, Maine, was awarded a $610.1-million contract to build three Arleigh Burke Class (DDG-51) Aegis destroyers. Bath is currently constructing the lead ship of the class along with several Ticonderoga Class cruisers.
At about the same time as the Bath award, Ingalls Shipbuilding, Inc., Pascagoula, Miss., received a $466.5-million award to build two Arleigh Burke destroyers.
To date, Ingalls has been awarded contracts for a total of three destroyers.
At present, the yard is preparing the lead ship of the LHD-1 Class, the 844-foot amphibious assault ship USS Wasp, for delivery.
Peterson Builders, Inc. of Sturgeon Bay, Wis., recently was awarded a $185-million contract to build three 224-foot mine countermeasure ships (MCMs) for the Navy. PBI now has a solid backlog, consisting of both Navy and commercial work. The yard is building dive boats, harbor security boats, MCMs, and a ferry for Washington Island Ferry Lines of Wisconsin.
Prospects In Merchant Shipbuilding Although there were no commercial ships ordered from a U.S. shipyard in 1988 and the first quarter of 1989, the award of two major construction projects appears to be on the horizon.
One of the projects was put forth by San Francisco-based Matson Navigation Co. The U.S. shipping line requested bids from Avondale Industries' Shipyards Division, Avondale, La.; Bethlehem Steel Corporation's Sparrows Point Shipyard, Sparrows Point, Md.; and National Steel & Shipbuilding Co., San Diego, Calif.
Intended for Matson's U.S.-flag West Coast-Hawaii service, the combination carrier would have a 1,600-TFEU (twenty-four-footequivalent- unit) capacity, an overall length of 783 feet, breadth of 105 feet 9 inches and draft of 35 feet.
Arthur J. Haskell, senior vice president, engineering and marine operations, Matson Navigation, said, "This program is a logical addon to the growth in our trade. We will need the additional capacity based on our projections for 1991.
She should take care of our needs into the early 1990s." A second possible commercial project for U.S. yards involves the reconstruction of the wrecked tanker M/V Fuji. Hvide Shipping, Inc., Fort Lauderdale, Fla., has requested bids from 14 U.S. shipyards for the project. The work would involve the rebuilding of the Fuji utilizing the forebody of the Barge 4102 (Oxy Producer), built by Avondale Industries.
The tanker, which would be renamed the Seabulk America and operate under the U.S. flag, would have an overall length of 685 feet, molded beam of 99 feet, draft of 36- 1/2 feet and deadweight tonnage of 41,000.
As of press time, contracts have not been awarded for either of these projects.
Shallow-Draft Construction A possible resurgence in the shallow- draft workboat sector may be on the horizon. One sign is the reopening of the Jeffboat towboat and barge construction facility in Jeffersonville, Ind. The yard has already signed a $3-million contract with Hines, Inc., Bowling Green, Ky., to construct three large rivertank barges. The contract for the 300-foot by 54-foot tankers accelerated the opening of the the yard.
According to St. Louis Ship president Richard A. Coonrod, the inland waterway transportation industry has improved substantially in the past few months, and the shipyard has more than doubled its workforce.
At present, St. Louis Ship is filling an order for 43 open hopper coal barges for M/G Transport Services, Inc., Cincinnati, Ohio.
Conrad Industries of Morgan City, La., has been busy with a number of inland waterways and coastal vessel construction contracts. Since 1988, the yard has delivered four floating drydocks, five deck barges, one anchor barge and one 160-foot vehicle-carrying ferry.
Blount Marine Corporation, Warren, R.I., had an excellent year in the harbor/shallow-draft passenger vessel market. The yard delivered 92-foot La Pinta, 192-foot Spirit of Chicago and the 87-foot Alexandria Belle during 1988, and was awarded contracts for two more "Spirit" vessels—the Spirit of Los Angeles and the Spirit of Philadelphia.
In addition, company president Luther H. Blount unveiled an ultramodern type design for a 400-passenger dinner boat. The first of the new type, the 114-foot Vista Jubilee being built for Rentacruise, Inc., will be delivered in July of this year.
The LaCrosse, Wis., shipyard of Skipperliner Industries delivered a number of passenger vessels to the shallow-draft market. Highlighting these deliveries were the 120-passenger European-style canal boat Edelweiss II and the 150-passenger boat Discovery. Skipperliner has several other passenger boats on its orderbook.
Two passenger catamaran specialists, Gladding-Hearn Shipbuilding of Somerset, Mass., and Nichols Brothers Boat Builders of Whidbey Island, Wash., were the beneficiaries of several new construction awards. One of Nichols Bros, recent awards was for the construction of the $4.5-million "ocean catamaran" Nantucket Spray for Bay State Cruises of Boston, Mass.
The 121-1/2-foot vessel will operate on a passenger service run between Boston and Nantucket.
On the East Coast, Gladding- Hearn signed a contract to build a high-speed catamaran for Put-In- Bay Transportation Co. of Ohio.
The 95-foot Jet Express is expected to be delivered shortly. Both the Nantucket Spray and Jet Express of International Catamarans design.
Nichols and Gladding-Hearn are the only U.S. yards licensed to build the Australian-designed vessels.
The newly formed Avondale Boat Division was able to capture two contracts from Tri-State Marine Transport, Inc., of New York, for the construction of two 400-passenger SES high-speed ferries. The 109-foot vessels are planned for use in New York commuter service.
Leevac Shipyards, Inc., of Jennings, La., delivered an 86-foot, 315-passenger excursion boat to Padelford Packet Boat Co. of Minneapolis, Minn. The Anson Northrup will operate on the Mississippi in the Minneapolis-St. Paul area.
Leevac also completed the reconstruction of 110-foot steel-hulled landing craft for naval operations, and a conversion of a seismic vessel for the People's Republic of China.
This month, the sleek 500-passenger Spirit of Norfolk II is expected to be delivered by Morgan City-based Service Marine Industries, Inc. The 175-foot excursion/ dinner boat is similar in design to Italian megayachts.
"The shape of the bow is both dramatic and functional," said Service Marine president Tom Hensley.
"It gives a distinctive design element to the vessel, but also serves as an open deck area for panoramic sightseeing during day cruises and stargazing on dinner cruises." She will be operated by Holiday Cruises IV out of Norfolk, Va.
Other passenger vessels from Service Marine included the 600-passenger replica paddlewheeler Annabel Lee, the elegant Bay Lady and the converted dinner boat Cape Ann.
The Trinity Marine Group, which is comprised of nine shipyards (soon to be 10), has been contracted to build a number of Navy, military and commercial vessels.
The group, which is comprised of Halter Marine, with yards in Moss Point, Miss., and Lockport, La., Equitable Shipyards, with yards in New Orleans and Madisonville, La., Moss Point Shipyard, Moss Point, Miss., Gretna Machine & Iron Works, Harvey, La., Aluminum Boats, Moss Point, Miss., Thunderbolt Shipbuild- ing & Repair, Savannah, Ga., and HBC Barge of Brownsville, Pa.
Trinity has just recently signed a letter of intent to purchase the former Bethlehem-Beaumont shipyard in Texas. The Trinity Marine Group has an impressive orderbook, with vessels ranging in size from a 33-foot tugboat for the Panama Canal Commission to a 224-foot ocean surveillance ship for the U.S. Navy.
Among the notable deliveries were: the 183-foot dinner boat California Hornblower for Hornblower Dining Yachts of California, from Moss Point Marine; the 232-passenger, high-speed ferry Caribe Tide, built by Equitable Shipyards; and the 224-foot T-AGOS USNS Adventurous, from Halter Marine.
The Halter Marine yard was also awarded a $20.9-million contract to build a 263-foot oceanographic research vessel for the U.S. Navy. The A-GOR-23 will be operated by the University of Washington.
SeaArk Marine, Inc., formerly MonArk Boat Co., Little Rock, Ark., has recently delivered the first five high-speed patrols boats to the El Salvadorian Navy. The work is being performed under a $3.7-million, ten-vessel contract.
Robert E. Derecktor Shipyards of Rhode Island is presently constructing five large harbor tugboats for the U.S. Army. The contract contains options for a total of ten vessels, which, if exercised, would bring its value to $36 million.
Textron Marine Systems, New Orleans, La., was awarded a $225-million contract by the Navy to build a series of 12 LCAC (Landing Craft, Air Cushion vehicles).
The contract options could bring the value of the award up to between $400 million and $500 million.
TMS has delivered 14 LCACs to the Navy and is currently building 10 others.
Gulf Craft of Patterson, La., delivered the 155-foot crewboat Aaron McCall to McCall Enterprises of Cameron, La. The unique feature of the crewboat is her six Cummins propulsion engines.
Boatbuilder Munson Manufacturing of Edmonds, Wash., delivered the multipurpose fireboat Phoenix III to the San Francisco International Airport authorities. In addition, The Washington yard delivered the high-speed passenger boat Yukon Queen to Holland America Lines-Westours for operation in Alaska.
Growth In Fishing Vessel Construction Last year saw the revival of the U.S. tuna shipbuilding industry, with several yards winning major newbuilding and conversion contracts in the fishing vessel construction market.
As of late 1988, Bender Shipbuilding & Repair, Mobile, Ala., had a fishing vessel order book worth in excess of $90 million into 1990. Recent deliveries from the Alabama yard include the newly built 155-foot Arctic IV for Arctic Fisheries and the converted 184-foot factory trawler Unimak Enterprise to owners Unimak Enterprise. Both companies are units of the Arctic Alaska Fishing Corp. of Seattle.
MARCO-Seattle recently signed a contract to build two 135- foot steel freezer longliners for Alaska Frontier Co. of Seattle, Wash.
The vessels are expected to be delivered in August and October 1989, respectively.
The Seattle yard also completed the lengthening and refit of the 160- foot longliner/crabber Westward Wind, as well as major conversion contracts on the Alaskan Command and the Resolute.
Another U.S. yard fairing well in the fishing vessel sector is Campbell Shipyard, San Diego, Calif.
The yard has introduced a new design for tuna purse seiners—the 257-foot, 1,500-ton-capacity Super Pacific Class—which has met great success. The yard has seven Super Pacific Class seiners on its orderbook, some valued at as much as $12 million. Even more impressive about Campbell's showing is that six of the seven vessels are for export— four for South Korean owners and two for French.
The first Super Pacific Class tuna purse seiner, the Margaret Z, was recently launched for her U.S. owners, Margaret Z Fishing Co. of Guam.
Also Jacksonville, Fla.-based Atlantic Marine recently signed a contract with Chalice Trawlers Corporation to build a 123-foot longliner processor, the Aleutian Chalice.
She is expected to be delivered this September. Atlantic Marine also announced it will be leasing the ADDSCO Industries repair facility in Mobile, Ala. The firm plans to recondition the facility and seek both Navy and commercial work.
Ship Repair The ship-repair sector continues to be an ongoing source of work for U.S. yards. Portland Ship Repair Yard (PSRY) of Portland, Ore., reported that during 1988 the yard and its three main contractors, Cascade General, Inc., Northwest Marine Iron Works, and West State, Inc., did $140 million worth of business.
PSRY reported that 70 percent of its work lies in the tanker sector, 5 to 10 percent in the cruise ship sector, and 25 percent in the military sector.
West State recently overhauled the tanker Exxon Long Beach under a $5.5-million contract.
Northwest Marine Iron Works, which was recently purchased by Southwest Marine, Inc., reported that it repaired almost 200 vessels during a recent 12-month period. One of its latest projects was the $15-million overhaul of the assault ship USS Okinawa (LPH-3).
Cascade General recently completed the overhaul of the Polar Star, one of two large icebreakers operated by the U.S. Coast Guard.
Southwest Marine's San Diego facility recently undertook the dual drydocking of two U.S. Navy frigates, the USS McClusky and USS Thach. The feat was accomplished in the facility's huge 655-foot floating drydock. The destroyer USS O'Brien (DD-975) is currently being overhauled at the San Diego facility under a $19.6-million contract.
Southwest Marine also operates shipyards in San Pedro, San Francisco and American Samoa.
Todd Pacific Shipyards, San Pedro Division recently completed general repair and propeller shaft work on the S.S. Majestic (ex- Sun Princess). The 8,885-nrt vessel was lifted on the Todd facility's 655- foot Syncrolift, which is certified to hoist a ship with a light displacement of 15,000 long tons. It was the heaviest passenger vessel ever lifted on the San Pedro's Syncrolift. Most recently, Todd Pacific's Seattle Division was awarded a $26.7-million Navy award for the New Threat Upgrade of the destroyer USS Chandler (DDG-996).
On the East Coast, Norfolk Shipbuilding & Repair Co.
(NORSHIPCO), Norfolk, Va., had a successful year in the ship-repair sector. Besides a great deal of Navy and Military Sealift Command repair work, NORSHIPCO drydocked and repaired over a dozen large cruise vessels, including the 18,953- ton Carnivale and 12,795-ton Amerikanis.
Also in the cruise sector, New York Shipyard Corporation recently completed the drydocking of the 925-passenger Dawn Princess (ex-Sitmar Fairwind). The shaft repairs and exterior work were performed at the firm's Brooklyn, N.Y., facility, located on the former site of Todd Shipyard-Brooklyn.
Maryland-based Bethlehem Steel-Sparrows Point shipyard recently completed hull repairs on the Premier Cruise Line vessel the S.S. Royale. Premier plans to sell the vessel to Dolphin Cruises of Miami.
Norfolk, Va.-based Colonna's Shipyard, a family-owned, fullservice facility, completed a substantial amount of Navy repair work during 1988. The yard was recently awarded a $3.05-million contract for the DSRA of the frigate USS Donald B. Beary (FF-1085).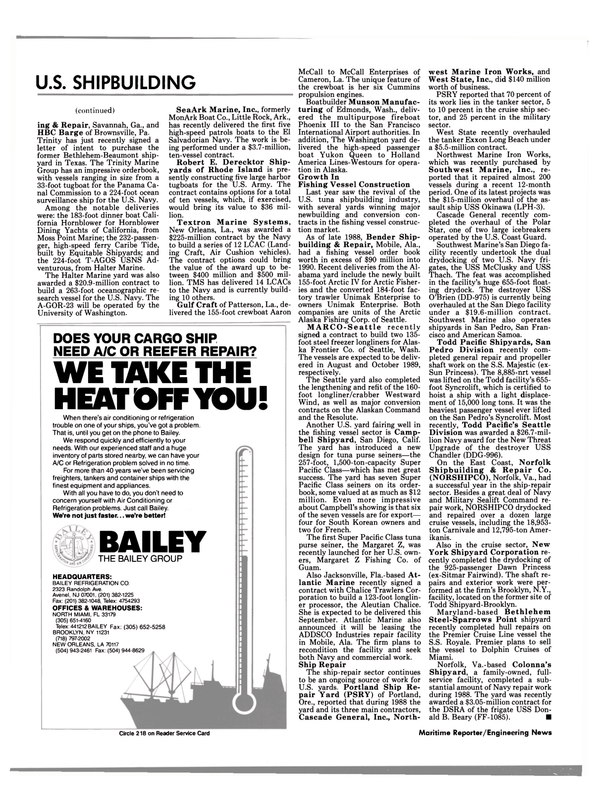 Read REVIEW OF SHIPBUILDING AND REPAIR AT U.S. YARDS in Pdf, Flash or Html5 edition of June 1989 Maritime Reporter
Other stories from June 1989 issue
Content