A WO In 1989: Tested By Drought And Ready To Face New Challenges
By J.A. Tinkey, President Mid-America Transportation Company And Chairman Of The Board Of The American Waterways Operators
Editor's Note: J.A. Tinkey is president of Mid-America Transportation Company in Fairview Heights, III. In April 1989, Captain Tinkey became chairman of the board of the American Waterways Operators, the national association of the inland and coastal barge industry. During the Drought of '88, he was one of seven barge line executives empowered by the industry to manage the drought crisis.
In times past, industry survival meant being able to react and adapt to change. That perhaps is no longer completely true. Future survival and growth in the coastal and inland trades will require more than adaptability and reaction. It will require the ability to predict—to recognize— and to manage change—make it work for us, rather than against us. AWO as an association, and the staff working closely with a concerned membership, has a proven ability to do that. The AWO staff are a lean, hard-working, aggressive and highly qualified staff, with superb leadership. They have become a perfect tool to help an industry whose heritage has always been a commitment to hard work—learn to work smart—as well as hard.
On internal association matters, the past years have been strong for AWO. Many challenges successfully met—programs fulfilled—membership growth, and financial goals are being realized, plus many others.
However, there's more work ahead.
AWO has many changes and programs currently underway. Over the past year and perhaps longer, there have been a number of discussions about the need to revisit the method AWO uses to calculate assessments— and the way directors are apportioned by AWO Region. These discussions for the most part have been informal. I believe that the association is now at the point where we must begin to review and examine both of these important matters. It's a big job—but one we need to get on with.
In preparing for the new responsibility of being AWO's chairman of the board, I've thought about AWO—about this exceptional trade organization that each of its members has helped to shape and to strengthen over the years. I have no concerns about AWO's continuing ability to grow in credibility, strength and representation. If we remain unified. Certainly there will be diversity—an association should never try to avoid it. Diverse opinions are not only healthy and educational, they are a natural human character trait. Differing opinions tend to stimulate us; they cause us to get involved, to ask questions, or to find answers. However, in order for the process to work we must allow the positive effects of careful research, intelligent discussions, open debate and finally board action to prevail—then move on as a unified group. It's imperative. Failing to do this, failing to let the system work, can only put AWO at risk.
On external association matters, perhaps no issue or event better illustrates AWO's and this industry's growing strength and ability to manage change than its handling of the Drought of 1988.
The river towing industry is young in terms of years; however, in terms of challenge and hardship, we've grown some whiskers. We were tempered during the war years, tested in the floods and ice of the seventies, and suffered severely in the barge industry's terrible economic depression of the eighties. By the beginning of 1988, the industry was finally seeing an end to the difficult six years of low revenues.
Most Mississippi operators got a running start in the spring of '88, with strong freight sales, good volumes and normal operating conditions.
Then, in late June, the spring drought hit us with devastating impact.
This industry came of age in the Drought of '88. We stood tall last summer. It was, and still is, a tough time in our business. But standing tall in the tough times has always been a sign of both maturity and professionalism. Both describe our industry last summer. For the first time in our relatively short existence, the towing industry became a pro-active rather than a reactive industry. And it worked. The Corps of Engineers, the Coast Guard and the barging industry—through AWO—mobilized their forces to wage war against the most severe low-water conditions ever encountered on the Lower Mississippi.
In late June, the water was the lowest anyone remembered, with no prospects for improvement. Between Cairo and Vicksburg over 40 river crossings had less than 10 feet of water, and tows grounded at an astonishing rate. Nearly 2,000 fully loaded barges were stranded up river, unable to move southward to the Gulf. The Drought of '88's navigational impacts could have resulted in a major national transportation crisis, if you consider that the barge industry moves over 57 percent of all export grain, over 40 percent of U.S. petroleum, and one in every five tons of U.S. coal.
In early July, AWO convened a summit in St. Louis of barge line executives representing over 90 percent of the inland fleet. From that historic gathering, seven members were chosen to represent the entire industry. A few days later, in Memphis, AWO brought the highest levels of the Coast Guard and the Corps in to the mix.
This combined force became the River Industry Executive Task Force. We set pro-active goals to keep the rivers open to navigation, protect water supplies, and guard against damage to the environment.
We provided centralized navigation information to support the joint effort, and undertook contingency plans through the summer of '89.
As the war effort took shape, the attack force formed up and began the all-out effort necessary to combat the drought's navigational onslaught.
This level of mobilization and business-government cooperation was unprecedented. The Corps effectively responded with a dramatic increase in the dredge fleet.
At one time a dozen dredges were digging sand. The Coast Guard set up safety zones, called in extra buoy tenders, activated additional manpower, and doubled their buoys.
They set up a command post in Memphis to monitor conditions, regulate tow size and draft, and communicate ever-changing vital information to the operators. The industry formed local operational committees with the hands-on expertise to assist the agencies.
There was another critical element to the success of this campaign— the towboat crews. They saw the need, knew the implications of a failed effort, and quickly began adjusting to very marginal operating conditions. Bottom line, they kept the freight moving. These guys waged their part of this war where the battle is always the toughest, in the trenches. Our hats are off to these hard working people who ran the gauntlet every watch and kept commerce flowing. We also owe a tremendous debt to the dredge boat crews and the men and women manning the buoy tenders.
Monetarily, who knows what the outcome will be? The restrictions put in place during this period (and by the way, some still exist) certainly have had their impact. Barges averaged at least 100 tons less per barge—tow sizes were reduced as much as 50 percent, and many times were limited to daylight operations.
However, it is an important measure of this industry, I believe, that despite estimated losses of up to $200 million, we turned down a federal handout last August. As Joe Farrell, president of AWO, said at the time, "Sometimes you succeed; sometimes you don't. When you don't you shouldn't turn to the federal government to bail you out." I believe that history will show the Drought of '88 was a step up the ladder for our industry, and for AWO, and will further affirm that both domestically, and abroad, shippers and customers can rely on the world's best inland water transportation system. As for 1989, it's apparent that the farmers have planted fence row to fence row.
They will fertilize heavily and, given favorable weather conditions, should produce tremendous volumes.
The barge and towing industry, and its national trade association, will be ready.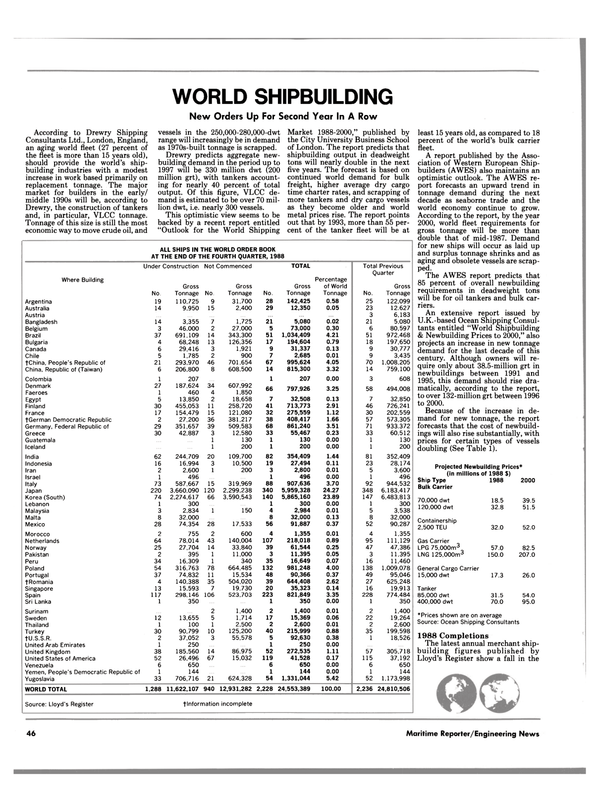 Read A WO In 1989: Tested By Drought And Ready To Face New Challenges in Pdf, Flash or Html5 edition of June 1989 Maritime Reporter
Other stories from June 1989 issue
Content