Lloyd's Register Completely Revises Rules For Marine Refrigerated Cargo Installations
Lloyd's Register has completely revised the Rules for Marine Refrigerated Cargo Installations to take account of advances in refrigeration engineering technology and changing patterns in the method of transporting refrigerated cargoes at sea.
Additions to the Rules as they relate to new construction are detailed below, and notes are given on certain revisions (See Section A) and omissions (See Section B).
Further notes (See Section C) are given on the revised sections dealing with the periodical survey of classed refrigerated cargo installations onboard ships in service.
ADDITIONS A new section sets out requirements for the design, construction and testing of refrigerating plant supplying cold air to insulated containers in ships' holds.
While many of the rules in other sections are applicable to refrigerated cargo installations onboard containerships, new rules have been formulated especially for ships carrying refrigerated containers.
A new rule, applicable to all classed refrigerated cargo installations, stipulates that the classed installation must be completely independent of any refrigerating machinery associated with air conditioning plant, domestic refrigerating installation or process plant, unless full details of alternative proposals have been submitted and approved.
The "Stand-By" or reserve unit may now be considered as an operating unit during the limited cooling-down period of a nonprecooled fruit cargo.
Rules relating to automated installations and to unmanned refrigerating machinery rooms are now included.
Rules have been added in Section 3 for the design and testing of rotary displacement compressors, now widely used for large capacity installations.
A new rule requires pressure vessels for use with ammonia above a stated size to be constructed to Class 2 / 1 or 2/2, with selected "Spot" radiography checks.
The rules now require pressure vessels designed for temperatures below minus 40 °C and for vessels with a design temperature below 0°C, where the pressure/saturation temperature relationship does not apply, to be manufactured from materials that have been specifically approved for the proposed operating conditions.
SECTION A REVISIONS Conditions to be complied with in order that the symbol J can be assigned to a classed installation have been amended to remove any ambiguity.
While in the past, it was recommended that a reasonable margin in plant output, over maximum load, be provided, it is now a requirement to design the plant to have at least 5 percent excess capacity over that required for the maximum design output for the desired class notation.
The formulae for determining the scantlings of compressor crankshafts have been completely revised, together with the table of pressures and the manner in which refrigerating plant components and completed installations are to be tested.
Alternative methods for preventing corrosion of the external surface of steel pipes conveying brine, other than by galvanizing, may now be approved and rules referring to the treatment of the surface of tank top plating in way of insulation have been revised.
The Section relating to insulating materials and methods of application and the rule requiring cargo battens to be fitted in insulated cargo spaces have been reappraised.
Cargo battens may now be omitted from insulated cargo chambers when fruit cargoes are carried, and alternative methods of maintaining air circulation between the insulated lining and frozen cargo, other than by cargo battens, may be accepted.
The rules associated with thermometers and electric remote reading temperature measurement equipment have been updated to take into account modern technology, digital electronic temperature recorders and similar appliances.
The rules setting out the procedure to be observed when carrying out the Society's thermal balance test have been enlarged and various points clarified.
All the plant is to be tested under working conditions and, when found to be operating satisfactorily, the capability of the installation to perform the specific duty necessary to maintain the carrying temperatures assigned with the maximum sea temperature specified, is to be determined by the Society's thermal balance test.
This test measures the capability of the combined plant and insulated chambers. It does not separately measure the insulation "U" value or the efficiency of the machinery.
A thermal balance test may also be required when an installation is being considered for reclassification, when extensive repairs or alterations have been carried out, or when an amended temperature notation may be required.
SECTION B OMISSIONS Reference to refrigerated cargo installations using C02 (Carbon Dioxide) as a primary refrigerant has been omitted, while rules related to the use of Refrigerant R502 are included for the first time.
Rules referring to steam engines, or oil engines, no longer used as prime movers to drive refrigerant compressors, and to evaporators and refrigerant condensers, of the "Coil - in - Casing type" (also no longer employed in modern refrigerating installations), have been omitted from the rules under review.
Reference to insulation, in way of coal bunkers and piping carrying a refrigerating medium through bunkers, has also been omitted.
SECTION C Survey of Classed Refrigerated Cargo Installations onboard ships in service The Sections dealing with periodical survey regulations have been completely rewritten and now present a new approach to the problem of inspecting and testing refrigerating installations without opening out machinery at what may be considered to be too frequent intervals. The period between opening out refrigerating plant and the manner in which surveys are held have been revised to be compatible with modern refrigerating engineering design and operational performance.
In future, an Annual Survey of the refrigerated cargo installation under service conditions is to be held at approximately 12-month intervals. (Within a period two months prior to, and two months subsequent to, the date of survey).
It should normally be possible to complete the Annual Survey without opening out the machinery, or dismantling the insulation arrangements, unless any defects are observed, when the surveyor may recommend the opening out of suspected items for further investigation.
At intervals of four years, a Special Survey is to be held as detailed in the revised rules. The Committee will give consideration to the Special Survey requirements being carried out on a Continuous Survey basis, which will normally require that one quarter of the refrigerating machinery and arrangements, insulated holds and chambers is surveyed annually.
The intervals between opening out screwtype compressors will be given special consideration on application, and individual consideration may be given to alternative survey arrangements for all components, when there is a program of replacement instead of surveys onboard ship.
At Loading Port Surveys, which are held when requested by the owner or his representative, or when carrying out an Annual Survey under service conditions, the surveyor is now required to pay particular attention to the power supply available.
At Annual Surveys, the surveyor is also required to examine the Refrigerated Cargo Installation Log Book.
The performance of the installation during the previous 12 months as recorded in the Log Book, especially during any period when the plant was required to operate at, or close to, maximum capacity, is to be appraised by the surveyor and any pertinent observations reported to the Committee.
Finally, the format used for these revised rules is similar to that which will be used for the 1978 Rules for Steel Ships.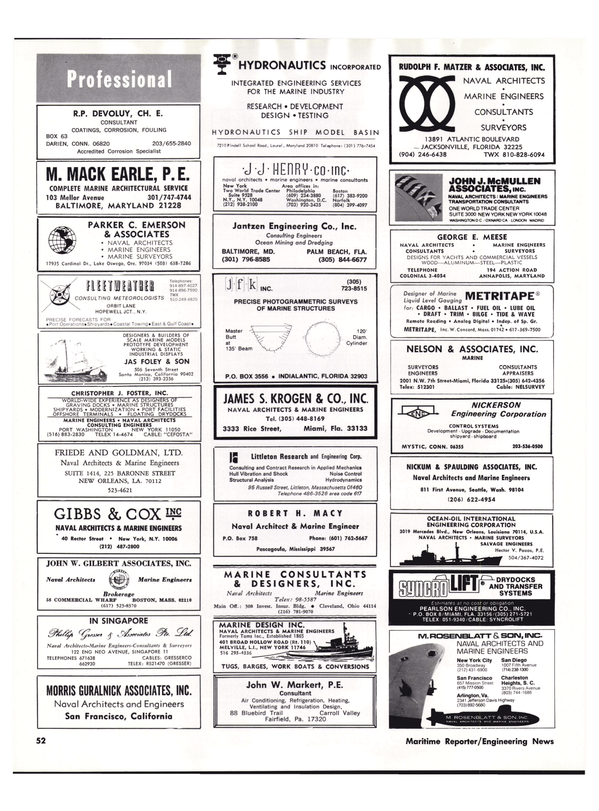 Read Lloyd's Register Completely Revises Rules For Marine Refrigerated Cargo Installations in Pdf, Flash or Html5 edition of September 1977 Maritime Reporter
Other stories from September 1977 issue
Content