Moss Point Marine Will Build Two Fireboats Designed By Nickum & Spaulding For Long Beach
Construction will begin soon on the first of two diesel-powered, twin-screw 10,000-gpm fireboats for the City of Long Beach, Calif. The boats were designed by the Seattlebased naval architecture and marine engineering firm of Nickum & Spaulding Associates.
Long Beach has selected Moss Point Marine in Escatawpa, Miss., to build the special-purpose craft; delivery is scheduled for September 1986. Each firefighting vessel will also be equipped for patrol, search, and rescue. A top speed of 15 knots will give the new boats a 10-minute response time, allowing two minutes for startup, to virtually all of Long Beach Harbor.
The 88 V2-foot LOA boats will have welded steel hulls and aluminum superstructures and fully automated engine rooms. While actual manning will be the Fire Department's decision, the vessel could get underway and bring all firefighting equipment to bear with as few as two people. The boat's 10,000-gpm/ 165-psi pumping capacity will be split between three pumps—two 2,500-gpm units driven by power takeoffs from the front end of the main propulsion engines, and a single 5,000-gpm pump driven by a dedicated 600-bhp (mcr) diesel. All pumps will discharge into a 12-inch, stainless steel fire-main ring, which in turn will supply all the various monitors and manifolds.
Firefighting equipment on board will include: one 6-inch remote monitor mounted on the foredeck, one 8-inch remote monitor atop the pilothouse, two hull-mounted 4-inch remote underwharf monitors, one 4- inch remote monitor mounted on a telescoping tower at the aft deckhouse face that extends to a light of 70 feet above the water, two manual 4-inch monitors on the main deck aft, and three hose manifolds (hydrants) mounted on deck. The firemain system will also supply water to a spray system for cooling the deckhouse and pilothouse.
Each vessel will be propelled by two Detroit Diesel 12V92TA engines, each rated to deliver 760 bhp at 2,300 rpm, driving fixed-pitch propellers through Twin Disc 530M "Omega" reverse/reduction gears with a ratio of 3.13:1. These variable- speed gears will enable the engines to be set at a constant rpm for driving the fire pumps, while providing variable-speed propeller control for maneuvering when firefighting.
Three of the design requirements were deemed "controlling" by the Nickum & Spaulding design team headed by Paul Gow, and were the foundation upon which the design was developed. These requirements were: machinery size and power to develop a water flow of 10,000 gpm at 165 psi; vessel hull form and length to enable a sprint speed of 15-16 knots; and sufficient beam to provide adequate stability to counteract nozzle thrust athwartships.
The engine configuration selected will provide the necessary horsepower to travel at 15 knots, and once on station at a fire, the boat's crew can switch the gearbox to the Omega mode and set the engines at 1,800 rpm, the required operating rpm for the 2,500-gpm fire pumps.
Then by bringing the dedicated fire pump engine on line, the crew will have available the hull fire flow capability of 10,000 gpm, with 600 bhp still available for maneuvering.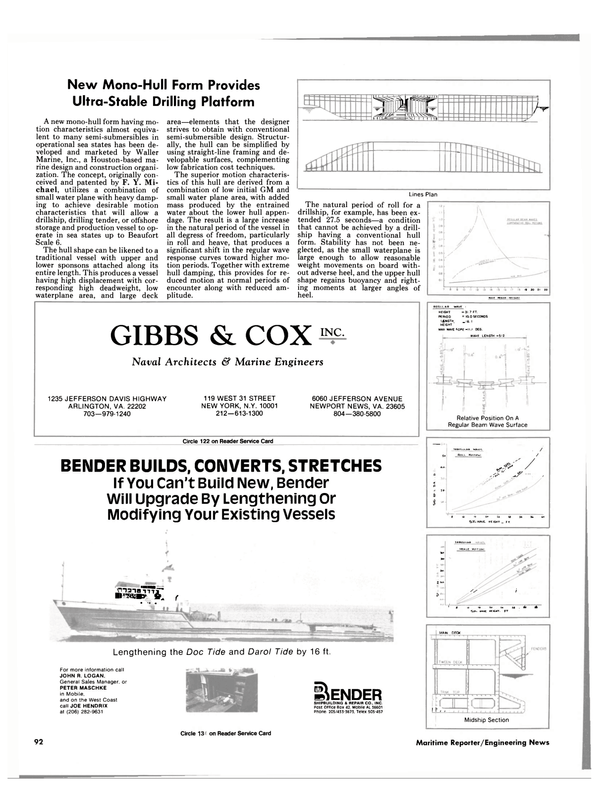 Read Moss Point Marine Will Build Two Fireboats Designed By Nickum & Spaulding For Long Beach in Pdf, Flash or Html5 edition of November 1985 Maritime Reporter
Other stories from November 1985 issue
Content