VIEWNAV® Offshore Platform Monitoring System Installed In North Sea And Off California
Navigation Sciences' VIEWNAV® Electronic Chart Offshore Platform Monitoring System is being used increasingly to alert oil-rig platform operators of potential collision danger and to help warn ships of potential collision and anchoring damage to pipelines. The VIEWNAV system is being installed by British Petroleum in the North Sea Ula Field in the next several months and by other major companies off the California coast.
The VIEWNAV system is said to be ideal for these critical monitoring operations because of the flexibility and ease of programming the digitized electronic color charts to meet specific requirements of site configurations, and because of the proven reliability of equipment used.
True-motion ARPA (Automatic Radar Plotting Aid) images are superimposed over rig and pipeline configurations in exact locations and scale. Up to 40 targets—ships, boats, even lowflying aircraft—are simultaneously identified, tracked and classified. Audible and visual alarms for intrusion into user-designated "protected" zones provide potential anchoring or collision alerts, even during periods of unattended operation.
Selectable ranges from one to 48-NM square allow observation of entire tactical situations or close-up pictures. Range, bearing, course, speed, time-to-closest-point-of-approach, and target status are shown on-screen. The extensive interactive database stores, revises, updates, and displays target data, names, locations, work records, schedules, etc.
Color coding helps speed target identification, with yellow indicating potential anchorage and collision warning; red—collision danger; g r e e n - authorized vessel; dark blue—aircraft; light blue—stationary target; and white—status to be assigned. Target symbol status is continuously updated.
The VIEWNAV Electronic Chart Offshore Platform Monitoring System consists of a Control Console; 14, 20, or 25-inch Full-color Video Display Unit; Main Equipment Cabinet; and interfacing ARPA. The VIEWNAV system uses proprietary software plus proven computer technology (10-Mbyte Winchester hard disk and 1-Mbyte floppy disk) to provide off-the-shelf reliability.
For full information about custom programming configurations and data displays, and for a free brochure of the VIEWNAV platform system, Circle 68 on Reader Service Card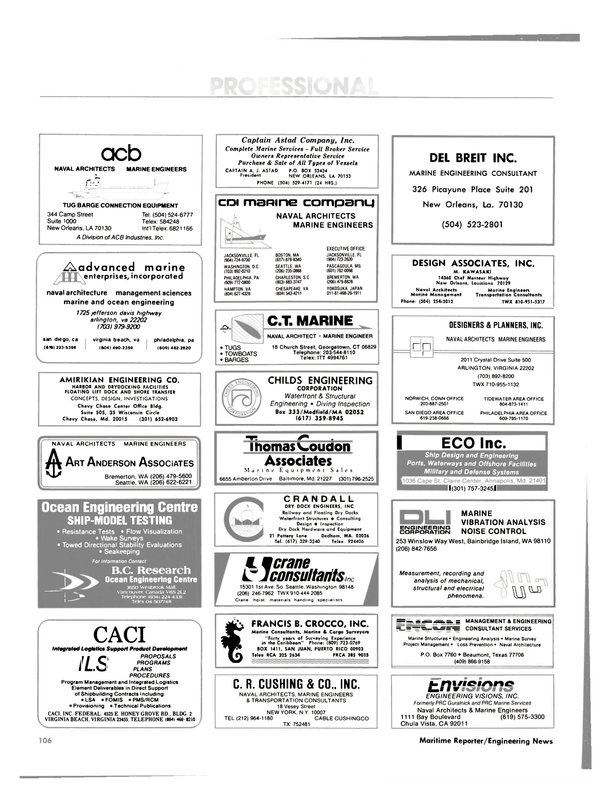 Read VIEWNAV® Offshore Platform Monitoring System Installed In North Sea And Off California in Pdf, Flash or Html5 edition of November 1985 Maritime Reporter
Other stories from November 1985 issue
Content