High-Performance Bearings Reduce Costs By Extending Dredge Life
Permanently on station along a 100-mile stretch of the Orinoco River in Venezuela, one of the world's largest, hardest-working dredges, the 23-year old Icoa, works day and night to keep open a 300-foot-wide channel for deep-draft vessels bringing iron ore out from the mines of Venezuela.
The big vessel dredges the river 24-hours-a-day for 42 consecutive days before anchoring for two or three days to refuel and reprovision.
Water-lubricated rubber bearings of a unique design have extended the life of propeller shafts, and bearings themselves, by reducing friction, wear, and heat.
Built in Japan in 1961 by the Kure Shipyard of National Bulk Carriers, the Icoa carries an average crew of 100. A trailing suction dredge with boom delivery, she is outfitted with four 36-inch-diameter suction pumps, with dragheads, each driven by a diesel-powered centrifugal pump. A revolving boom supports a 57-inch pipe capable of discharging spoil up to 328 feet to either port or starboard. Icoa can dredge to a depth of 59 feet below the surface of the water.
While dredging, the Icoa's shaft and rudder pintle bearings are awash in dirty, gritty water, yet the bearing and propulsion systems are able to perform at optimum wear levels with nil or minimum damage.
One key to this performance has been the use of water-lubricated, soft, thin-rubber, plastic-backed segmental bearings reportedly able to endure up to three years of operation before replacement. This bearing system—produced jointly by the BFGoodrich Company and Lucian Q. Moffitt, Inc., both of Akron, Ohio—has been developed and refined over a number of years, and the Icoa experience has played a major role in the achievement.
One of the earliest marine bearing surface materials was brass, but in 1839 Isaac Babbitt of Massachusetts developed "white metal," an alloy composed of tin with small percentages of antimony and copper.
It quickly became a popular choice for bearing surfaces.
The use of rubber as a bearing material appears to have originated when a mining engineer named Charles Sherwood, working a California mine during the early 1900s, found that a bearing had failed in an important drainage pump. With no spares available, he resorted to a field expedient by splitting a piece of rubber hose longitudinally and slipping it over the shaft. Surprisingly, the rubber worked better than the metal bearing it had replaced, and the rubber bearing industry was born.
Mr. Sherwood and the Oliver Pump Company later joined forces to form the Oliver Sherwood Company to design and manufacture rubber bearings. In 1922 that company sold, to the BFGoodrich Company, a number of patents covering the application of rubber to mechanical devices.
The underwater bearing system on the Icoa consists of six BFGoodrich Cutless® brand, water-lubricated, thin-rubber segmental bearings that include: a 51V2-inch-long after stern tube bearing; a 37 ¥2. - inch-long after stern tube bearing; and a 97 V2-inch-long main strut bearing on each end of the two propeller shafts. All these bearings have inside diameters of 19 inches and outside diameters of 23 ¥2 inches.
The load on each main strut bearing approximates 54,000 pounds.
Additionally, each of the Icoa's dual rudders is hung on pintles that utilize 13-inch ID upper pintle bearings, and 16¥2-inch ID lower pintle bearings. All bearings in the system are free-flooded except the top pintle, which is fed by pipe from the engine room.
Fundamental to the efficiency of water-lubricated rubber bearings are the inherent characteristics of both water and rubber. Water, of course, is free, nonpolluting, and an inexhaustible resource. More importantly, because of its low viscosity and high specific heat, it can be the most efficient of all liquids in lowering fluid friction and drawing off heat. Further, if it can be trans- ported properly through the bearing so that it produces a continuous film between the bearing and the shaft, it can eliminate almost all contact between the two. The creation and maintenance of that film is the function of the critical design of the bearing configuration.
Rubber, on the other hand, brings to the bearing equation its own set of desirable traits, principally the fact that when it is sufficiently wetted, it has a naturally lower coefficient of friction than other traditional bearing materials.
The final factor in the bearing equation is design, which optimizes the natural characteristics of the rubber and water to produce a bearing system that achieves maximum levels of attainment in the reduction of friction temperature, and wear.
The Cutless brand bearing configuration provides a rubber surface designed to provide, in a perfect circle, a series of alternating "water wedges" and "water grooves." The water grooves serve as reservoirs through which incoming water is the lubricating coolant; the outgoing water functions to flush out dirt and potentially damaging grit.
The water grooves approach the surface of the shaft in a very exact and narrow angle, which causes a volume of water from each groove to form a wedge of water between the bearing and the shaft surfaces.
These wedges of water in turn produce a continuous film of lubricating water that keeps that shaft and the bearing separated, a condition that obviously keeps wear on both parts to a minimum.
The ability of rubber to deform and rebound accommodates load changes from the shaft and permits the bearing to continue to perform effectively even though the shaft may be bent or misaligned.
For bearings designed to fit shafts with outside diameters greater than 6V2 inches, such as those on the Icoa, BFGoodrich/Moffitt has designed a segmental type bearing that produces the same bearing surface configuration and performance as a full molded bearing. In the segmental bearing, longitudinal staves composed of thin rubber facings molded to noncorroding, high molecular weight polyethylene backing strips (Romor® brand staves), are precision made to fit into matching, trapezoidal slots, machined into the bearing housing. With all staves in place, the bearing surface provides the same "water groove/water wedge" profile. A major advantage of the segmental type bearing is the fact that individual staves can be replaced one or more at a time.
The dredge Icoa is but one of the many vessels that have employed these water-lubricated rubber bearings.
But this vessel, during her nearly quarter century on the Orinoco, has served as a hostile proving ground, and as the "necessity of invention" for a number of Cutless bearing refinements.
For a copy of a brochure containing complete data describing the Cutless bearing line, Circle 17 on Reader Service Card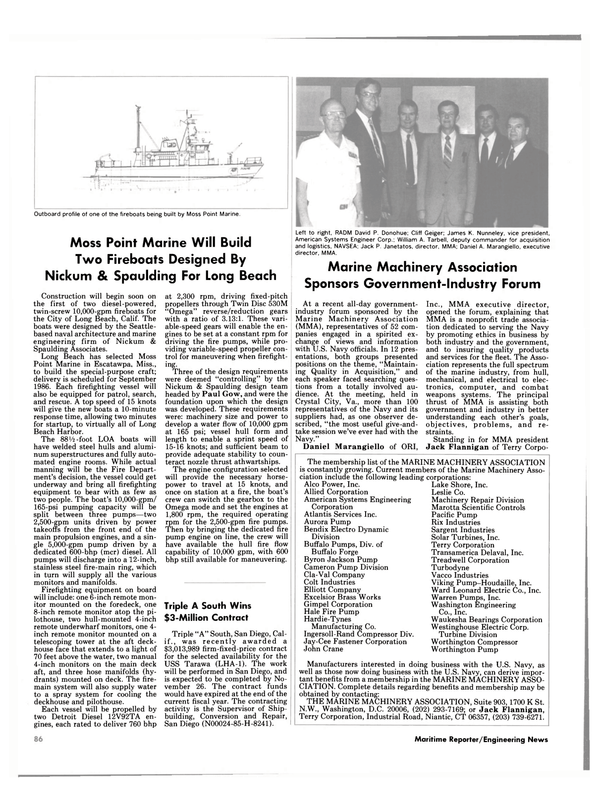 Read High-Performance Bearings Reduce Costs By Extending Dredge Life in Pdf, Flash or Html5 edition of November 1985 Maritime Reporter
Other stories from November 1985 issue
Content