Jeffboat, Incorporated Delivers Twin-Screw Towboat 'Alois Luhr'
Jeffboat, Incorporated of Jeffersonville, Ind. recently delivered the towboat M/V Alois Luhr to Luhr Brothers, Inc., of Columbia, 111. The 6,600-hp, twin-screw towboat incorporates the unique features of a "floating deckhouse" and 118-inchdiameter propellers.
The Alois Luhr is the culmination of many research projects conducted by Jeffboat over the past several years concerning hydrodynamic efficiencies and habitability.
Hydrodynamic research has been an ongoing program at the MARIN research facilities in Holland. MARIN was previously known as the Netherlands Ship Model Basin, or NSMB. Jeffboat conducted its first model test in 1966, and has progressively tested hull forms and appendage design through its latest tests.
The Alois Luhr has incorporated in its design all the latest refinements to hull form, nozzle design and steering and flanking rudder shape to provide one of the most efficient 6,600-hp, twin-screw towboats in service today.
Habitability has been a subject of investigation at Jeffboat over the past decade. The floating deckhouse concept appeared to be the most effective means of providing crew comfort when considering noise and vibration, and Jeffboat's refinement of this design has proven without a doubt that the Alois Luhr has accomplished the ultimate in crew comfort. Noise and vibration has been virtually eliminated, giving the feeling of being at home. The floating deckhouse concept on the Alois Luhr is expected to be standard, by which all future new construction will be measured.
In simplest terms, the entire Luhr deckhouse between the rope locker and the engine room—approximately 130 tons—is supported by a series of isolators. Although the space between the deckhouse and the main deck is covered by a shroud, the most casual observer can see that the two entities are not connected in the normal fashion.
Ladders that are affixed to the deckhouse end a few inches above the main deck, and so on.
The new towboat is named Alois Luhr for the company's co-founder and president. It is 10 feet longer than the standard Jeffboat 6000, because of the increased horsepower, larger propellers, and finer lines forward and aft. Luhr's towboat Twyla A., delivered in 1982 by Jeffboat, is the standard design: 160 by 48 by 11.6 feet with 110-inch wheels.
The Alois Luhr measures 170 by 48 by 11.6 feet with 118-inch wheels.
When asked to compare the degree of noise and vibration between the Twyla A. and his new boat, Mr.
Luhr said, "There is a marked difference even though the Twyla is a relatively smooth boat." He said he could see the pilothouse windows shake when the Twyla flanked a bend, something that he doubted would happen on the Alois. Mr.
Luhr told of how important this aspect is to a crew's comfort and to wear and tear on certain pieces of equipment.
Jeffboat continues innovative techniques in research, design, and construction of marine equipment, providing owners with efficient and serviceable equipment. Jeffboat remains the technological leader in the field.
The Alois Luhr is propelled by two General Motors (Electro-Motive) model 16-645F7B diesel engines, each developing 3,300 hp at 900 rpm through a Lufkin RHS3622 reduction gear. The reduction ratio is 4.51:1. The engines and gears are cooled with clean water circulated through a Jeffboat-designed skin cooling system. The five-blade, stainless steel, Columbian propellers turn in specially designed Kort nozzles on A.B.S. Grade 2, twelveinch shafts with Cooper split bearings.
Built into the all-welded steel hull of 5/8-inch and 3/i-inch plating are fuel oil tanks with a total capacity of 140,200 gallons, washwater tanks having a total capacity of 21,000 gallons, and potable water tanks having a total capacity of 14,000 gallons.
Also, there are 3,400-gallon and 2,200-gallon tanks for engine and gear lube oil.
Electric power is provided by two International 155-kw generator sets driven by Detroit 8V-71 diesel engines each turning 1,800 rpm. The auxiliary engines were supplied by Western Diesel Services. A Power Panels, Inc., deadfront switchboard is wired for parallel operation of the generators.
The vessel's two steering (redesigned to the latest state-of-the-art technology) and four flanking rudders (adapted to the new refined stern lines) are mechanically/hydraulically linked to pilothouse controls in a Jeffboat designed system using Racine flanking and steering pumps. All moving parts are automatically greased by a Lincoln lubrication system.
A Kiddie Halon 1301 fixed fire extinguishing system is provided for the engine room. Additionally, there are carbon dioxide units elsewhere, an Ingersoll-Rand fire pump and alarms.
A Fast model M3 sewage treatment plant, and appropriate pumps and holding tanks, assure that the vessel is in compliance with all existing environmental protection requirements.
Deck machinery consists of one Schoellhorn-Albrecht, 10-hp, motor- driven, double-barreled capstan; six Beebe 5-hp motor-driven winches and a 3,000-pound-capacity boat hoist. There are twelve 10-inch button chocks, four 10-inch roller chocks, eleven 48-inch kevels and six 42-inch kevels welded to the deck.
Noise and vibration in the floating Alois Luhr deckhouse is further dampened by Marlite paneling, floor coverings, and suspended ceilings.
Unusually wide passageways and stairways allow for considerable ease in moving around.
The galley, mess and pantry are on the port main deck with crew's lounge, bathroom and engineer's control room on the starboard. The galley and mess area are equipped with a stainless steel counter top and sinks, Toastmaster electric range, Foster freezer and refrigerator, Hobard dishwasher, Oasis drinking fountain, Sunbeam ice maker, and Frigidaire night box.
The cook's stateroom is on the second deck along with the pilot's, deckhands', mates', and engineers'.
A hotel-like guest room and lounge with wet bar highlight the Texas deck which also houses the captain's room, a spare bedroom and an electronics room. All living quarters, lounges, galley, mess and pilothouse are air-conditioned and heated.
The pilothouse has an eye level of 39 feet, and from it all four corners of the vessel are clearly visible. In addition, each of the forwardmost side windows extends nearly to the deck of the pilothouse to provide greater visibility.
Two Carlisle & Finch 1,000-watt xenon searchlights are located atop the pilothouse. One Kahlenberg Q4 airhorn is provided. Two Sperry 340 radars, two Raytheon Ray-78 VHF radios, one Motorola Triton 20 single sideband radio, two ELAC LAZ 43 depth sounders with Paragon digital display, one Rivertronics RT-500AC swingmeter, one Rivertronics RT-1000 TV antenna, and two Standard 834S walkie-talkies complete the communication and navigation equipment package from Rivertronics, Inc.
The Alois Luhr is used to push thirty barge tows of crushed rock from the company's quarry in Ste.
Genevieve, Mo., to Baton Rouge, La., where it is met by other Luhr boats who take the rock on to various job sites. One of the boats is the new Cletus, also built by Jeffboat and which was designed primarily for the Red River. Luhr Bros, has a number of projects on the Red. The Cletus has a retractable pilothouse that enables it to clear the low bridges on the waterway.
A general contractor specializing in river and port construction, Luhr Bros., Inc. was founded in 1948.
Some of the firm's more recent activities include the provision of all the rock for the construction of Lock and Dam 1 on the Red River; channel excavation and bank stabilization work connected with the construction of a nuclear plant at St. Francisville, La.; sand dredging, filling and capping dam cells, constructing the earthen section of the cofferdam and providing all the rock revetments for Lock and Dam 26; eighty percent of the river work, from dredging to rock placement, on the Kaskaskia Navigation Project; and excavating and placing three million cubic yards of fill including half-a-million tons of rock, 17,000 tons of filter gravel and 130,000 cubic yards of sand, as subcontractor on the $303-million Clarence Cannon Dam.
The Luhr company has branch offices in Cape Girardeau, Mo. and Alexandria, La. It recently moved its headquarters from downtown Columbia to a modern complex outside of town, on a 19-acre site overlooking the river valley. Besides a 26,000-square-foot office building, there is a 25,000-square-foot maintenance shop, a 13,300-square-foot warehouse, a welding and machine shop (that houses a 36-foot lathe the company bought recently to repair shafts), and a paint and clean shop.
For more information and free literature on Jeffboat, Incorporated, Circle 73 on Reader Service Card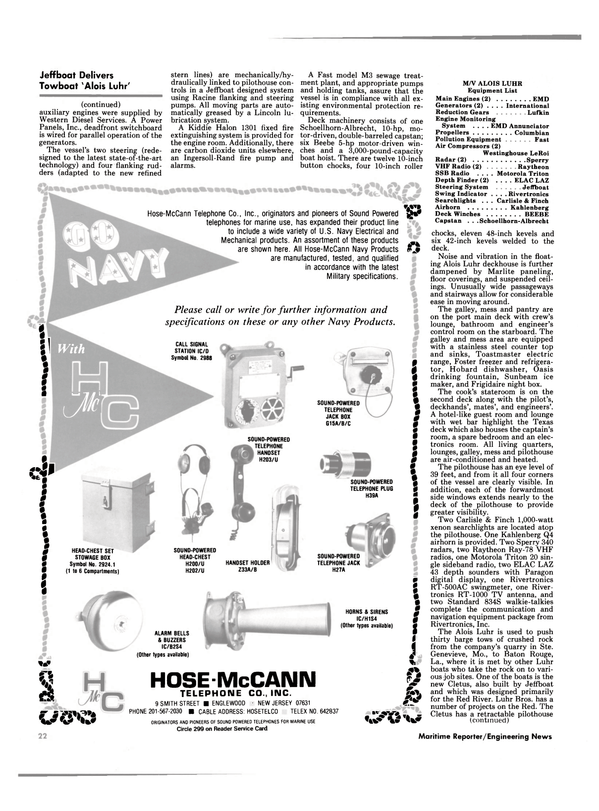 Read Jeffboat, Incorporated Delivers Twin-Screw Towboat 'Alois Luhr' in Pdf, Flash or Html5 edition of November 1985 Maritime Reporter
Other stories from November 1985 issue
Content