Newport News Lifts 890-Metric-Ton Assembly Onto Carrier Roosevelt -Largest Ever For Naval Vessel
Newport News Shipbuilding of Newport News, Va., made history recently when it successfully lifted an 890-metric-ton assembly onto the aircraft carrier Theodore Roosevelt (CVN 70), under construction at the shipyard.
The assembly, weighing as much as 630 standard size American automobiles, was the largest ever lifted onto a naval vessel.
Installed near the aft end of the ship, the five-deck assembly contained emergency diesel generators, pumps, and jet fuel tanks.
During the construction of previous aircraft carriers, these components were installed aboard ship with much greater difficulty.
"Instead of making 25 lifts of structural assemblies and 15 to 20 lifts of components, we made just one super lift," Bob Savage, construction superintendent, said.
Construction on the Theodore Roosevelt is moving along at an unprecedented pace, according to project manager W.B. Miffleton.
Since the ship's keel-laying in October 1981, the shipyard has laid more than 900 feet of ship and has erected steel up to the hanger deck. (A completed Nimitzclass aircraft carrier is 1,092 feet in length).
"We've made radical changes in our concept of building aircraft carriers," Mr. Miffleton said.
The changes involve moving new carrier construction from its previous site at Shipway 11 with its 310-ton gantry crane to Shipway 12 with its modern 11-acre fabrication facility and 900-ton gantry crane, an area originally built in the 1970s for the series construction of commercial ships.
The crane, manufactured by Krupp, is the largest in the Western Hemisphere and enables construction crews to erect much larger, more fully outfitted assemblies.
Mr. Miffleton says there is no comparison between progress on the previous carrier, the USS Carl Vinson, and the Theodore Roosevelt.
"We weren't this far along on Vinson 21/_> years after the keel was laid," Mr. Miffleton, who was project manager during most of the construction of Vinson, said.
"But we're working with a compressed schedule on the Roosevelt, so we must have this kind of progress to meet our timetable." Newport News is working toward a target delivery date of 1986, some 14 months before the contract delivery date of February 1988.
Newport News also has a construction contract for two more Nimitz-class aircraft carriers — CVN72 and CVN73. The keel on the first of those carriers is to be laid in 1984 and the second in 1986. The shipyard has delivered a total of 23 aircraft carriers since 1934, four of which have been nuclear powered.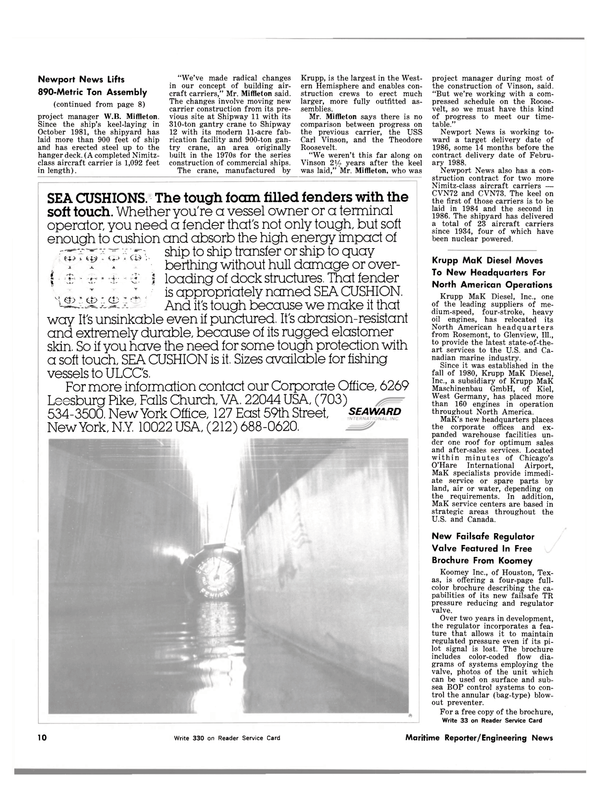 Read Newport News Lifts 890-Metric-Ton Assembly Onto Carrier Roosevelt -Largest Ever For Naval Vessel in Pdf, Flash or Html5 edition of March 1983 Maritime Reporter
Other stories from March 1983 issue
Content