Todd Houston Accepts Delivery Of New Drydock From Bender
Delivery of a new 14,000-tonlifting- capacity drydock, built for Todd Shipyards Corporation, New York, N.Y., by Bender Shipbuilding and Repair Company, Mobile, Ala., was made recently during ceremonies at the builder's facility to Todd president Hans K.
Schaefer.
The new drydock will be installed at Todd's Houston Division, strategically located on the Houston Ship Channel.
The new dock is one of the largest floating drydocks built in the United States in recent years, a design reflecting the latest stateof- the-art.
The 397-foot long, by 148-foot wide, by 59-foot, six-inch overall height, continuous wing sectionalpontoon dock was classed by the American Bureau of Shipping, and has an impressive lifting capacity of 14,400 long tons.
Tom Bender Jr., president of the shipbuilding company, notes "there are some distinct design characteristics of this dock worthy of mention. First, the dock is a 'Rennie type,' consisting of continuous wingwalls joined to four separate pontoons at the pontoon deck." "Because of this sectional construction and excellent longitudinal rigidity, any individual pontoon may be disconnected and drydocked on the remaining sections, thus the dock is self-docking and capable of being maintained entirely at its location." The entire dock is sectioned into 16 water ballast tanks which, through appropriate ballasting allows the dry docking of vessels of a variety of sizes and shapes without exceeding ABS limits.
"In addition to this stability optimization, the dry dock features rapid de-ballasting through two pumps in each of the 16 tanks," explains Bender chief engineer, John Cheek, "and it's a very flexible, safe and efficient technique. Each tank also has a cross-connect valve which can be opened in the event of pump failure, allowing greater flexibility." The drydock is also outfitted with a continuous water-tight safety deck along both wing walls. With all tanks filled to the vents, the dock will remain afloat with a suitable wingwall freeboard of five feet, six inches.
The ABS rated pontoon freeboard is 12 inches at the 14,400 long ton lift capacity noted the chief engineer. The ABS minimum freeboard is three inches at a 15,600 long ton lift capacity.
The drydock has King mercury manometer gauges for reading the water level in each tank and also the exterior draft at six places, port and starboard at midships and at each extreme end.
There is a dock deflection monitoring system on top of each wingwall to enable the dockmaster from over stressing the structure when loading the dock.
Four 24-inch capstans and two 16-inch capstans are installed for ship handling. Additionally, there are 30-inch cleats and 8-inch bitts spaced along the top deck of the wingwalls.
Special "T" section mooring spuds are fitted to enable the dock to be permanently moored at its berth in Houston.
The electrical system is shore power fed with a 1690 KVA capacity main and 200 KVA standby.
A 100 kw emergency generator with automatic start on shore power failure is installed.
The dock has its own service piping systems consisting of firemain, air, water, oxygen and gas.
These systems are all shore supplied.
Interior communications consist of sound-powered phones, a separate internal phone system and a general alarm.
The drydock was accepted by the client, Todd Shipyards Corporation, at Bender's Mobile yard at the conclusion of a series of tests designed to simulate actual use. It was towed to Todd's Houston facility by Gulf International Marine of Houma, La. During the tests, the dock was flooded in such a way as to produce a deflection close to the maximum calculated value. "Seeing this test sure gave us a lot of firsthand confidence in the dock's strength," commented Benny King, Bender's dockmaster.
A 25-ton-capacity crane will be installed on the offshore wingwall.
An additional crane is planned for installation on the inboard wingwall at a later date. Necessary support facilities construction is proceeding to permit start of operation of this large drydock in the port of Houston as of this month.
At the delivery ceremonies Mr.
Schaefer announced that Todd is already commencing the construction of an additional 100- foot section for this drydock, which will increase its lifting capacity to 17,500-tons, further stating that Todd is very optimistic regarding the future of its ship repair, barge, and offshore oil industry market opportunities.
The new Todd drydock provides the company with unmatched capability in the Gulf area, complementing Todd's other facilities at Galveston, Texas, and New Orleans. The new facility is part of a multimillion-dollar corporated- wide plant modernization and upgrading program.
From 1976 to March of this year, Todd will have invested about $165 million in facilities expansion and improvements, and an additional $52 million in work force training to improve productivity and competitive efficiency in construction.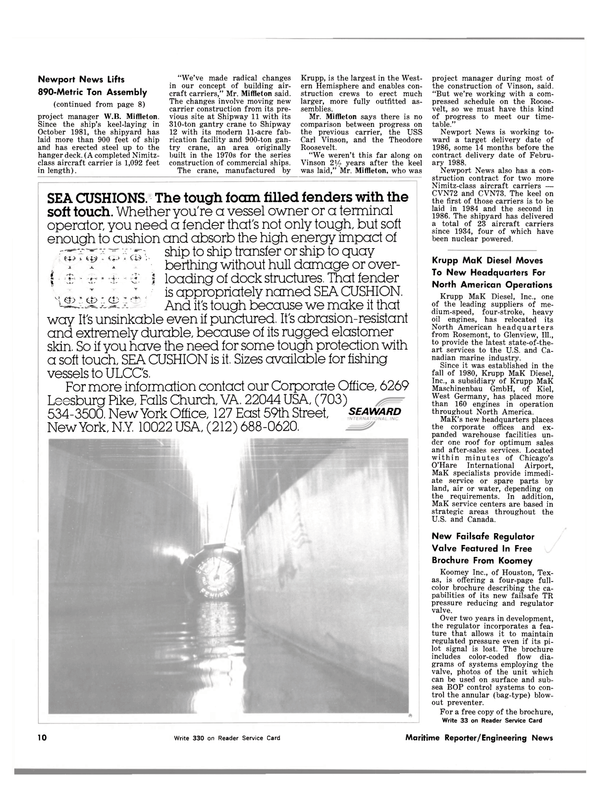 Read Todd Houston Accepts Delivery Of New Drydock From Bender in Pdf, Flash or Html5 edition of March 1983 Maritime Reporter
Other stories from March 1983 issue
Content