Bender To Offer New Ice-Class Anchor Handling Tug/Supply Vessel
Bender Shipbuilding and Repair of Mobile, Ala., recently entered into an agreement with Cleaver and Walkingshaw Ltd., naval architects of Vancouver, B.C., which permits the Gulf Coast yard to offer the proven "hostile" class design to the American Offshore Service industry for construction at its Alabama facility.
The 11,200-hp anchor handling tug supply vessel design is a product of Arctic Offshore Design Ltd., a subsidiary of Cleaver and Walkingshaw.
The company specializes in designing vessels for the oil explo- ration industry, with emphasis on the Eastern Canadian and Lower Arctic regions. Arctic Offshore has thus far designed hostile environment boats such as icebreakers, seismic research vessels, geotechnic vessels, and iceclass oil tankers. The company also has consulted on designs for companies such as Husky Oil Operations, Dome Petroleum, the Government of Chile, and Canadian Marine Drilling, Ltd.
However, the company is best known for its innovative design of the Arctic Class 3-4 research vessel Canmar Kigoriak.
Bender president Tom Bender Jr., commented: "Cleaver and Walkingshaw is a company given to turning owners' requirements into realistic designs. In this particular instance, we are very excited about offering our American customers an outstanding 'hostile' environment vessel for which we see a substantial need in the not too distant future." Arctic Offshore's "hostile" class design has several distinct features, such as: four-engine reliability and heavy fuel-burning capability; economical fuel consumption by using two engines for normal cruising speed; an approximate 123-long-ton bollard pull; three side thrusters — two bow at 800 bhp each and one in stern/skeg at 800 bhp; joystick control; FIFI II optional offshore firefighting e q u i p m e n t ; wheelhouse control of cargo unloading; and no fuel against the side shell.
Other distinctive design features include: enclosed anchor handling winch and reels for protection from icing; deck cargo capacity of 1,230 long tons; maximum cargo deadweight of 2,460 long tons; optional survivor rescue package; and design compliance with the Arctic Waters Pollution Prevention Act for Type A vessels.
Mr. Bender continued: "This forward-thinking design will yield an advanced, economical unit for the oil industry. Cleaver and Walkingshaw has met the challenge of a precarious frontier w i t h i n n o v a t i o n , cost-effective naval architecture and superior marine engineering.
"We at Bender Shipbuilding and Repair Company are pleased with our association with Cleaver and Walkingshaw, and feel confident that the 'hostile' class design enables us to offer one of the most economic and advanced ice-classed vessels to the industry." The vessel is 235-feet long overall, with a beam of 52 feet 6 inches, a depth of 24 feet 6 inches, and a draft of 20 feet 6 inches. The cargo deck area is 124 feet 6 inches by 41 feet.
The design calls for two main propulsion engines producing 11,300 hp, driving two cp propellers set in nozzles. Two cp 800-bhp electric drive bow thrusters and one stern thruster are incorporated to aid in maneuvering.
The vessel has a range of 25 days/9,000 nautical miles at 12 knots. Maximum speed is 16 knots.
The new design provides capacities of 264,000 U.S. gallons of fuel oil; 26,500 U.S. gallons potable water; 317,040 U.S. gallons ballast water; 1,900 barrels liquid mud; and 10,600 cubic feet dry mud. Accommodations are provided for 14 crew in single cabins and 8 passengers in two and four bunk cabins.
The deck machinery includes a hydraulic 275-ton enclosed towing anchor handling winch; a 6-foot 6-inch by 15-foot stern roller; two 15-ton capstans; two 10-ton tugger winches; and two 3.25-inch gypsies/chain lifters.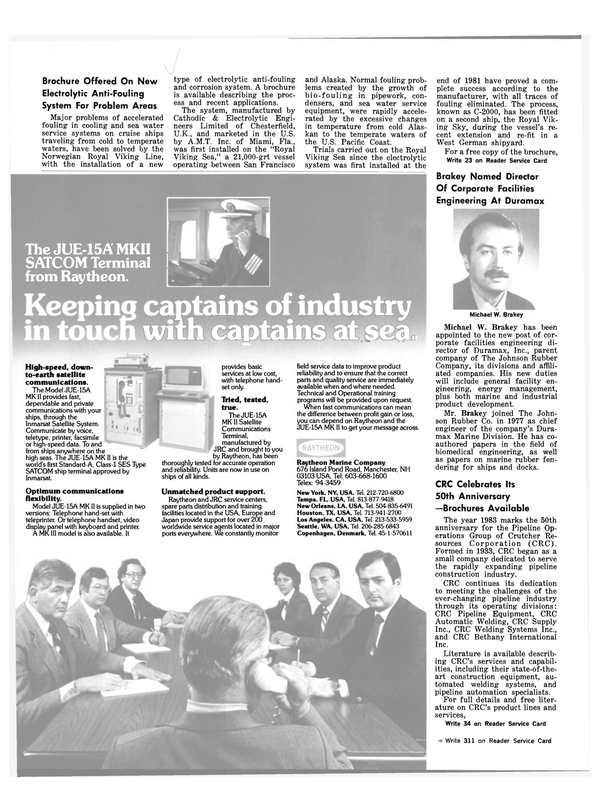 Read Bender To Offer New Ice-Class Anchor Handling Tug/Supply Vessel in Pdf, Flash or Html5 edition of March 1983 Maritime Reporter
Other stories from March 1983 issue
Content