n t e r o c e a n S t e a m s h i p Buys Lykes S t e a m s h i p For $ 1 5 0 - M i l l i o n
W.J. Amoss Jr., president and chief executive officer of Lykes Bros. Steamship Co., Inc., New Orleans, La., announced recently that the purchase of Lykes Steamship by Interocean Steamship Corp. from The LTV Corporation has been completed.
The sale price was $150 million including $85 million in cash.
Interocean is a Florida company owned by Lykes Bros. Inc., of Florida, Mr. Amoss, and two other Lykes Steamship senior executives, Robert J. Brennan and Eugene F. McCormick.
Lykes Bros. Inc., based in Tampa, is the original parent company of Lykes Steamship.
LTV and Lykes Corp., of which Lykes Steamship was a subsidiary, merged in December of 1978. Mr. Amoss said: "Lykes Steamship will continue to provide the shipping public with the efficient, responsive service it has come to associate with Lykes.
"We have enjoyed our association with the LTV Corporation," Mr. Amoss continued. "Our relationship was always a good one.
LTV gave us considerable freedom in both day-to-day operations and long-range development.
As a result of the association, Lykes is a disciplined, quantitative-oriented organization.
"We are very enthusiastic about Lykes's future," the chief executive officer said. "Because of the sale, we will have the flexibility to devote our resources to vessel replacement and expect to move ahead with the fleet replacement program we already have in a development stage.
Lykes Steamship, based in New Orleans, operates a fleet of 46 U.S.-flag cargo ships on trade routes covering the U.S. Gulf, West, and South Atlantic coasts, the Great Lakes and St. Lawrence Seaway, Northern Europe and the United Kingdom, the Mediterranean, South and East Africa, the west coast of South America, and the Far East. Lykes Steamship has been in service for more than 80 years. Among the innovations it introduced into shipping was the SEABEE barge, container, and heavy lift vessel.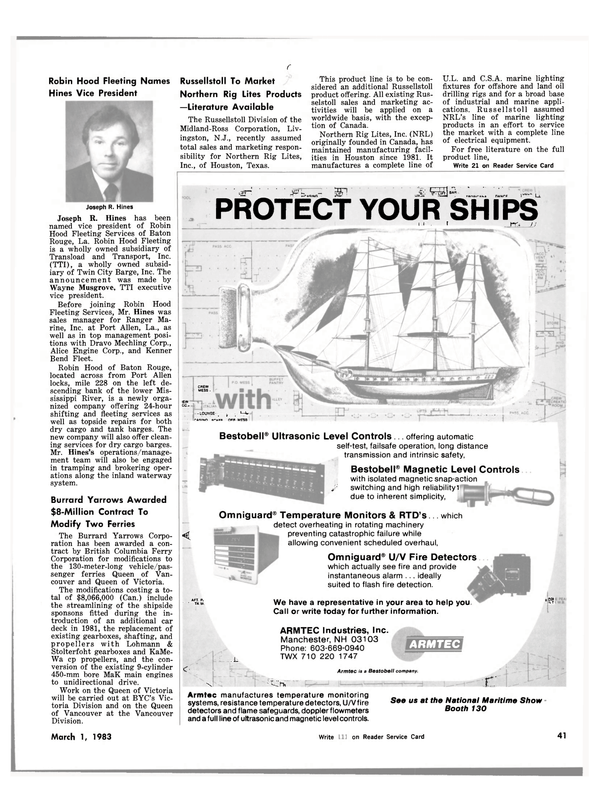 Read n t e r o c e a n S t e a m s h i p Buys Lykes S t e a m s h i p For $ 1 5 0 - M i l l i o n in Pdf, Flash or Html5 edition of March 1983 Maritime Reporter
Other stories from March 1983 issue
Content