Halter Marine Delivers Second Of Four Supply Boats To Point Express, Ltd.
Halter Marine, Inc. of New Orleans, La., recently delivered the Point Chaleur, the second of four 191-foot tug/supply boats to Point Express, Ltd., of Morgan City, La.
The Point Chaleur is 191 feet long with a 40-foot beam and a 14-foot depth. She is powered by two EMD 16-645C diesel engines developing 1,950 hp each at 900 rpm. They drive two, 90-inchdiameter f o u r - b l a d e propellers through Lufkin RHS 2120 reverse/ reduction gears with a ratio of 3.0:1.
The vessel's six Smatco tanks each carry 1,000 cubic feet of bulk mud and four additional tanks carry 1,344 barrels of liquid mud.
Dry mud is moved through the system by a Gardner Denver WCG air compressor and liquid muds are pumped by Mission Magnum pumps.
Some of the Point Chaleur's other capacities are: 61,000 gallons fuel oil; 1,824 gallons lube oil; 165,400 gallons ballast water; and 16,888 gallons of fresh water. Her aft deck has nearly 4,000 square feet of cargo space.
There are two Westinghouse equipped control stations aboard and a 56-point engine alarm system provided by EMI. The hydraulic steering system was manufactured by SSI and maneuverability is enhanced by a Bird- Johnson model 20 bow thruster driven by a Detroit Diesel 8V71 diesel engine through Capitol reverse/eduction gears.
The main switchboard and distribution panels were built by Continental Electric.
Auxiliary power is supplied by two Detroit Diesel 8V71-N diesel engines generating 125 kw. Two Quincy model D325 air compressors provide compressed air for diesel engine starting, the pneumatic control system, air whistle, sea chest, and ship service.
Aurora pumps service bilge, ballast, fuel transfer, and the onship fire-fighting system while Viking pumps handle oily bilge and fuel oil standby. The fuel oil separator was manufactured by Westfalia. The sanitary water system contains a Deming pressure set with a vertical 82-gallon tank. Water closets drain into a Micropher MC-200 sewage-treatment system.
Satellite navigation is provided by a Magnavox MX4102 direction finder with interface to a Sperry gyrocompass. The VHF radio is a Sailor RT-144 and the SSB radio is a Stevens SEA 106-1. Two Raytheon model 6425- 6UP radars are installed. The starboard radar has a Raytheon IBCAS anti-collision unit. The vessel is also equipped with a Raytheon depth sounder, Henchel rudder angle indicators, and a Henschel intercom.
Some of the deck equipment includes a Smatco 66 DAW 200 towing winch, a 5-foot by 8-foot Smatco stern roller, and an HBL electrohydraulic anchor windlass.
Living and working space is heated by Lennox electric strip heaters and cooled by 15 tons of Dunn and Bush water cooled airconditioning.
Seven staterooms provide berths for 20 persons.
The Point Chaleur is American Bureau of Shipping classed Al, Maltese Cross, full ocean towing, AMS, ice class "C", and carries a Panama Canal admeasurement certificate.
She was built at Halter's Lockport, La., division which will soon complete her sister ships, the Point Liberty and Point Normandy.
The first in the series, the Point Bravo was delivered recently. (See MARITIME REPORTER, February 15, 1983 issue) .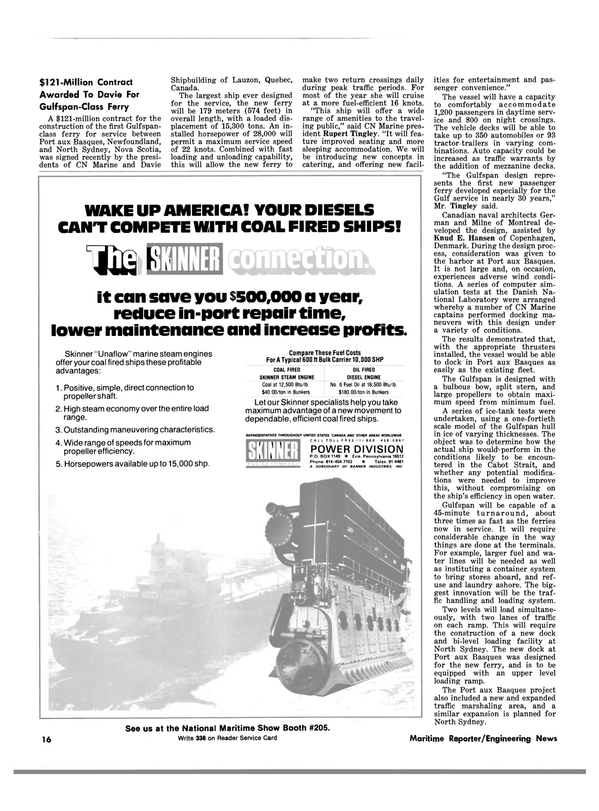 Read Halter Marine Delivers Second Of Four Supply Boats To Point Express, Ltd. in Pdf, Flash or Html5 edition of March 1983 Maritime Reporter
Other stories from March 1983 issue
Content