The Second Annual International Inland Waterways Conference & Trade Show
September 20-22, Louisville, Kentucky The second annual International Inland Waterways Conference and Trade Show will be held September 20 through 22, 1984 at the Kentucky Fair and Exposition Center in Louisville, Kentucky.
The three-day show will feature conferences and workshops with the general theme "Update 84: Success or Tragedy in the Waterway Industry." The show will be of special interest to waterways users; port and waterways builders; operators; maintainers; shippers; suppliers; shipbuilders; repair facility managers; shipyard man- agers; and all who provide related services and products to the inland waterways industry.
Joseph Farrell, president of the American Waterways Operators, Inc.; Leonard Silk of the New York Times/Business Week Magazine and an authority on economics and finance; Lt. General (Ret.) Dennis P. McAuliffe; first chairman of the Panama Canal Commission; Cees van der Burgt, chief engineer-director of Holland's Noordzee Directorate; Glover Wilkins, retiring Administrator of the Tennessee-Tombigbee Water Development Authority; and several top officials of the United States Army Corps of Engineers are among the keynote speakers at the three day event.
A series of workshops headed up by industry authorities will deal with matters ranging from governmental regulations to efficient use of time and facilities in the waterways industry. Officials have taken special care to schedule general sessions and workshops without overlap so as to allow attendees to participate in any and all sessions.
To be called the Rivermen's Exchange, a series of workshops have been scheduled to provide immediate and important information to users of inland waterway systems.
Intelligent Use of a Fleet— This workshop will address the profitable use of barge fleets, taking into consideration safety, efficiency in movement and proper splitting of fleets. Proper use and planning is key to profitability as underlined in this important workshop.
Tennessee Tombigbee Waterway— This workshop will deal with the practical aspects of navigating the Tennessee-Tombigbee Waterway, the nation's newest inland canal.
Interfacing with Governmental Agencies—How government agencies influence various aspects of river transportation will be addressed at this workshop. Included will be discussions pertaining to laws and personnel related to Coast Guard activities; port and in-route safety functions; conservation regulations and game warden responsibilities; permitting; and a variety of other waterways regulations.
Selection of a Repair Yard— This major workshop will deal extensively with considerations to be made in selecting a repair facility for barges and tows. Ways to insure best repair results before, during and after the work is done will also be discussed.
More than 2,000 attendees are expected to visit the Second Annual International Inland Waterways Conference and Trade Show.
Held in conjunction with the conferences and workshops, the trade show will be located in the exhibit area of the Kentucky Fair and Exposition Center.
Sponsors include the National Waterways Foundation, Waterways Journal, and the Inland Waterways Educational Services Inc. For further information, including a complete program of events, scheduled speakers, etc., contact Jerry Harper, International Inland Waterways Show, 818 West Main Street, Louisville, KY 40202. Telephone—(502) 587- 8655.
MARITIME REPORTER'S editors asked exhibitors to tell us about the products and services they would be exhibiting at the International Inland Waterways Show in September. The following is based on replies received at press time.
FOR MORE INFORMATION If you wish to receive additional information from any of the following exhibitors, circle the corresponding reader service number on the reader service card in the back of this issue.
A-C BRAKE A-C Brake Company will be featuring products from Korody- Colyer, who manufactures replacement parts for Detroit Diesel engines and also has a marine gear in its product line. Also being featured will be the Sweeney torque multipliers and the OTC tools and equipment such as the engine stand and heavy-duty pullers.
A-C Brake is celebrating its 60th anniversary this year. Starting out primarily as a brake specialist, the company is presently in its fourth location, and covers the State of Kentucky and Southern Indiana. However, shipping products across the country is a common practice. Now carrying about 80 product lines, A-C Brake not only serves the trucking and construction industries, but has many replacement parts and equipment suitable for the marine industry.
Booth No. 213 Circle 11 on RSC ALFA-LAVAL Alfa-Lavel Nirex Engineering recently introduced its new Series C freshwater disillters, which are said to be compact and easy to install.
This, the manufacturer hopes, will convince shipping companies of the advantage of replacing conventional distillers with Nirex units while vessels undergo routine overhaul.
The new Series C unit is a streamlined version of Alfa-Laval Nirex's well-known JWP-36 distillers.
The "C" in the type designation refers to the combined condenser cooling and ejector water system. This combined system lowers installation costs and delivers substantial economic benefits when installed in a centralized cooling system. Combining condenser cooling and ejection eliminates the cooling water connection from the cooling water system of the ship to the distiller.
Booth No. 510 Circle 79 on RSC AMERICAN AIR FILTER American Air Filter, an Allis- Chalmers company, will be featuring its new Amer-kleen cartridge filter for locomotive compressors.
The Amer-kleen 300 cylindrical cartridge filter represents a breakthrough in air filtration technology for locomotive air compressors.
The cartridge filter, which is said to have as much as twice the dust holding capacity as competitive one-inch-thick filters, is designed to withstand the demanding requirements of air compressor applications.
For years the Amer-kleen cartridge filter has been used successfully to clean the engine intake air of high-horsepower diesel engines.
The filtering efficiency, operating economics, and performance characteristics of this glass fiber filter media makes it ideally suited for cleaning the intake air on air compressors.
Features include low initial resistance, high dust holding capacity, filter media not effected by moisture or oily atmosphere, double layer of grading density media provides high filtering efficiency, ease of maintenance, and long service life.
Booth No. 717 Circle 12 on RSC AMERON Ameron Protective Coatings Division of Brea, Calif., provides a full line of high-performance marine primers and coatings developed and tested in marine research laboratories worldwide.
They effectively protect vessels from corrosion and from animal and plant growths (bottoms) under dynamic and static conditions.
Products introduced recently include: Amercoat® 2438, an ablative antifoulant; Amercoat 2161 and 2162, the most recent inorganic antifoulants and a bold advance into a new technology; and Amercoat 346, a high performance tank lining for marine chemical carriers.
Amerlocka/400 was introduced in 1983. This is a new, high-solids, self-priming topcoat specifically developed for the maintenance of steel surfaces.
Ameron introduced the inorganic primer Dimetcote1' to the marine industry 40 years ago. Today, its revolutionary protection of steel surfaces in corrosive environments continues with a variety of formulations available to suit a wide range of corrosion-resistant marine applications.
Booth No. 712 Circle 80 on RSC ANSCHUETZ Anschuetz is not only a leading manufacturer of gyrocompasses for all classes and sizes of ships, but also produces gyro repeater compasses, bearing sights, automatic pilot systems for seagoing ships as well as riverboats, course and rudder position recorders, electrical steering systems, computer-controlled navigation systems, combined steering stands, gyrcompass, horizon systems, heave meter equipment, rate-of-turn indicators, and electronic servo systems.
The newest Anschuetz products are the low-cost Gyrostar and Standard 14. These products have only recently been added to the company's family of gryocompasses.
In addition, Anschuetz now offers a new low-cost Pilotstar autopilot in conjunction with the Gyrostar.
Also new is the low-cost, easyto- install Compilot 9 steering console— of special interest to owners of workboats, fishing vessels, and yachts. Also of interest is the new SEACOM satellite communications terminal, now marketed by Anschuetz worldwide.
Booth No. 702 Circle 8 1 on RSC AQUA-SIGNAL Aqua-Signal/Browning Marine will display a new wireless, remote control unit used to operate barge lights. This unit is small and self-contained, and gives on/ off control of port, starboard, stern, and anchor lights.
Also to be shown are the Aqua- Signal range of navigation lights, some with photoelectric cells to switch off during daylight hours, and the Aqua-Signal line of fluorescent lighting for decks and cabins.
Booth No. 302 Circle 13 on RSC CAROLYN EQUIPMENT Carolyn Equipment Company (CEC) is a general/industrial contractor and steel erector with full field and travel capabilities. It specializes in building bulk liquid storage tanks with capacities from 50,000 to five million gallons.
These tanks are of fully welded steel construction, field erected and each tank is designed specifically for its end use. CEC's capabilities also include river lines, pipe bridges, floating barge and crane repair services, heavy-gauge duct- ing, and miscellaneous steel erection.
CEC's booth will exhibit a pictorial display of past and present jobs, and their personnel will be on hand to answer questions from engineering specifications to cost analysis of tank and terminal storage requirements.
Booth No. 511 Circle 14 on RSC CENTRICO Centrico, Inc. of Northvale, N.J., will display the Westfalia OSA 7 automatic oil purifying centrifuge and the Centri-Pack self-contained oil-purifying module.
The OSA 7 model incorporates self-cleaning, disc-type bowls designed for optimum oil/water separation even when feed densities vary. Solids are ejected at intermittent intervals.
The Centri-Pack is a ready-togo, completely equipped module mounted on a sturdy base with all the necessary components built in—one or more Westfalia oil purifying centrifuges plus piping, wiring, motors, pumps, heaters, strainers, timing units, and controls.
Booth No. 4 0 1 Circle 15 on RSC CHEMBARGE Chembarge is a newly formed unit within the inland marine transportation area of Union Carbide Corporation. Its purpose is to offer the services of its fleet of more than 150 chemical barges, including many with specialized features, to shippers of alcohols and other solvents, organic acids, benzene and related compounds, propylene oxide, and liquefied gases such as butane, propane, and propylene.
Chembarge equipment, monitored from Charleston, W.Va., is offered on a chartering, affreightment, or towing basis on the Gulf Intracoastal Waterway from Corpus Christi, Texas, to the Mississippi River; up the Mississippi to the Illinois Waterway to Chicago; and to Charleston via the Ohio and Kanawha Rivers.
Booth No. 612 Circle 16 on RSC CRAWFORD FITTING Crawford Fitting Company will exhibit the complete line of Swagelok ® tube fittings in sizes for Vieinch to 2-inch outside diameter. In addition, Swagelok quick-connects, Cajon vacuum fittings and couplings, and several lines of Whitey and Nupro valves will be featured.
Many new products will be on display, including a severe-service, on/off valve from Whitey Company. It is rated to 10,000 psi and meets ANSI B-16.34 Class 4500. A union bonnet design and blowout-proof stem provide added safety, while 316 stainless steel offers corrosion resistance. The valve's non-rotating Stellite ball tip allows repetitive shut-off without galling. It is available with Vi-inch and V2-inch end connections.
Booth No. 3 1 0 Circle 17 on RSC ELECTRO-MOTIVE Rating increases of 10 percent, resulting from technological improvements, have been announced by Electro-Motive Division of General Motors. The leading supplier of diesel engines to the domestic marine market says the 645FB engine provides a five percent improvement in fuel efficiency over its 645EB series of engines.
The product advances incorporated into the 645 series enables EMD to offer ratings for propulsion engines ranging from 1,050 bhp at 900 rpm for the Roots blower engine model 8-645E6 to 4,000 bhp at 900 rpm for the turbocharged model 20-645F7B engine.
In the EMD marine generator sets, power output ranges from 570 kw, 50 Hz at 750 rpm in the Roots blower engine model 8-645E6 to 2,865 kw, 60 Hz at 900 rpm for the turbocharged 20-645F7B engine.
Booth No. 115 & 2 0 1 Circle 82 on RSC ENGINE EFFICIENCY Engine Efficiency Associates will feature some of its new monitor, alarm, and control systems.
The EZ 1000 monitor, alarm, and control system is said to reduce installation cost by 70 percent, which typically costs as much or more than the system itself.
This system is microprocessorbased, and can start and stop the engines, switch generators, and can control and monitor up to 5,000 points, all from the bridge on just two single 18-gauge wires.
The system can read analog and digital signals; readouts are available in liquid crystal, color CRT, or both. A printer logs time of alarm and date, as well as time it was acknowledged and finally cleared. It also records machinery running hours automatically, which is available on the printer at any time.
The Microwatch is a microprocessor- based, 32-channel alarm system. It allows alarms to be programmed by the user on an internal keyboard.
The FM 1000 is a microprocessor- based fuel management, system, said to have one-tenth of a gallon accuracy. It indicates the fastest efficient speed and most efficient speed.
Booth No. 610 Circle 18 on RSC ESGARD Esgard, Inc. of Lafayette, La., manufactures bio-compatible, vegetable- based corrosion coatings, Bio-Gel and Bio-Float, which are said to offer long life and economical, durable protection of wet and dry internal areas in all types of marine vessels. Common features of the Bio products include: absence of solvents or petroleum products, 450 F flashpoint, nonflammability, and. resistance to a wide range of acids, alcohols, and hydrocarbons.
Other products include selfpriming enamels, wire rope and cable lubricants, removable inventory storage coatings, flange protection systems, and long-term tubular coatings.
Booth No. 606 Circle 83 on RSC FARBOIL Farboil Company intends to emphasize two products in its display— Wetsall and Ballastite.
Wetsall is an anticorrosive primer formulated to be applied over damp and rusty surfaces. Because Wetsall primers have low surface tension and penetrating properties, moisture and air are displaced and tightly adhering rust is penetrated.
Rust penetration is so complete and effective that the rust becomes an integral part of the coating. This primer eliminates the need for costly sandblasting and thorough surface preparation.
Ballastite coatings, which are inorganic-organic complexes that are platelet and polar, insure good anticorrosive properties and a minimum of water transmission.
They are provided in both a sprayable and flotation grade, and excellent adhesion is obtained to rust and mill scale.
Booth No. 103 Circle 19 on RSC GENERAL ELECTRIC General Electric Diesel Power Products will display a cutaway cross section of the fuel-efficient, 4-stroke cycle GE marine diesel engine. The working cutaway shows GE's unitized cylinders, onepiece alloy cast iron frame, highefficiency stainless steel manifold, forged steel cylinder heads, and articulated rod construction.
The cutaway engine also demonstrates additional features for reliable operation and ease of maintenance. Engine components such as the three-ring cutback crown piston, grooveless main bearings, and cylinder head with welded-in valve seats will also be on display.
General Electric's customer training facility, 48 hours or free parts commitment, and customer service support capabilities will also be represented at the exhibit.
Booth Nos. 412 & 501 Circle 20 on RSC HILMAN Hilman Incorporated will be exhibiting its extensive line of rollers that are used to move barges, supply vessels, and giant modules.
Now the conveyance means of many shipbuilders, the rollers are frequently used in the launching stage as well, and can be supplied with stainless steel on the critical parts of the roller chain to prevent corrosion.
All Hilman rollers incorporate the endless chain principle, whereby the rolls rotate about the center plate of the frame. Taking the place of an axle, this creates a faster, smoother, more efficient way of moving heavy weights than any other surface moving method.
The Hilman roller is a low-profile device that has a low coefficient of friction, thus can be rolled with a minimum of force. There are no bearings that would require maintenance; therefore, under less than ideal conditions, the rollers are virtually free of maintenance.
This coupled with the high durability, makes their life expectancy extremely favorable.
Booth No. 607 Circle 2 1 on RSC INDIANA PORT COMMISSION The Indiana Port Commission operates two public port facilities on the Ohio River—Southwind Maritime Centre and Clark Maritime Centre.
Southwind, at Mt. Vernon, Ind., continues its pattern of growth with 1983 tonnage figures of 1,877,122 up 12 percent over 1982.
Dominant cargoes handled at this facility were coal, beans, corn, wheat, grain by-product, pipe, and fertilizer. Southwind has more than 600 acres available for lease, with full road and rail connections.
Clark Maritime Centre at Jeffersonville is Indiana's newest port complex, scheduled to come online in the fall of this year. With excellent market geography and rail access, interest in Clark from potential maritime and industrial tenants has been extraordinary.
Booth No. 304 Circle 22 on RSC ISL ISL (Industrial Service Laboratories) Corporation of St. Louis will be displaying electronic test equipment and controls. The instrumentation will include temperature monitors and controls, portable temperature indicators, diesel engine thermocouples, tachometer generators, tachometer indicators, hand-held tachometers, portable voltmeters, ammeters, ohmmeters, calibrators and panel meters.
ISL is involved in the sale, service, and calibration of these instruments and many more. A val- uable 320-page instrumentation handbook will be given to all interested show attendees. Technical personnel will be at the stand to discuss particular applications.
Booth No. 7 16 Circle 23 on RSC JEFFBOAT As America's largest inland shipbuilder, Jeffboat, Incorporated of Jeffersonville, Ind., has not let a depressed barge and towboat market hamper its sales efforts in the marine industry during 1984.
By capitalizing on the yard's capabilities and skilled work force, Jeffboat has successfully pursued prospects in the non-traditional marine market. The yard has been awarded contracts to build another 207-foot oceangoing cruise ship, a 300-foot dinner/theater showboat for Opryland USA, seven U.S. Navy side-loadable warping tugs, a coastal oil tanker, and lock bulkheads for the U.S. Army Corps of Engineers.
This diversity typifies Jeffboat's management philosophy, which is full utilization of plant and personnel.
The yard consists of 90 acres along the Ohio River, and the employment level is approximately 800. The Marine Repair Division maintains four drydocks, the largest being 3,000 tons, and a 50-ton-capacity floating crane.
Recent major capital investments include an additional automatic blast and paint steel processing unit, a 15-ton magnetic steel-handling gantry crane, and a new 40-foot shaft lathe that expands Jeffboat's machine shop capabilities.
Booth No. I l l Circle 24 on RSC KOCH-ELLIS Koch-Ellis Barge and Ship Service recently announced the completion of a totally new RO/RO facility created to handle the increasing demand for cleaning, gas freeing and light repairs for all standard types of containers in both 20- and 40-foot lengths. Koch- Ellis also handles various sized tank trailers.
The facility is large enough to clean from 15 to 20 units a day, depending on size and needed cleaning procedures, and can work on as many as four units at one time. Koch-Ellis is EPA certificated and is capable of handling most varieties of bulk liquid cargo.
Koch-Ellis's location, at mile 104 of the Mississippi River, or 2012 River Road, in Marrero, La., is easily accessible from the nearby New Orleans harbor area.
Booth No. 502 Circle 8 4 on RSC LOAD-OUT TECHNOLOGY Load-Out Technology & Systems, Inc. announces a breakthrough in barge loading, all the way from hand operation, in use since Noah's time, to operator-initiated computer control.
The firm offers a patented automatic barge loadout system, using digital signals and computer-controlled functions to automatically direct the action of the overhead chute and dockside winch.
The control equipment will load barges perfectly level in both the port-to-starboard and fore-to-aft planes, to a predetermined draft depth, eliminating the need for overhead control towers, deckhands, experienced loadout personnel, and more.
Booth No. 509 Circle 2 5 on RSC M.A.N.-B&W The new four-stroke, heavy-fuel L58/64 engine will be produced as in-line units with six, seven, eight, and nine cylinders, providing a power range (mcr) from 9,900 to 14,850 bhp.
During the development of the L58/64 engine, particular emphasis was placed on the following: low fuel consumption; high reliability in unrestricted operation; simple and easy maintenance; and adaptability to varying operating and environmental conditions as well as fuel ignition qualities.
In addition to high operating efficiency, the 58/64 engines will provide excellent waste heat recovery opportunities. Exhaust gas temperature downstream of the turhocharger will be 660 F over a broad operating range. In a number of applications, this means that the at-sea electrical load can be produced by the waste heat recovery system instead of an auxiliary generator, resulting in additional fuel savings.
Booth No. 713 Circle 85 on RSC MACCAFERRI Gabions, stone-filled baskets, were used some 2,200 years ago in China to control rivers for navigation and irrigation. Then, wickerwork baskets, Zhulong, were used where now zinc-coated woven steel wire is employed, additionally protected with PVC when used in corrosive conditions.
On the Mississippi, a major gabion- lined spillway at the Old River Control Structure helps to maintain river levels at the desired heights. For that structure, thousands of tons of stone were transported long distances entirely by barge.
Gabions have many uses on inland waterways worldwide, from canals of some age such as England's Manchester Ship Canal to smaller projects such as the Cape May Canal in New Jersey, a vital link in the coastal waterway system.
Whether the structure is a river wall, a revetment, a yacht marina, or even a hovercraft ramp, Maccaferri can supply the proper gabions.
Booth No. 404 Circle 26 on RSC MEDART MARINE Medart Marine Supply will feature a wide variety of products that the company distributes, including Nabrico winches and castings, Perko running lights, Cal- June flotation devices, ACR lights, Wellington Puritan and Crowe rope, Stearns lifevests, Ray Jeff hand radios, Morse Pushnees, and Husky trash pumps.
Booth No. 407 Circle 27 on RSC MIRRLEES BLACKSTONE Mirrlees Blackstone (USA) Inc., a Hawker Siddeley company, will be exhibiting at the Inland Waterways Show for the first time this year. Mirrlees manufactures diesel engines for marine and industrial applications in a power range from 180 to 12,000 bhp in a number of model types.
The company's exhibit will emphasize engine models most suited for new construction and retrofit of medium- to high-horsepower river towboats. These models include the ESL MK2 range of up to 1,620 bhp, and the K Major MK3 line of engines with ratings up to 12,000 bhp.
The low specific fuel consumption of this range of engines and their long experience and capability to burn residual fuels will be highlighted at the Mirrlees exhibit.
Booth No. 508 Circle 28 on RSC MONARK BOAT MonArk Boat Company of Monticello, Ark., a leading producer of all-welded aluminum workboats, will be displaying new products, designs, and models.
A typical MonArk design is the 32-foot harbor service launch delivered recently to Zuccala Harbor Service in Boynton Beach, Fla.
This boat is being used as an aid to navigation and service launch in the Ft. Lauderdale area.
Booth Nos. 209 & 305 Circle 29 on RSC NEESE INDUSTRIES Neese will exhibit a complete line of foul weather gear, designed to give maximum protection against not only the elements, but also most marine and industrial applications. Garments are sized for comfort and mobility when worn over cold weather wear.
All garments are guaranteed for one full year from date of purchase against defects in materials and workmanship, or return to Neese for replacement.
Booth No. 208 Circle 30 on RSC NORTH CAROLINA TWINE North Carolina Twine & Cordage, Inc. is a manufacturer of polypropylene and nylon ropes for marine and industrial applications.
High-quality, three-strand twisted ropes and leaving line, as well as braided ropes are available.
All polypropylene rope is made from monofilament yarns manufactured at the company's plant in Mt. Airy, N.C.
Booth No. 714 Circle 31 on RSC PORTER COATINGS Porter Coatings Division of Porter Paint Company will display its high-performance protective coatings, including Zinc-Lock® and the Wintercure/Fast Dry Systems.
Technical personnel will be on hand to discuss specific corrosion problems and to recommend coatings systems.
Booth No. 703 Circle 32 on RSC QUINCY COMPRESSOR Quincy Compressor Division of Colt Industries will display a basemounted Model D 325, 5-horsepower compressor.
Quincy two-stage compressors are specified for shipboard use by the U.S. Government, including the Navy and Coast Guard. The specific features are pressure lubrication, high-pressure (up to 500 psig) capability, air-cooled, simplicity of maintenance, low oil level protection, oversize Swedish steel disc values, etc.
Booth No. 315 Circle 33 on RSC SMITH AND WEST Smith and West Manufacturing will feature its Touch and Go Safety Systems, which were designed by a licensed pilot for use on the inland waterways. This system eliminates the need to place men in hazardous locations should an emergency require turning the boat loose. It is designed to release simply by depressing switches in the pilothouse. Timing is often a crucial aspect in preventing boat damage, and this system allows the pilot to retain control of a tow as long as possible.
Releasing the face wires not only eliminates the cost of replacing them but also allows the boat to reface immediately, which can be critical to preventing barge damage. The system incorporates a release mechanism for each face wire as well as separate controls, thus eliminating the possibility of a complete malfunction. The release mechanism can also be operated manually in case of electrical failure.
Booth No. 309 Circle 34 on RSC SPERRY Sperry Corporation of Great Neck, N.Y., one of the world's largest commercial maritime suppliers of navigation and guidance systems, has recently introduced a new line of vessel traffic surveillance (VTS) systems using a new computer-controlled console that provides full-color graphics, a touch-sensitive screen for control functions, and harbor data management capabilities.
Sperry has also developed new communications links to send and receive data from remote radar sites using low-cost, voice-quality cable or microwave hookups.
Sperry has also delivered and installed a number of new SRP- 2000 ship control systems, which combine both ship control and navigation functions at a single console.
The company has also become involved recently in the development, installation, and servicing of complete electronics systems for commercial ships.
Booth No. 601 Circle 86 on RSC SVERDUP & PARCEL Sverdup & Pacel and Associates, Inc. is a multi-disciplined firm providing engineering, architectural, planning, and construction management services to developers along the inland waterways. These services include preparation of economic and market feasibility studies, master plan developments, preparation of designs and construction documents, and construction engineering services of maritime facilities.
Where time and cost schedules are critical, design/build services are available. The firm also performs specialized investigations of damage to facilities, identifying necessary repairs and costs for restoration to operational condition.
The company's St. Louis and Nashville offices are in the heart of the inland waterway system to provide the full range of specialized engineering services necessary for successful inland waterway facility developments.
Booth No. 406 Circle 35 on RSC TEXAS INSTRUMENTS Texas Instruments of Dallas recently introduced the TI 9900 I Loran C navivator, a complete Loran C-based navigation system with the performance, features and accuracy of the popular T-9900, plus an exceptional array of additional capabilities.
The TI 9900 II features 100 waypoints that can be entered at time differencs or latitude/longitude coordinates. Trips of up to 50 legs can be stored, with reverse capabilities.
A unique trip planning function allows the user to compute course and distance between two waypoints without receiving a Loran signal. Additional capabilities of the system include automatic waypoint sequencing and the display of range and bearing to the next waypoint as each one is passed.
Booth No. 608 Circle 87 on RSC TURBINE SPECIALTIES The exhibit of Turbine Specialties/ Gulf Coast Division will feature recent plant expansion and capabilities in the overhaul and remanufacturing of Electro-Motive Division turbochargers, as well as most other makes of large marine and industrial diesel engine turbochargers. The company specializes in the repair and rebuilding of American- and foreign-made turbochargers—its only business.
Booth No. 711 Circle 36 on RSC VOLVO PENTA Volvo Penta of America, Rockleigh, N.J., has introduced new configurations of its six-cylinder diesel engines. The new turbocharged/ aftercooled version of the 5.48-liter six-cylinder engine is designated TAMD60C. Horsepower has been raised to 250 bhp at 2,500 rpm for the light-duty version, and 210 bph at 2,500 for the medium-duty model. New this year is a continuous output rating of 177 bhp at 2,200 rpm.
The latest configuration of Volvo's 6.73-liter, six-cylinder turbo/aftercooled engine is the TAMD70E, rated 300 bhp at 2,500 rpm. Also available is an intermediate rating of 270 bhp at 2,500 rpm, or 211 continuous bhp at 2,000 rpm. Both the TAMD60 and 70 are available with heat exchangers or in keel-cooled modes.
Volvo's largest engine, the turbocharged and aftercooled 11.9-liter TAMD121C, has had a series of modifications.
New pistons, liners, connecting rods, and turbocharger all contribute to the 121C's light-duty rating of 408 bhp at 2,000 rpm. Mediumand continuous-duty ratings are Volvo Penta (continued from page 45) 387 at 1,900 rpm and 367 bhp at 1,800 rpm. The engine uses 159 grams of fuel per bhp hour at the continuous rating.
Booth No. 604 Circle 88 on RSC WATERCOM Watercom—Waterway Communications Systems, Inc.—is a fully automatic telephone system including management information services for traffic on the Mississippi, Ohio, and Illinois Rivers and many of their major tributaries, and on the Gulf Intracoastal Waterway.
It is a private radiotelephone service that provides fast, reliable, direct two-way communications between company and vessel, vessel and shore, and vessel-to-vessel.
Booth No. 413 Circle 37 on RSC WAUKESHA ENGINE Waukesha Engine Division of Dresser Industries will feature displays and information of its new AT25 high-output, mediumspeed diesel series. Capable of operating on economical heavy fuel, these 250-mm bore engines in V- 12 and V-16 models and in-line 6- and 8-cylinder configurations feature rugged, compact construction, good access to components for ease of service, low fuel consumption, and maximum interchangeability of parts between models for easier maintenance and smaller parts inventories.
Available for ship's propulsion and electrical service, the AT25 line is rated from 1,800 to 4,800 bhp at 1,000 rpm on distillate fuel, 1,620 to 4,320 bhp at 1,000 rpm on heavy fuel, and up to 3,360 kw electric.
Also included in Waukesha's display will be information on the Waukesha/Scania line of efficient, dependable marine diesels. This line is made up of four in-line 6- cylinder versions and two V-8 models, two of which are available in turbocharged/intercooled configurations.
Booth No. 113 Circle 38 on RSC WARTSILA Wartsila Diesel of Finland, one of the world's leading manufacturers of medium-speed diesel engines, will feature its "real" heavy fuel engine types Vasa 32 and Vasa 22HF.
The Vasa 32, the largest of the Wartsila heavy fuel engines, is one of the most popular mediumspeed propulsion and auxiliary diesels. It is manufactured in seven different cylinder versions—four V-form and three in-line designs— covering the output range from 2,010 to 9,180 bhp at 720-800 rpm.
The Vasa 22HF is the smallest heavy fuel engine on the market.
Its output range is 720-3,480 bhp at 900-1,200 rpm, provided by two V-form and three in-line cylinder versions. Long-term service experience with the Wartsila heavy fuel engines has confirmed that they are capable of burning the lowest fuel qualities of the future.
Today the entire Wartsila heavy fuel engine range is released for 7000 sec. Redwood 1 at 100 F.
Booth No. 403 Circle 39 on RSC S.S. WHITE S.S. White Industrial"' Products will feature its heavy-duty, flexible reach rods, which provide for remote valve control in hard-toreach, inaccessible, hazardous, or unsafe areas. Installation is quick and easy, even though the route to follow may be extremely complex, with multiple bends.
The U.S. Coast Guard has accepted flexible reach rods for use in ballast, oil, and fuel tanks. In addition, the American Bureau of Shipping has found reach rods suitable for use in all piping systems and tanks on vessels classed by the Bureau. Lloyd's Register of Shipping has also approved the use of S.S. White flexible reach rods for controlling forepeak suction valves on all vessels under its classification.
Booth No. 402 Circle 4 0 on RSC Worthington Worthington's redesigned line of general-purpose end-suction pumps, with capacities to 1,500 gpm, is covered in a new brochure.
The cast-iron pumps, designated as the D-800 line, are available in 19 sizes, frame-mounted of closecoupled.
The pumps are designed for minimum operating and maintenance costs.
The D-800 has applications in all industries, including process, power generation, and HVAC systems.
Liquids pump include water, solvents, light oils, noncorrosive chemicals, coolants, and brine. The pumps will deliver liquid to heads of 400 feet (100 meters).
Booth No. 110 Circle 89 on RSC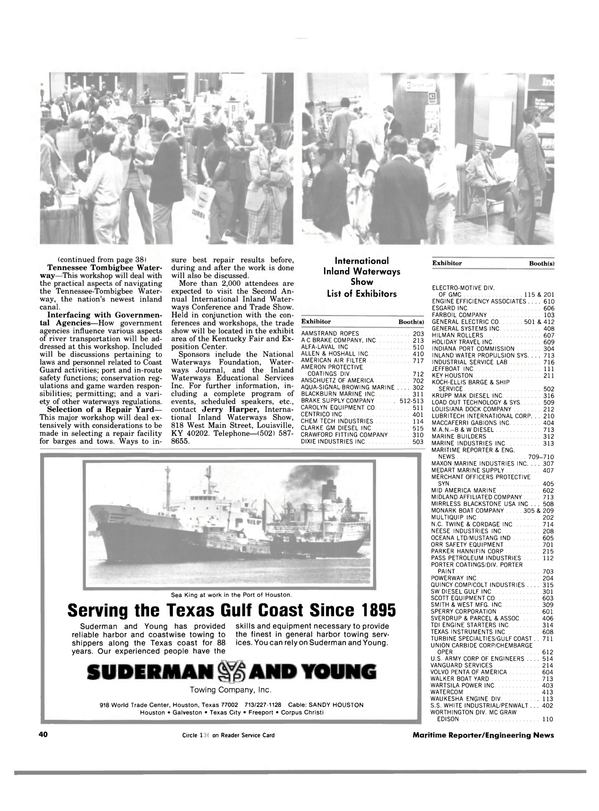 Read The Second Annual International Inland Waterways Conference & Trade Show in Pdf, Flash or Html5 edition of August 1984 Maritime Reporter
Other stories from August 1984 issue
Content