OUTSTANDING WARSHIP DESIGNS
With the most technologically advanced combatant ships in the world, some of the U.S. Navy's most recent ship designs are worth noting. These include the guidedmissile destroyer, guided-missile cruiser, and high-speed attack submarine.
Arleigh Burke Class For years the U.S. Navy has been looking for a successor to the versatile destroyer of World War II—a general-purpose vessel to provide anti-submarine and antiaircraft protection, but at a price that would permit large numbers to be built.
The first attempt, the Spruance (DD-963) Class, built entirely by Ingalls, was followed by the Oliver Hazard Perry (FFG-7) Class guidedmissile frigate, constructed by Bath Iron Works and Todd Shipyards.
The latest design is the Arleigh Burke (DDG-51) Class of guidedmissile destroyers, the lead ship of which will be funded in the Fiscal Year 85 budget, with award of a contract in the area of $1.1 billion (in 1983 dollars) expected in the fall of this year.
Three shipyards are in competition for the DDG-51 award—Bath, Ingalls, and Todd. Bath was the lead yard for the FFG-7 class frigate, with Todd's Los Angeles and Seattle Divisions the follow-on builders. In addition to the entire Spruance Class destroyer, Ingalls has delivered the USS Ticonderoga (CG-47) and USS Yorktown (CG-48), and has nine additional ships of this latest guided-missile cruiser class under construction or on order. Bath is the follow-on yard for the CG-47 class.
For the DD-51 destroyers, therefore, recent experience favors Bath and Ingalls, but political considerations and almost desperate need for work would seem to favor Todd for the lead ship.
With full-load displacement of 8,500 tons, overall length of 479 feet, and beam of 60 feet, the DD- 51 will have twin-screw propulsion comprising four General Electric LM2500 gas turbines with a total output of 80,000 shp—the same power plant as the Spruance Class.
Speed is expected to be 30 knots.
Although intended as a generalpurpose ship, the Arleigh Burke Class will incorporate many unusual features. The most unusual is a broad-waterplane hull that gives more internal volume and greater seaworthiness. It was adopted partly to allow for a fuller section forward, as there will be a conformal sonar array in the bow and, immediately aft of the bow, a large box magazine for 32 vertically launched missiles.
The armament will be heavy, including Standard SM-2 mediumrange SAM missiles; Tomahawk cruise missiles, Harpoon anti-ship missiles, light-weight 5-inch guns, 20-mrn Phalanx close-in weapons systems, and 324-mm anti-submarine torpedo tubes. There will be a helicopter deck and provisions for fueling and arming these aircraft but no hangar, as the ships will normally be operating with carriers.
Ticonderoga Class The U.S. Navy's Aegis cruiser, formally named the Ticonderoga Class, is a guided-missile design based on the hull form and propulsion plant of the Spruance (DD- 963) Class destroyer. The Aegis is an air defense system designed to cope with multiple missile attacks.
Designed and built by Ingalls Shipbuilding Division of Litton Industries, the first ship of the class, the USS Ticonderoga (CG-47), was commissioned in January 1983.
The second, USS Yorktown (CG- 48), was commisioned on July 4 this year. USS Vincennes (CG-49) was christened at the Ingalls yard on April 14. Including the Vincennes, Ingalls has nine Aegis cruisers on order and Bath Iron Works has two. Three more will be ordered in Fiscal Year 85; the current Navy five-year shipbuilding plan calls for three each in FY 86 and 87, and two each in FY 88 and 89.
USS Ticonderoga has an overall length of 563 feet, beam of 55 feet, and displacement of 9,600 tons.
She is powered by four General Electric LM2500 gas turbines, each with an output of 20,000 shp, driving twin Bird-Johnson controllable- pitch propellers. Speed is 30 + knots. Her complement includes 23 officers, 39 CPOs, and 284 enlisted men.
The Aegis combat system, developed and tested by the Navy and RCA Corporation, is a computercontrolled system capable of detecting, tracking, and engaging hundreds of air, surface, and subsurface contacts while continually searching for new targets. A multifunction array radar enables the ships to "see" in all directions simultaneously.
The visible part of the Aegis system is a quartet of planar SPY- 1A radars positioned on the forward face and starboard side of the bridge, and on the aft face and port side of the after superstructure, giving 360-degree coverage.
Accommodating these radars and their massive processing equipment meant enlarging the Spruance superstructure. In addition, the power output of the four gas turbine-powered generators had to be boosted to a staggering 10,000 kw.
Forward and aft there are twin FMC Mk 26 launchers for Standard SM-2 missiles, as well as single FMC Mk 45 5-inch/54-caliber guns. Other armament includes two McDonnell-Douglas canisters for launching Harpoon missiles, six 324-mm torpedo tubes, and two General Dynamics Phalanx closein weapons systems.
Los Angeles Class The U.S. Navy's Los Angeles (SSN-688) Class are probably the most advanced nuclear-powered, hunter-killer attack submarines in the world. With a planned total of 45 units, they will continue as the standard SSN for the remainder of this decade.
The configuration of the latest SSNs differs little from previous classes, but a considerable increase in size was necessary to insure quietness. This is achieved principally by isolating the main steam turbines, the gearings, and the reactor from the hull by mounting all machinery on a "raft." The SSN-688 has a full-load displacement of 6,900 tons, overall length of 360 feet, beam of 33 feet, and depth of 32 feet. Her 35,000- shp geared steam turbine produces a submerged speed of 30 + knots.
Range is limited only by the endurance of her complement of 12 officers and 115 men.
On paper the weaponry for such a large hull is meagre—four 21- inch torpedo tubes angled out amidships, with a mix of 24 Mk 48 guided torpedoes or sub-Harpoon SSM and Tomahawk anti-ship missiles. The later boats, from SSN-724 onward, will have an additional 12 vertical tubes installed at the forward end of the hull, allowing them to fire additional Tomahawk cruise missiles. This will give them a very powerful longrange punch.
Great care has been taken in building the hull, for the SSN- 688s are designed for safe diving down to almost 1,500 feet, which implies a considerable allowance for safety beyond that depth. The pressure hull is made up of circular sections of HY 120 steel, which is totally X-rayed for hairline cracks. The core of the S6G nuclear reactor is expected to last 10-13 years.
The Los Angeles Class is constructed by two private U.S. shipyards— the Electric Boat Division of General Dynamics in Groton, Conn., and Newport News Shipbuilding and Dry Dock Company in Virginia. Currently, Electric Boat has nine under contract and Newport News has seven. The Navy's shipbuilding program for Fiscal Years 85 through 89 calls for four SSN-688s to be ordered in each year.
British Frigates The Royal Navy announced in late 1982 that it would be ordering four new frigates to replace the two destroyers and two frigates sunk in the Falklands fighting.
The Coventry Class is an improved version (Batch 3) of the Boxer (Type 22) Class, completely redesigned to incorporate lessons from the Falkland experience. The most obvious change is the reintroduction of the Vickers 114-mm gun, which proved far more useful than most experts had predicted, not only for gunfire support but for firing infrared decoys and chaff against Exocet anti-ship missiles.
The lead ship of the class will be built by Yarrow (Shipbuilders) Ltd.
in Scotstoun, Scotland, with delivery scheduled for 1987.
The Sea Wolf point defense missile system is retained, with two six-cell launchers at either end of the superstructure, but the antiship missiles are moved from their previous position forward to an athwartships arrangement of two quadruple canisters, as in USN ships. Just what the new SSMs will be has not been announced, but hot contenders are the Sea Eagle, Otomat or MM-40 version of Exocet.
A direct result of Falklands experience is the provision for no fewer than three close-in weapon systems (CIWS), one on the centerline immediately abaft the SSM canisters and one on either side of the foremast. As with the SSMs, no choice has been announced, but known favorites are the Dutch Goalkeeper system, which uses the GAU-8 30 mm 'Gatling', the Swiss Sea Guard, which uses four 25mm guns, and a British equivalent to the Goalkeeper called GBG-30.
The new ships will have the Rolls-Royce Marine Spey gas turbine for main drive, with the Tyne for cruising. Although experience has shown that four identical gas turbines make a better arrangement, the original Type 22 hull was designed to take a pair of Olympus and a pair of Tynes, and finding space for the bulkier Spey module would involve too much re-design. The manufacturers and the Royal Navy have high hopes that the greater efficiency of the Spey will provide significant fuel economy, bridging the present gap between diesels and gas turbines.
The Batch 2 and Batch 3 ships are 17 metres longer than the original Batch 1 Broadsword class, and it is significant that the extra length is in the area of the forward superstructure. The entire class is fitted to operate the new Type 2031 tactical towed array sonar, and experience has shown that the new sonars gather so much data that the data-handling facilities have to be expanded in Batch 2 in order to handle the data efficiently. The antisubmarine weapons include triple 324mm homing torpedoes, launched from triple tubes abreast of the funnel or from the helicopter. The helicopter could be the current lightweight Lynx (in which case two will be embarked in a double hangar) or one of the new Anglo- Italian EH-101 Sea King Replacement types. The helicopter(s) will provide an additional strike element, with eight Sea Skua antiship missiles apiece, as an alternative to ASW torpedoes, depth charges or sonobuoys.
Displacement: 5000 tons (full load) Dimensions: 148m (oa)x 14.75m x 4.3m (mean) Machinery: 2-shaft COGOG gas turbines (2 x Spey/2 x Tyne), 56,000hp Speed: 30 knots Armament: 8 SSMs 2 Sea Wolf GWS.25 SAM systems 1 4.5-inch/55 cal. Mk 8 3 CIWS 6 324mm ASW torpedo tubes Aircraft: 1 or 2 helicopters Range: 4500nm @ 18 knots Sensors: Type 1006, Type 967, Type 968 and Type 910 radars Type 2016, Type 2008 and Type 2031 sonars Complement: approx. 20 officers 270 men Canadian Frigates The Royal Canadian Navy's latest shipbuilding program comprises six gas-turbine-poweredfrigates of the Halifax Class. Three will be built by St. John Shipbuilding & Dry Dock Company (prime contractor with Sperry) in St. John, New Brunswick, with three subcontracted to Marine Industree Ltd. in Sorel, Quebec. The other five ships will be named Vancouver, Ville de Quebec, Toronto, Regina, and Calgary. The lead ship Halifax is scheduled for commissioning in 1989.
The Halifax Class will have a displacement of 4,200 tons, overall length of about 440 feet, beam of 48 feet, and hull depth of 14 feet.
They will be powered by two General Electric LM2500 20,000-shp gas turbines driving twin controllable- pitch propellers. Contract speed is 29.2 knots; range is 4,500 nautical miles at 20 knots. They will have a total complement of 226.
Armament will include eight Harpoon SSM missile launchers, a Sea Sparrow SAM system, a 76- mm OTO Melera gun, four 324- mm MK 32 torpedo tubes, and two Sea King helicopters.
French Corvettes The French Navy, like the other two armed services, has pursued a policy of using indigenous equipment wherever possible, and this shows to good effect in the latest air defense ships. The hull of the successful anti-submarine destroyers of the Georges Leygues class, or C70 type corvette, has been adapted into the C70AA design, but with several major changes.
The ships are unusual among large warships in having an alldiesel propulsion system. Instead of the CODOG system in the C70 design, the C70AA has four SEMTPieltick 18PA6 diesels, in which double-supercharging has been introduced to give an unusually high power:weight ratio. This also dispenses with the massive air intakes and exhaust trunking needed for gas turbines, and permits an economical use of deck space.
Although an American missile has been bought, the medium-range Standard SM-1, with US Navy SPG-51C tracker radars, the ship will use the French SENIT 6 dataprocessing system and a new French DRBJ-11 phased-array surveillance radar. This radar is mounted in a spherical weatherproof dome on a short lattice tower positioned over the diesel exhausts, another unusual feature.
Four ships are planned, two to escort each of the two new nuclear- powered carriers building, and the first destroyer is planned to come into service by late 1987.
The first two are building at the Lorient navy yard in Brittany, and two more have been authorized.
Displacement: 4340 tons (full load) Dimensions: 139.0m (oa)x 14.0m x 5.5m Machinery: 2-shaft diesel (4 18PA6 BTC), 42,300hp Speed: 30 knots Armament: 1 Standard SM-1 SAM (40 missiles carried) 8 MM-40 Exocet SSMs 2 100mm Model '68 guns 2 20mm guns 2 torpedo-launchers for L5 ASW torpedoes Aircraft: refuelling facilities for Lynx helicopter Range: 8200nm (a 17 knots Sensors: DRBJ-11, DRBV-26, SPG51C, DRBC-32D and Type 1226 radars DUBA-25 sonar Complement: 12 officers, 229 men German Frigates The Federal Republic of Germany's Bremen (F-207) Class (Type 122) frigate is an outstanding example of the pitfalls of international collaboration. Conceived originally as a NATO cooperative project for a joint European escort vessel, it ended up as a German adaptation of the Dutch Kortenaer Class frigate.
Unfortunately, the Federal German Navy's role in protecting the Baltic Approaches differs considerably from the Royal Netherlands Navy's task of providing ocean escort in the Eastern Atlantic, and reconciling the 'Brown Water' requirements of one with the 'Blue Water' role of the other proved very difficult. A great deal of time and money has been spent on redesigning the Dutch ship's CO- GOG propulsion as CODOG, as a result of a German decision to buy the General Electric LM-2500 gas turbine and the MTU diesel, in place of the Olympus and Tyne gas turbines. Then the command and control system had to be changed from the Dutch DAISY to the German SATIR system to enable the ships to work with FGN destroyers, and the LW-08 surveillance radar was changed to a DA-08 set to provide better low-level cover.
The changes to the propulsion system involved considerable internal rearrangement as the sizes of the different units did not correspond.
There was even talk of redesigning the hangar and flight deck to accommodate the LAMPS III SeaHawk helicopter, but this was vetoed as the entire after part of the hull would have to be redesigned, and cost was already excessively high. In fact the cost was so high that plans to build twelve were cut to six. The leadship Bremen was built by Bremer Vulkan, Niedersachsen by AG Weser of Bremen, Rheinland-Pfalz and Koln by Blohm & Voss of Hamburg, Emden by Nordseewerke of Emden, and Karlsruhe by Howaldtswerke of Kiel.
Apart from electronics and propulsion the Bremen class have considerable commonality with weapons of the Dutch Kortenaer class: Harpoon anti-ship missiles, NATO Sea Sparrow SAMs, an OTO-Melara 76mm gun and Lynx helicopters, but the German ships will have Ram short-range missiles in place of the Goalkeeper gun system Displacement: 3750 tons (full load) Dimensions: 130.0m (oa) x 14.4m x 4.26m (mean) Machinery: 2-shaft CODOG (2x LM-2500, 2 MTU 20V956 diesels) 51,600hp + 10,400hp Speed: 30 knots Armament: 8 Harpoon SSMs 1 NATO Sea Sparrow SAM (24 missiles) 1 76mm OTO-Melara 76mm/62 cal. gun 4 324mm ASW torpedo-tubes 2 quadruple RAM missile launchers to be added Aircraft: 2 WG13 Lynx helicopters Range: 4000nm @ 18 knots Complement: 27 officers, 176 men Italian Carrier The new helicopter carrier Garibaldi, under construction at the Monfalcone shipyard of Italcantieri, demonstrates the Italian Navy's intention of adopting the U.S. Navy concept of Sea Control Ship—a formula similar to that of the British Royal Navy's successful Invincible Class and the Spanish Navy's carrier Principe de Asturias.
The Garibaldi is essentially an anti-submarine (ASW) ship for helicopters although the design will permit handling vertical or short take-off (V/STOL) as well particularly with the addition of an inclined ramp. The flight deck is 173m long, covering over 4,000 sq m, with six take-off and landing points for helicopters and a 165m strip for STOL aircraft. The hangar (110 x15 x6m) can accommodate 12 Agusta SH-3D helicopters (or 10 Sea Harriers and one Sea King helicopter).
There are 14 watertight compartments within the hull, with a 3- compartment flooding standard.
There are also five decks up to the superstructure including flight deck and main (hangar) deck, with elevators forward and abaft the island.
Much attention has been given to stability for operating helicopters in heavy weather and there are two pairs of fin stabilizers provided.
The propulsion system comprises four Fiat/GE LM 2500 gas turbines (similar to those of the 'Spruance' class destroyers and the Italian 'Lupo' class frigates) with a maximum output of 20,000hp each. They are coupled in pairs to two shafts driving fixed pitch propellers.
With this Tosi coupling and reduction gearing it is claimed that the Garibaldi can stop from 'full ahead' in 750 meters.
The weapons system comprises the anti-submarine torpedoes and air-to-surface missiles of the helicopters, also Oto-Melara surfaceto- air missiles, Otomat surface-tosurface missiles and three Breda 4 Omm twin guns in a Dardo pointdefense system. Thus despite the lack, at present, of a fixed wing element, the Garibaldi still provides a formidable combat system.
Displacement: 13,370t (full load) Dimensions: 180.2m (oa) x 30.04m x 6.7m Machinery: 4xGE/Fiat LM 2500 gas turbines, 80,000hp Crew: 825 Speed: 29 knots Range: 7,000 miles @ 18 knots.
Armament: 4 Otomat SSMs 2 8-cell AA Albatross missiles 3 Breda twin 40mm guns 2 Triple ILAS-3 torpedo launchers Aircraft: 12 Agusta SH-3D helicopters fitted with AS torpedoes and air-to-surface missiles Spanish Carrier An interesting comparison with the Garibaldi is provided by the Spanish Navy's Principe de Asturias launched at the El Ferrol yard of Empresa Nacional Bazan, The Spanish national shipyard group, in mid-1982.
This 14,500 ton carrier has been developed from the U.S. Navy's Sea Control ship concept with assistance from the naval design consultants Gibbs & Cox.
With superstructure well aft, the flight deck, measuring 175m x 30m, and served by two elevators, is unusually angled for take-off to starboard and a 12° ski-jump is incorporated forward for the Matador fixed wing aircraft. This ramp is moulded into a bow form which should reduce turbulence over the deck and improve seaworthiness.
The Principe de Asturias will carry six to eight Matador V/STOL aircraft (eventually AV-8B) and six to eight anti-submarine helicopters of the Sikorsky Sea Hawk type.
Surprisingly the propulsion system comprises only two LM 2500 gas turbines driving a single shaft with a Lips c.p. propeller, which appears to be a somewhat vulnerable arrangement, although there is a low-powered emergency electrical propulsion system.
A close-in weapon system is provided by four sets of Bazan-Meroka 20mm guns.
The Principe de Asturias should provide the Spanish Navy with a powerful unit around which to base its Task Force.
Displacement: 14,500/ 15,000 ton Dimensions: 196m x 24.4m x 6.6m Machinery: 2xLM 2500 gas turbines, 46,000hp Crew: 780 Speed: 24-26 knots Range 7,500 nm @ 20 knots Armament: Missiles optional 4 Meroka 20mm guns Aircraft: 6-8 Matador fixed wing 6-8 Sea Hawk or Sea King helicopters (or other combinations).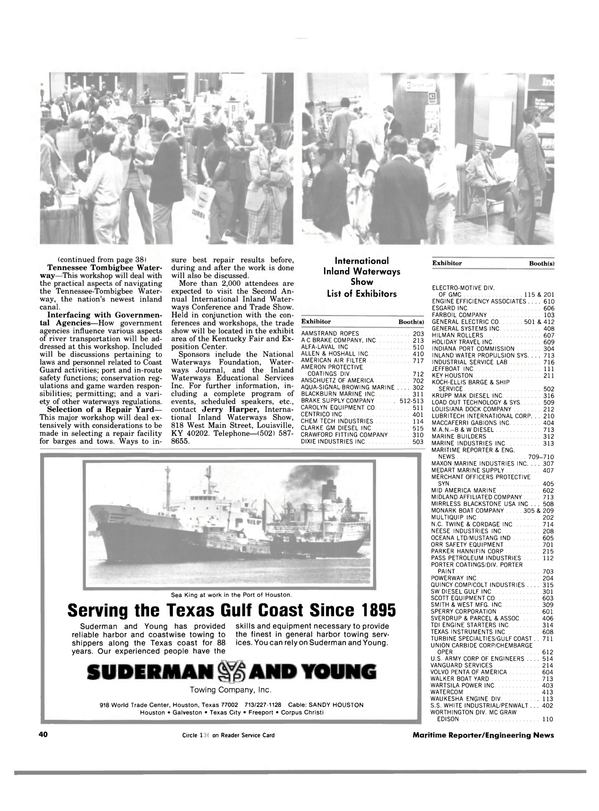 Read OUTSTANDING WARSHIP DESIGNS in Pdf, Flash or Html5 edition of August 1984 Maritime Reporter
Other stories from August 1984 issue
Content