First Of Four Lauritzen Reefers Launched At Hyundai's Ulsan Yard —Two Bulkers Delivered To Apex
The Australian Reefer, first of four 630,000-cubic-foot refrigerated cargo ships under construction for J. Lauritzen A/S of Copenhagen, was launched recently at the Ulsan Shipyard of Hyundai Heavy Industries Company, Ltd.
in South Korea. These four vessels will be the largest and most modern reefers ever to be operated by the Danish company, which this year celebrates its 100th anniversary in the shipping business.
The contracts for this series of vessels were signed in April and June 1983, two in each month.
They are all scheduled to be delivered by February 1985, with the first delivery to take place in November this year.
Established in 1884, J. Lauritzen has a fleet of more than 20 ships compromising 12 reefers (plus chartered tonnage) and other vessels including bulk carriers, drillships, and jackup rigs. Most of the company's business is in reefer transport, but it also deals in dry bulk cargoes and offshore drilling.
The Australian Reefer has an overall length of 474 feet, beam of 77.4 feet, depth to upper deck of 50.5 feet, and scantling draft of 32.8 feet. She will be powered by a slow-speed Hyuandai/B&W 6L 60MCE diesel engine having a maximum continuous rating of 9,600 bhp at 107 rpm. At the normal continuous rating of 8,160 bhp at 100 rpm, she will have a service speed of 18 knots. Deadweight on scantling draft is 14,350 metric tons.
The 630,000 cubic feet of refrigerated space is contained within a BP length of only 443.5 feet, about 33 feet less than other large reefers of contemporary vintage. And, with six cargo decks rather than the usual four or five, the 50.5-foot depth is about 6.5 feet greater than most other reefers.
All cargo compartments will have a standard minimum deck height of 7.2 feet to meet the standard pallet height requirement as recommended by CIMO. Hatch Nos.
2, 3, and 4 will have five decks and hatch No. 1 will have four. This will give a total deck area of about 85,000 square feet, sufficient for about 6,100 standard pallets of 1,000 by 1,200 millimeter size.
There will be 19 separate compartments, each with its own cooling plant, divided into eight separate gastight sections to cater to any variety of mixed cargoes. Each section can independently maintain temperatures from +13 to — 25 C. Ventilation is vertical, with two fan speeds providing 45 or 90 air changes per hour.
These vessels will carry all types of perishable cargoes, from fresh produce such as bananas, apples, oranges, potatoes, and other vegetables to frozen meat, poultry, and dairy products. The large deck area is also designed for the occasional transport of cargoes such as automobiles. Container capacity is 148 TEUs, 39 on the hatch covers and 109 on the weather deck.
Two recent deliveries from Hyundai's Ulsan shipyard were the 63,800-dwt Panamax bulk carriers Aurora and Archon, built for Apex Marine Corporation of Lake Success, N.Y., a company of the Berger Group. The vessels are basically sister ships, but the second delivery, the Archon, has four electro-hydraulic deck cranes, while the Aurora (photo) is without cargohandling gear.
Hyundai signed a contract for a Panamax bulk carrier with the American owner in February 1983.
This was followed by another order for a similar vessel placed in June 1983. The keels were laid in October and December of the same year. It is noteworthy that the Archon was delivered to her owner just one year after the contract was signed, and only six months after her keel was laid.
The Berger Group is headed by Capt. Leo Berger, president, and his partner, Peter Constas, vice president. The Group is one of the largest privately owned independent owners/operators of U.S.-flag vessels. With the delivery of the two latest Panamax bulkers, the Berger fleet increased to 22 vessels with an aggregate tonnage of almost two million dwt.
The Aurora and Archon have an overall length of 738.18 feet, beam of 105.64 feet, and depth of 59 feet.
Each is powered by a Hyundai/ B&W 4L90GBE diesel engine having maximum continuous rating of 12,300 bhp at 83 rpm. At the normal continuous output of 11,130 bhp at 74 rpm, service speed is 15 knots.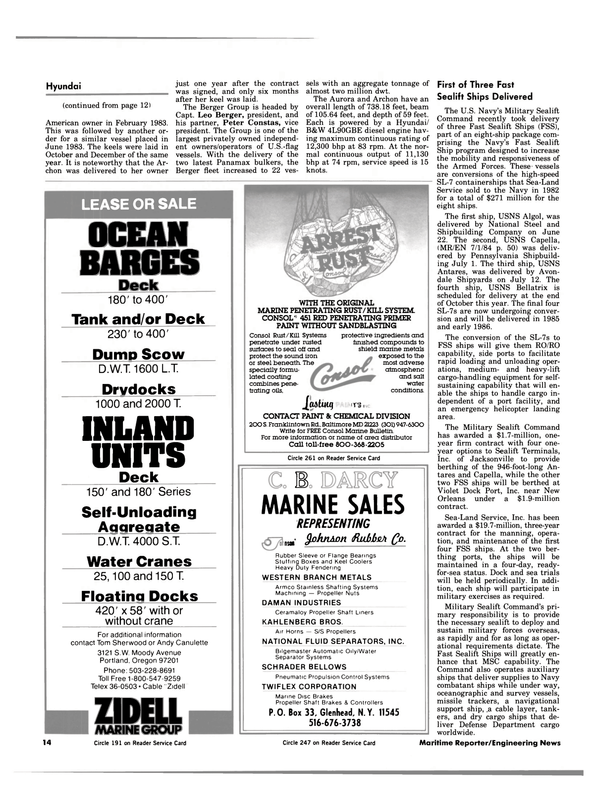 Read First Of Four Lauritzen Reefers Launched At Hyundai's Ulsan Yard —Two Bulkers Delivered To Apex in Pdf, Flash or Html5 edition of August 1984 Maritime Reporter
Other stories from August 1984 issue
Content