Midland Enterprises' President Geary Speaks Against CSX/ACBL Merger
"I'm a lot more optimistic about winning today than I was 10 months ago," J.D. Geary said, referring to the outcome of the CSX/ ACBL merger case. Mr. Geary, president, Midland Enterprises, addressed the Cincinnati Coal Exchange on the merger topic at the Queen City Club.
CSX, a major railroad holding company, acquired Texas Gas, owner and operator of ACBL, last year. Mr. Geary reminded the audience that the Panama Canal Act of 1912 prohibits railroads from buying water carriers unless it can be shown the combination will not reduce competition and is in the public interest. Based upon this, Mr. Geary said he believes the ICC should focus on three key issues surrounding the acquisition.
First, is there competition between CSX and ACBL? Second, will railroad ownership lessen the competition? Finally, will the acquisition be in the public interest?
Mr. Geary asserted there is definitely competition between CSX and ACBL. Referring to this competition he stated, "We got them to admit under cross examination that there is competition between ACBL and the railroads." "The merger will, in fact, lessen competition," he continued. "When you take the second largest railroad, the largest mover of coal, merging with one of the largest, if not the largest barge line, you have significantly affected competition.
You've lessened it. And there isn't any public interest I can find that would suggest the ICC should approve it." Mr. Geary observed that if the merger is approved, the inland waterways industry will be drastically affected. "I would predict that in a relatively short time— and I don't know whether that means five years or 20—certainly our industry as we know it today will have been affected," he said.
"And it will shrink." Speaking on the intermodal issue, he said there are no benefits today that cannot be obtained under the present system. "There's nothing they propose to do that can't be done under the present situation we operate under," he said. "They don't have to own a barge line." In closing, Mr. Geary said he did not want to be too optimistic because "that's usually when you get fooled." He mentioned that a final decision on the oral arguments recently held before the ICC should be issued in late August.
Emphasizing the importance of the decision, he referred to the merger as a "landmark case" and concluded by saying, "I hope we prevail."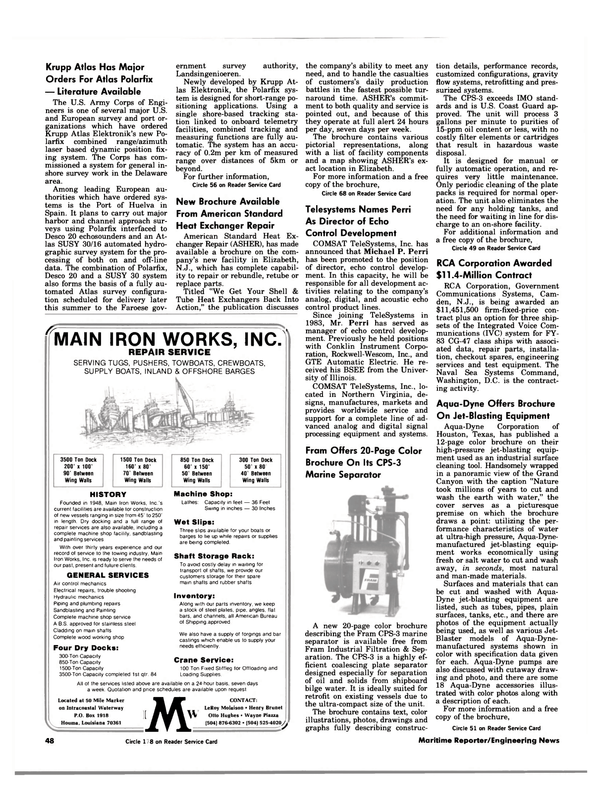 Read Midland Enterprises' President Geary Speaks Against CSX/ACBL Merger in Pdf, Flash or Html5 edition of August 1984 Maritime Reporter
Other stories from August 1984 issue
Content