I M E M e e t i n g Discusses Use Of Epoxy Resins In Ship M &R
A recent meeting of the Eastern U.S.A. Branch, The Institute of Marine Engineers, held at the American Bureau of Shipping in New York heard a paper titled "The Use of Epoxy in Ship Repair and Maintenance." The author was J. Murray Wilson, vice president of engineering, Philadelphia Resins Corporation.
Epoxy resins are familiar as coatings in the marine industry, but they have important mechanical applications also. During the past 25 years, the increase in specific power output of marine diesel propulsion engines has tended to produce problems with the chocks.
The traditional iron or steel chocks often fretted and not only became loose but damaged the foundation and engine bedplate. To eliminate the difficult and expensive re-machining of these surfaces, epoxy resin chocks were developed and accepted in 1965 by the ABS as a permanent repair.
Initially, they were used principally on 3,000/4,000-bhp towboats.
but in the early 1970s came into common use on large-bore, twostroke engines. Epoxy chocks gradually became accepted not just as a quick, inexpensive way of rechocking engines, but as the best method of chocking any engine.
Today, resin chocks are accepted unreservedly by all except one engine manufacturer; however, this one manufacturer has designed its latest slow-speed engine specifically for epoxy chocks.
Resin chocks are equally suited to gearbox and thrust bearing use, though rechocking of this equipment is less commonly required.
Epoxy chocks and fitted bolts transmitting thrust are compatible.
More recently, epoxy resins have come to be used to form the housing or fitting for sterntube and strut bearings.
To repair a loose fit caused by corrosion or fretting the resin may be injected into the existing clearance, which might be only a few mils. Often the OD of the bearing or the ID of the housing is machined to give a radial clearance of up to V-2 inch, which is then filled with resin. The procedure is suitable for oil- or water-lubricated bearings, and approved in principle by all classification societies.
The repair or installation is permanent.
The method is equally suited to bearings in the steering gear and rudder. Resin has even been used as an actual poured-in-place pintle bearing on a large containership.
The use of epoxy repair pastes and laminating resins are well known for such things as casting repair, flange resurfacing, and erosion protection. A neglected application, however, is heating coil repair, for which specially made repair kits are available. These kits are also useful for repairs to steam, water, and fuel pipes up to 1,000 psi and 470 F working conditions.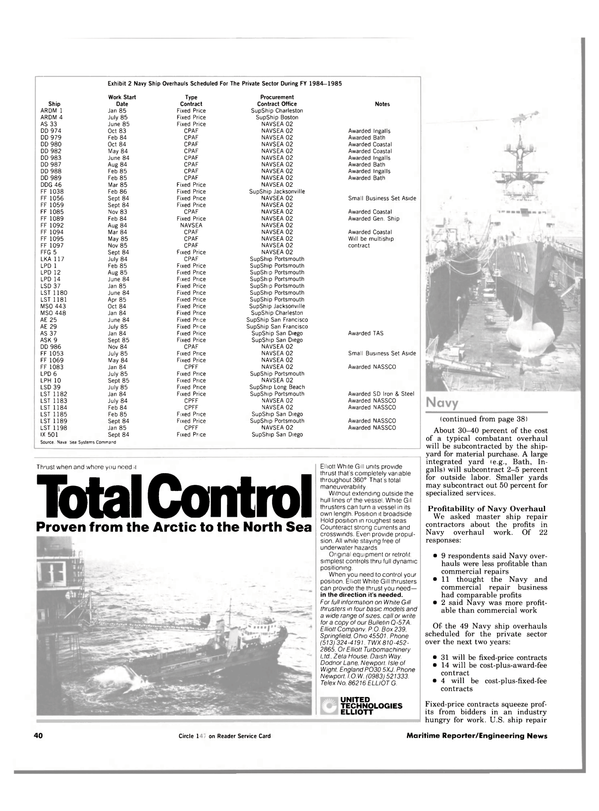 Read I M E M e e t i n g Discusses Use Of Epoxy Resins In Ship M &R in Pdf, Flash or Html5 edition of April 1984 Maritime Reporter
Other stories from April 1984 issue
Content