Fairbanks Morse Invests In Future— Expands Parts/Service Operations, Increases Production And R&D
Faced with current marine market conditions—an outlook that indicates at least several years of continued low activity in new construction and repowering projects—what strategy should a major manufacturer of diesel engines pursue?
Colt Industries' Fairbanks Morse Engine Division considers this challenging period as an opportunity.
For one thing, the company is actively undertaking a number of programs designed to strengthen relationships with existing customers.
In addition, the company is making a substantial commitment to R&D and manufacturing improvements, to enhance productivity and efficiency and to be ready for the next period of increased demand for new power.
"We're taking full advantage of this situation," said John Stebbins, marketing and sales vice president.
"We've made very substantial capital outlays for new facilities, systems, machine tools and production equipment. The objective is to improve our new engine production capability; equally important, we're finding ways to better support the needs of engine owners for parts and service. As a matter of fact, this effort is already paying dividends— we've been able to lower the prices of hundreds of parts, even though our quality standards have actually been raised.
"We've invested in new quality control and test equipment, including laser measurement and metallurgical testing systems. Our Opposed Piston engineering lab is one of the finest installations of its kind, anywhere. In addition, we now have in place a zero-defects program, a statistical process control system designed to detect any manufacturing problems before bad parts are made.
"In the area of product R&D, we're examining ways to improve fuel economy, increase reliability and lower the manufacturing costs of our engines," Mr. Stebbins continued.
"We want to be able to offer an even more cost-effective product line when repowering and new construction activity picks up again." Parts/Service Operations Restructured Over the last two years, the company has completed a major reorganization of parts and service operations.
"A major part of this program involved relocating our principal replacement parts inventory to a new parts distribution warehouse in Indianapolis, Indiana," said Paul McAlpine, parts and service marketing manager. "We stock over 12,000 line items, using more than a million cubic feet of storage area in the new facility. It's well-placed to serve our customers and our satellite service facilities; it's located just minutes from major air, truck and package express carrier terminals.
"Our goal is to provide faster response to our customers' parts and service needs," he said. "We want to help the owner minimize downtime and achieve a maximum return on engine investment. Making our parts and service business operate independently from our new engine business is helping us do that.
"For one thing, we're able to focus more attention on the ongoing needs of existing engine owners, because the parts and service sales operation is now completely separate from new engine sales," he said. "We've also achieved much better control over parts inventory to achieve much higher fill rates." New Computerized Parts Inventory Control A new computerized inventory control system now links the Indianapolis central parts facility to the factory in Beloit, Wisconsin—and to all regional parts and service centers.
"The new system enables us to respond much more quickly," Mr.
McAlpine said. "We know what's available throughout the network, so it's now much easier to ship emergency parts orders from the nearest location with available stock. The system automatically reorders parts as needed to maintain optimum inventory levels at each facility.
"We also have instant access to the latest design configurations, upto- the-minute pricing information, and the current status of special orders," he added. "The result has been a dramatic improvement in our order fill rate, and we've been able to speed up routine parts deliveries significantly." In addition, the system is helping Fairbanks Morse make sure the customer orders and receives the right part the first time.
"That isn't something we can take for granted," Mr. McAlpine said.
"We haven't changed our basic philosophy, which has always been to completely support the equipment we sell. We offer parts and technical support for engines produced 40 or 50 years ago, as well as those currently in production, and we maintain complete records on all the engines we've ever sold. Many have had several rebuilds or have been supplied with custom components.
All that information is going into the computer database. When a customer orders a part from Fairbanks Morse he can be sure it's the most modern, up-to-date part available." Another thing that hasn't changed is Fairbanks Morse's oneyear replacement parts warranty.
"We won't change that," Mr.
McAlpine said. "Reliability is more important to ship operators today than ever before." Expanded Regional Parts And Service Facilities Fairbanks Morse has opened a Western Service Region Headquarters in Sparks (Reno), Nevada to better serve marine operations based on the West Coast.
"The new Sparks facility includes an extensive parts distribution warehouse," Mr. McAlpine said.
"People on the West Coast want to have their spare parts close by.
We've also put in the necessary equipment, instrumentation and trained technicians to provide complete fuel injection and governor repair work. This allows us to have rebuilt and exchange assemblies in all western locations to complement the new parts inventory." A new regional service center has been opened in Chula Vista (San Diego), and the other regional parts and service facilities—in Seattle, Washington, Gretna (New Orleans), Louisiana and Norfolk, Virginia— have been expanded, upgraded and modernized. For example, the Norfolk service center recently moved into new and larger quarters; it now offers complete engine rebuilding services, including a fully equipped fuel injection shop plus the capability or rebuilding blowers, fuel pumps and other accessory components.
"Each regional service center has its own parts inventory," said Mr.
McAlpine. "We've tailored their stocks carefully, so they can effi- ciently serve the projected needs of the engine population in their area.
Regional centers also offer a remanufactured parts exchange program, which minimizes engine downtime and provides a means of optimizing maintenance costs. They also offer repair and return services, conducted by qualified personnel.
Fairbanks Morse Engine Division now has approximately 60 full-time servicemen based in regional service centers—on call 24 hours a day, 7 days a week. In unusual situations, specialists from the factory in Beloit are also available.
"We also provide complete technical support, backed by a broad range of engineering skills," Mr.
McAlpine added. "We can help customers to modernize and update their equipment, to obtain optimum performance and incorporate the latest design features. We work with owners to set up advanced maintenance planning and inspection services, and we offer maintenance contracts to match operational pro- files, on an engine, siteor system basis.
"In addition to our U.S. organization, we currently maintain a parts and service facility in Halifax, Canada," he said.
"Strategically located representatives outside North America provide parts and service assistance to owners in other parts of the world." Expanded Engine Service Training Programs The company now offers an expanded engine service training program through a new diesel training center in Beloit. Six specialized courses are currently offered, covering all Fairbanks Morse Opposed Piston and Pielstick engines.
"The courses are conducted by a professional training staff, assisted by manufacturing, research and engineering personnel," said Bob Jung, training supervisor. "Our soundproof classrooms are fully equipped with the latest audio visual and videotape equipment, and the school has two complete engines and a number of training modules available for hands-on instruction.
"We offer 20-25 individual classes per year, and can also conduct onsite training programs for customers on request. We've had over 500 graduates since our doors opened in January 1984." While specifically designed to meet the needs of customers, the courses are regularly attended by Fairbanks Morse customer service personnel.
"That always promotes a productive interchange of ideas," Mr.
Jung added. "Obviously, bringing in our service people for training helps them to do a better job, but is also helps our instructors and factory people to know what's going on in the field. It's been a source of many practical suggestions for product improvement, and it gives service people from different areas a great opportunity to exchange ideas." Engine Service Training Via Videotape At present, the company is one of the few engine manufacturers which offer service training videotapes to customers. Now available are a 15- module program covering service of Fairbanks Morse Opposed Piston engines, and a newly developed 16- module program on servicing the Pielstick 4.2 engine.
"The video programs are not intended as a substitute for our classroom courses and hands-on training," Mr. Jung said. "The tapes are designed to serve as a training adjunct, and as a refresher. Our regional service centers have all the tape modules available for customer review, and they also use them in conducting service training locally." R&D For The Future "We're currently working in a number of product development areas," said Mel Weiss, manager of marine sales applications. "Whatever the future brings, operators are sure to want better maintainability and reliability built into the engines they buy, and the desire for better fuel consumption will always be important— much of our R&D effort is in that direction. We're also developing heavy fuel technology.
"We think the trend toward higher efficiency engines will continue, and we're working on ways to get more output out of the same space.
Larger engines with fewer cylinders in a given space will last longer and be easier to maintain, due to fewer moving parts." Current R&D work on Fairbanks Morse Opposed Piston engines is concentrating on improving engine productivity, reliability and maint a i n a b i l i t y , according to Mr.
Weiss.
"We're experimenting with new casting steels, which can be welded," he said. "We're also looking at ways to build the engine block in modular sections, to eliminate many difficult welds and make up different sizes of engines from standardized sections.
"We're examining several alternative designs of turbochargers, and evaluating methods of fine-tuning the fuel injection system. In addition, we're considering removing the blower for some applications where the engine runs at a constant speed, such as ship generator sets." Colt-Pielstick engines have been under constant development for several years. The company now offers the PC-2 Series in inline configuration (6 through 9 cylinders, up to 6,600 hp) in addition to the more familiar V-8 configuration (12 to 18 cylinders, up to 13,200 hp).
"The new Pielstick PC2.6 is an advanced design of the PC2.5 engine," said Mr. Weiss. "It's very competitive in terms of fuel consumption.
It uses a modular pulse turbocharging system, and the injection system has been reworked.
The result is a substantial gain in BMEP, and an 8 percent improvement in fuel consumption." Colt Industries' Fairbanks Morse Engine Division offers a broad line of marine diesel engines for main ship propulsion and standby power.
Fairbanks Morse 38D8Vs Series O-P engines are available with 4 to 12 cylinders, ratings from 700 to 4,200 hp. As noted above, the Colt-Pielstick PC-2 Series is available in inline and vee configurations from 6,600 to 13,200 hp, and the PC-4.2 offers ratings from 16,200 to 29,200 hp.
For descriptive literature covering the company's new parts and service operation, training programs, videotapes or diesel engine, circle the appropriate number on the reader service card in the back of this issue: New parts and service operation, Circle 1 on Reader Service Card Training program, Circle 2 on Reader Service Card Videotapes, Circle 3 on Reader Service Card Diesel Engines, Circle 4 on Reader Service Card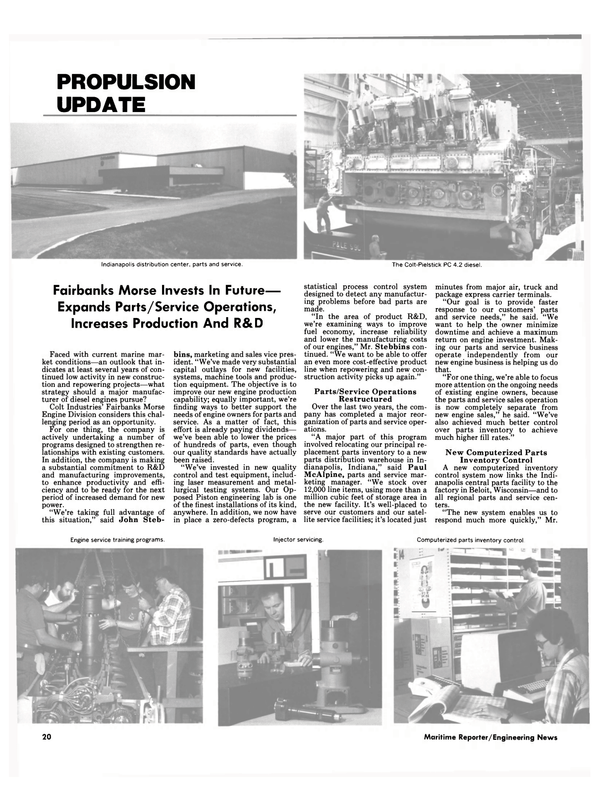 Read Fairbanks Morse Invests In Future— Expands Parts/Service Operations, Increases Production And R&D in Pdf, Flash or Html5 edition of June 1986 Maritime Reporter
Other stories from June 1986 issue
Content