World Shipping And Shipbuilding
According to the Annual Report of Lloyd's Register of Shipping, events during 1985 offered little to the world's shipping and shipbuilding industries, and there were few indications of any real improvements in the foreseeable future.
The world merchant fleet declined last year to 416.3- million gt, bringing the total back to the level of 1980. This situation was brought about by the excess of tonnage scrapped (20-million gt) to that completed (18-million gt).
Laid-up tonnage decreased during 1985 to a level of 26.5-million gt.
More than half of that total comprised ships less than 10 years old and was mostly tanker tonnage.
New orders reported during last year declined by about 17 percent compared with 1984, from 15.6-million gt to 13-million gt. This has reduced the current world orderbook to 26-million gt, compared with the 30-million gt recorded at the same time a year earlier.
Gains And A Changing Fleet During the past five years, the composition of the world fleet has changed dramatically, with tanker tonnage falling from 42 percent to 33 percent. In that period, the emphasis has been on developing the world's dry cargo and specialized trading fleets. Bulk carrier tonnage has grown in this period from just over a quarter of the total world fleet to almost a third, while substantial gains have occurred in the liquefied gas carrier and specialized containership fleets.
The age structure of the world fleet has also changed. In 1980 almost 60 percent of the tonnage was less than 10 years old, compared with 45 percent of the current fleet—the result of early scrapping of very large tankers. The world tanker fleet reached a peak in the late 1970s and has been in a decline since then. In 1985, just over 40 percent was less than 10 years old, compared with almost 68 percent in 1980. On the other hand, bulk carrier tonnage continues to expand, with almost half of the existing fleet less than 10 years old.
Tonnage delivered during 1985 included a number of interesting additions to the world fleet, including several cruise ships and big passenger ferries. With the purposebuilt containership and vehicle carrier now exceeding 50,000 gt, and craneships and other sophisticated types of ships exceeding 30,000 gt, the economy of scale concept is spreading rapidly into almost every type of commercial trading vessel.
This overcapacity, particularly in the containership sector, has had a further effect on already low freight rates and market conditions.
World Orderbook An analysis of the orderbook at the end of 1985 shows that 48 percent of the tonnage on order is for ore carriers and other bulkers, 22 percent is for tankers, and nine percent for containerships. Few orders being placed now are for delivery beyond mid-87.
As the volume of tonnage in the shipbuilding orderbook shrinks, particularly in the shipyards of Western Europe, the yards in the Far East continue to secure the major share of the orders for new ships.
Japan again dominated the market by securing 50 percent of the new ship orders, followed by the Repub- lie of Korea with 11 percent and the People's Republic of China and Taiwan with six percent.
Japanese shipyards secured some interesting contracts last year, including a 31,000-gt passenger ferry, the first vessel of its kind to be built there for a European owner. Notable in the Japanese orderbook is the large number of vehicle carriers (22) ordered in 1985 to support the automobile and truck export trade. Other ship types ordered included wood chip carriers and large containerships as well as, despite the slump in the tanker market, two very large crude carriers at the IHI and Mitsubishi yards. However, the announcement that Hitachi Zosen will cease construction of ships at its Innoshima Works in early 1987, and that many other major Japanese shipyards are making large cuts in their work forces, indicates how the recession has affected even the world's most successful shipbuilding nation.
Korea also encountered difficulty in maintaining the fierce competition for new orders that it had shown in recent years. Contracts secured during 1985 were greatly reduced, and the relative absence of a significant domestic market constitutes a major problem for shipbuilding stability. Some help came from recent substantial financial backing for Korean shipowners.
Nevertheless, Korea obtained orders from a series of five 2,640-TEU containerships for Panamanian flag, three of 2,358 TEU for domestic registration, three 63,400-dwt bulk carriers for a U.S. owner, and a share with China and Finland of an order for five 117,500-dwt tankers for Norway.
In the People's Republic of China, a variety of different ship types was ordered including tankers, bulk carriers, large dredges, and general cargo ships. In Taiwan, the third of a series of 305,000-dwt ore/oil carriers was confirmed for Liberian registration, as well as large bulk carriers and containerships for Taiwanese owners.
Shipyards in the United Kingdom received contracts that included a 31,000-gt passenger ferry at Govan similar to the one ordered in Japan.
A floating oil production, storage and transport system was ordered at Harland & Wolff for BP Shipping, and a 28,500-gt craneship with a lifting capacity of 4,000 tons at Sunderland for U.K. registration. However, few U.K. shipyards have contracts extending beyond the end of 1986.
Almost all shipbuilders in Western Europe are finding it difficult to secure work, even for the short term.
Only two ships of any significant size are on Norway's orderbook. In Sweden, where the Uddevalla shipyard is due to close at mid-86, Kockums AB will remain the only major commercial shipbuilder, and that Malmo yard has announced plans to concentrate on naval construction after phasing out the production of merchant ships by 1988.
Finnish shipyards, well known for their versatility, received orders for a 24,000-gt passenger ferry and a 117,500-dwt tanker for Norwegian owners, and a 25,000-gt semisubmersible deck cargo ship for the USSR. Valmet shipyard recently delivered the 21,000-gt passenger vessel Birka Princess to Birka Line AB.
Danish, Belgian and Netherlands shipyards all found the securing of substantial work difficult. A program to rationalize the shipyards in Spain is underway in an effort to reduce capacity and increase efficiency.
Successful Areas Among the more successful shipbuilding countries was Yugoslavia, where yards won orders for medium- size bulk carriers and tankers, vehicle carriers, and dry cargo ships, most of which are for export. Yugo- slavia has just announced a fleet modernization program that would add 158 new and second-hand ships to the country's merchant marine.
Of the 80 new buildings included in the plan, 57 would be ordered from domestic yards, with the contracts for the other 23 going to overseas shipbuilders.
French shipyards have achieved a measure of success, mostly with help of government assistance.
Chantiers de l'Atlantique in St. Nazaire won a number of orders, including a cruise ship of about 70,000 grt for Royal Caribbean Cruise Line of Miami, scheduled for delivery in December 1987. To be named Sovereign of the Seas, she will be the largest passenger vessel ever built in terms of tonnage and capacity, with accommodations for 2,276 passengers.
Government aid is also helping Italian shipyards in their quest for work, as it is in the Federal Republic of Germany, where yards have been successful in obtaining a number of high-value orders for passenger ships, ferries, and liquefied gas carriers for both domestic and export markets. Negotiations for an $864- million order for three frigates for the Portuguese Navy have been under way in Hamburg, with plans calling for two to be built at the HDW yard in Kiel and one at the Blohm & Voss in Hamburg.
Almost all the tonnage ordered from Eastern Block countries (more than nine percent of the world total) was for home ownership. It included several large tankers in Romania and the usual assortment of tonnage for the USSR. Among the unusual orders that Russia placed in Western shipyards were those for eight cargo liners at Malta Drydocks, and four 4,800-cubic-meter refrigerated cargo vessels at Hellenic Shipyards in Greece.
Brazilian shipyards, which in recent years have proven formidable competitors for European tonnage, encountered financial difficulties that hampered efforts in the export market. The only significant tonnage ordered there was for large bulk carriers for domestic account.
In the United States, the ongoing U.S. Navy construction and modernization program calls for the expenditure of $ billions annually in private U.S. yards. In addition, conversions, repair work and an increasing demand for smaller vessels at U.S. shipyards such as fishing boats, dinner/cruise/excursion craft, and offshore supply vessels accounted for additional work.
The small-vessel sector of shipbuilding internationally was quite successful, with orders almost everywhere.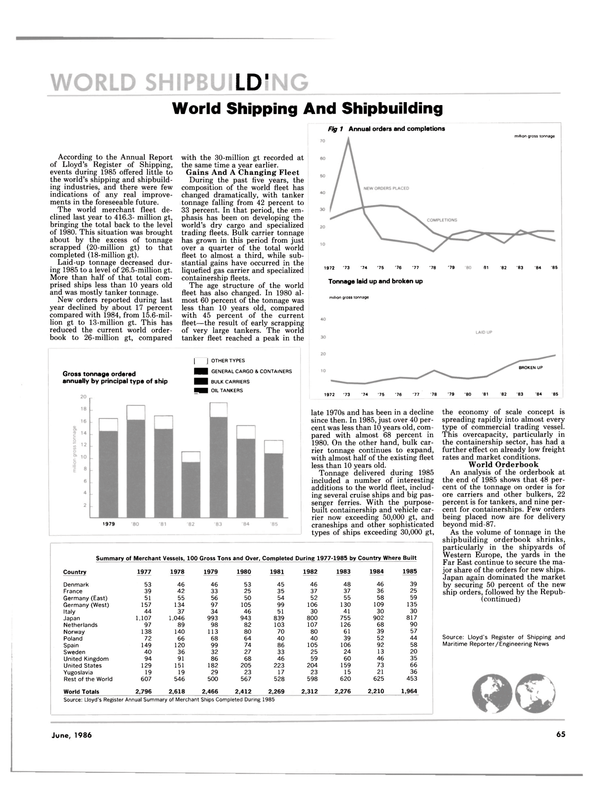 Read World Shipping And Shipbuilding in Pdf, Flash or Html5 edition of June 1986 Maritime Reporter
Other stories from June 1986 issue
Content