Crowley Maritime Celebrates 100 Years Of Service
A highly diversified maritime service company and owner of one of the world's largest privately-owned tug and barge fleets, Oakland, California- based Crowley Maritime Corporation is commemorating its centennial in 1992.
Crowley Maritime began operations in 1892 when 17-year-old Thomas Crowley bought an 18-foot Whitehall rowboat for $80 and went into business serving the needs of ships in San Francisco Bay.
Shortly thereafter, he expanded his business with a pair of motor launches, and soon bought his first tugboat. In 1918, he became partowner and manager of the Shipowners & Merchants Tugboat Company whose distinctive red smokestacks still exist today on over 400 Crowley vessels throughout the world and as the centerpiece of the Crowley logo.
Expanding its tug and towing activities, Crowley entered the coastwise-barge bulk-petroleum transport sector in 1947.
Begun in the 1950s, the company's Alaskan tug and barge operations mushroomed with the discovery of Alaska's north slope.
Soon a thriving oil drilling service joined its oil transportation operation.
Crowley shifted some of the vessels that had been earmarked for Alaska to the Caribbean, and in 1974, the development of Trailer Marine Transport made Crowley a major presence in the Caribbean trade.
The acquisition of Delta Steamship Lines in 1982 expanded the scope of the company's operations in South America. Crowley sold Delta in 1984 to U.S. Lines, but soon returned to the subcontinent with a service to Columbia and additional Central American services. After U.S. Lines' bankruptcy in 1987, the company became a major player in the South American trade. Today, the South and Central American operations constitute roughly a third of Crowley's operating revenues.
Crowley Maritime Corporation itself was incorporated on January 1, 1973 as an amalgam of the firms owned by Tom Crowley prior to his death in 1970, and which were then managed and owned in part by his son, Thomas Bannon Crowley. Thomas B. Crowley still serves as chairman and chief executive officer of the company founded by his father in 1892. Over the past hundred years, Crowley and its predecessor companies have had only these two men at their helm.
After 98 years in San Francisco, in 1990 the corporation moved its headquarter across the bay to Oakland, California. The Crowley organization has offices and agents at over 100 major ports and cities around the world.
The many different Crowley companies form along two distinct business lines. As such, the company plans to restructure its organization to better reflect the services it provides. Effective on or about July 1,1992, all Crowley companies offering liner cargo and related services will become part of Crowley American Transport, Inc.
All other diversified marine contract and related services will become part of Crowley Marine Services, Inc.
Crowley Maritime Corporation will become a holding company, maintaining full ownership of these two new companies.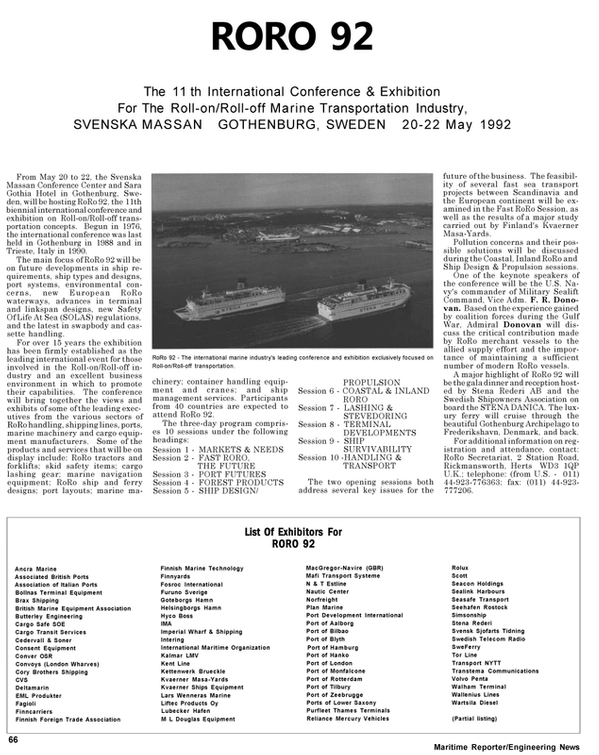 Read Crowley Maritime Celebrates 100 Years Of Service in Pdf, Flash or Html5 edition of May 1992 Maritime Reporter
Other stories from May 1992 issue
Content