BOOM TIMES FOR KOREAN SHIPBUILDING
The world's second largest shipbuilding nation, Korea, is in the midst of a shipbuilding boom. All the leading indicators— order receipts, actual ship construction, backlogs and ship prices—are all on the rise.
According to the Korea Shipbuilders' Association (KSA), total shipbuilding orders from domestic and overseas shipowners last year reached 5.43 million gross tons, totaling 121 vessels (111 vessels for export). This represented a rise of 24 percent from the previous year, breaking the industry's target of 4.3 million gt. Industry observers say that this was an unprecedented performance, considering the sluggish first half of the year caused by the Gulf War. Total orders for 1992 are expected to reach a similar level.
Almost all industry analysts in Seoul forecast that the boom will continue through the 1990s. A normal cycle in the shipbuilding industry is a 10-year boom followed by a 10-year recession. A great number of ships, mostly very large crude carriers (VLCCs), were built in the mid-1970s and are nearing retirement age. Statistics provided by Lloyd's Register also show that the number of ships built before 1980 account for around 60 percent of the world's ships. In the case of tankers, the figure stands at a whopping 74 percent. Korea's shipbuilding orders from overseas during the last few years have largely been for tankers.
30 Another factor expected to contribute to the growth in shipyard revenues is the double-hull requirement for tank barges and tankers.
During the 1995-2010 period, existing ships will have to be replaced with double-hull types. Prices of double-hull ships are 15 to 20 percent higher than for single-hull vessels, according to one industry analyst.
Some shipping companies which had originally opted to extend the service life of existing ships through retrofit or reconstruction are expected to buy new ships instead due to their greater efficiency and other competitive advantages.
According to KSA, three major local shipbuilders—Hyundai Heavy Industries Co., Daewoo Shipbuilding & Heavy Machinery, Ltd., and Samsung Heavy Industries Co.— received orders for 23 double-hull vessels during the first 10 months of last year.
This year, local shipyards may not only witness rising orders but also enhanced profitability. Current ship prices are higher than in 1981, when prices were at an alltime high. In the case of a 250,000- ton oil tanker, for instance, the price is about $100 million, compared to $47 million in 1985. While the price of a 70,000-ton bulk carrier rose to more than $32 million from $14 million, the price for a 2,500-TEU full container ship soared to over $54 million from $26 million. Industry observers say that prices will continue to rise this year.
The industry's efforts to build higher value-added ships could help improve its financial status this year.
While oil tankers, bulk carriers, container ships and other low valueadded ships accounted for over 90 percent of the total orders received by Korean shipbuilders in 1991, such high-priced ships as LNG and LPG carriers started to appear on order lists last year.
In terms of actual shipbuilding, 1992 should be another good year for the industry. Last year, Korean shipyards' actual shipbuilding increased a hefty 24 percent from the year before, reaching 4.43 million gt (109 vessels), breaking the 4 million gt barrier for the first time in the nation's shipbuilding history. This significant performance was mostly attributed to sharply reduced labor disputes. Industry analysts project that this buoyant mood in actual shipbuilding will continue this year, with the anticipation of more than 4 million gt.
More significantly, backlogged orders as of the end of last year stood at 7.74 million gt (152 vessels), an impressive 15.4 percent rise from 1990, reflecting brisk order receipts since the last of 1989. Analysts say that the backlog of orders are enough to keep Korean shipbuilders busy until 1993, considering that the combined capacity of Korean shipyards is about 3.5 million gt a year, according to the KSA statistics. By company, Hyundai secured orders of about 3 million gt, Daewoo, 2.7 million gt, and Samsung, 1.3 million gt.
For Korean shipyards, signs of recovery started in 1989. The nation's strategic industry suffered from a long and tedious slump since the early 1980s when the world shipping and shipbuilding markets plunged into a prolonged recession.
By the start of 1989, both shipbuilding orders and ship prices were rising sharply, as major shipbuilding countries reduced their production capacity in response to the prolonged recession. A KSA official says that Japanese shipbuilders dissolved an anti-recessionary cartel on September 30, 1989, following signs of a recovery in orders, but they are not likely to expand capacity.
He also says that Japanese firms already had enough orders at that time to operate at full capacity until the first half of 1992, leading buyers to direct orders towards Korea.
In another boost for domestic shipyards, Korea signed contracts with the Soviet Union (now the Commonwealth of Independent States) to build 12 ships worth $150 million and to repair 30 vessels for $20 million in 1989—the first significant contracts between the two countries.
Since then, orders from the CIS have been steadily increasing.
Despite such signs of a recovery in order receipts, however, 1989 was another poor year for actual shipbuilding, which recorded a 13.8 percent drop from the previous year.
Frequent and violent labor disputes, which had emerged as one of the nation's major economic and social problems in 1987, seriously affected major local shipyards in 1989.
Since 1990, however, the labor unrest has sharply declined in the nation's manufacturing workplaces as a whole, including all local shipyards, resulting in a significant 22.1 percent rise in the nation's actual shipbuilding in 1990 from a year earlier.
However, some executives at major Korean shipbuilders expressed concern that there are signs of the industry entering an adjustment stage in the short run. Because most of the ships ordered during the boom of 1989-91 are expected to be delivered this year, the industry is apprehensive about an oversupply of ships, leading to a decrease in ship prices.
"This does not mean that the industry is goinginto a recession again, but it may result in a short-term slump in order receipts," said one executive from Hyundai. Korean shipbuilders, in fact, received no new orders this past February.
Other concerns for the industry include—mounting pressure from the U.S. and EC to reduce the Korean Government's subsidies and the introduction of anti-dumping rules, as well as a worsening flow of funds in the global financial mar- ket, which could result in the freezing of shipbuilding funds, points out one executive.
Major Builders Last year was a remarkable year for the Korean shipbuilding giants, who showed a 40 percent rise on average from the previous year based on the number of orders received and ships built. More significantly, the nation's five major shipbuilders finally returned to a surplus in their net profits for the first time in a decade.
Just a year ago, few could forecast this dramatic turnaround in the shipbuilding industry. The unexpected and prolonged Persian Gulf crisis had put the brakes on the long-awaited recovery of Korea's shipbuilding industry. However, the rush of orders since September 1991, along with sharply reduced labor disputes at shipyards, appeared enough to offset the crisis.
What raised the eyebrows of many people was that last year Daewoo Shipbuilding & Heavy Machinery, which suffered from snowballing deficits and violent labor strikes, recorded its first surplus, 79 billion won (about $99.7 million), in its net profits since 1984.
Although exact figures are not available yet, Halla Engineering and Heavy Industries also is expected to report a surplus for the year, its first since its was founded under the name of Inchon Engineering and Shipbuilding Corp. in 1977. Hyundai is expected to report increased earnings, while Samsung, which had been in the red with its shipbuilding division since 1983, also returned to the black.
Hyundai Heavy Industries Hyundai Heavy Industries Co.
(HHI), a subsidiary of the Hyundai Group, is reportedly the largest single shipyard in the world, covering over 7.2 million square meters.
Since its opening in 1973, HHI has expanded its activities to include industrial plants, offshore engineering, and engine and machinery building as well as shipbuilding. HHI's facilities include seven drydocks, one slipway and one ship lift. The drydock sizes vary from 15,000 dwt to 1 million dwt capacity.
Over the past 18 years, HHI has built 505 vessels aggregating 30,7 million dwt. Ships types built range from conventional bulk and crude carriers to highly sophisticated OBO carriers, chemical tankers, RO/RO ships, container and passenger vessels and semisubmersibles.
Last year, HHI had a 30 percent rise in sales, totaling about $2.52 billion. More significantly, its net profit reached about $259 million in 1991, six times its net profitin 1990.
Sales for the shipbuilding division accounted for about 65 percent of the total.
HHI's current strategy is to intensify its R&D activities in order to consolidate its involvement in building sophisticated and high-tech ships, such as LPG and LNG carriers and cruise ships. In order to do this, HHI plans to spend about $200 million on streamlining its production facilities and another $72.6 million into improving R&D activities.
Daewoo Shipbuilding The Okpo shipyard of Daewoo Shipbuilding and Heavy Machinery Ltd., an affiliate of the Daewoo Group, has delivered 144 vessels totaling 11 million dwt since it opened in 1978. Deliveries by the yard include 46 crude oil tankers, 52 bulk carriers, 25 containerships and 21 other types of vessels.
Divided into three sectors—shipbuilding, industrial and offshore— Daewoo's three divisions combined for sales of $1.39 billion, a whopping increase of 55.7 percent over 1990 figures, and a net profit of $99.7 million. According to a Daewoo official, the company expects to have total sales of $1.51 billion and profits of about $151.4 million in 1992.
In the past, Daewoo has concentrated on the VLCC market. Now, however, in the face of an unstable tanker market, Daewoo has begun to diversify into building special barge ships, LNG carriers and military vessels. The company is investing a total of $84.2 million to upgrade its facilities and R&D activities.
Samsung Heavy Industries Co.
The heavy industrial arm of Korea's largest conglomerate, Samsung Heavy Industries Co., which consists of four divisions, has its main shipyard complex on Koje Island, off the south coast of the Korean Peninsula. The company produces heavy machinery at Changwon Industrial Complex.
The 1.7 million square meter Koj e shipyard has two dry docks, both of which are capable of constructing 150,000-dwt and 250,000-dwt vessels.
The company's hull shop has an annual capacity of 120,000 tons of steel plates.
Since 1977 when it entered the shipbuilding business, Samsung has delivered 83 vessels totaling 6.32 million dwt, including 22 full containerships, 16 bulk carriers, 10 crude oil tankers, 15 products carriers and seven chemical carriers.
Samsung also has recently received orders for eight double-hull tankers from the U.S., Norway, and Canada.
It recently delivered the doublehulled M/T Patriot to Conoco Inc.
The shipbuilding division of Samsung recorded a profit of $40.4 million in 1991, its first since 1982.
Samsung's turnover showed a raise of 27.2 percent from 1990 to $1.97 billion. Samsung expects its turnover for 1992 to top $2.4 billion, up 22 percent over last year.
Hanjin Heavy Industries Officials from Hanjin Heavy Industries Co., the former Korea Shipbuilding and Engineering Corp., expect to record a $18.9 million surplus in 1992, up from a $8.9 million deficit last year. Company officials attribute the optimistic forecast to rising order receipts, which can already keep the shipyard busy Great Lakes/Rivers SNAME Announces Spring/Fall Meetings The Great Lakes and Great Rivers section of the Society of Naval Architects and Marine Engineers (SNAME) has announced the dates for its spring and fall meetings.
The spring meeting is to be held June 3-4, 1992, at the Holiday Inn O'Hare-Kennedy in Chicago, 111.
There will be a presentation of pauntil 1993. Hanjin recently received orders for two 44,000-ton oil tankers and is negotiating for additional two 40,000-ton product carriers.
Hanjin has two shipyards at Yongdo and Ulsan. While Yongdo shipyard has three docks capable of building 360,000 dwt ships and one berth capable of handling 25,000 dwt ships, Ulsan shipyard has three berths capable of handling 120,000 dwt and one floating dock.
Halla Engineering Halla Engineering and Heavy pers dealing with safety considerations in ship design, including "The International Load Line Convention: Crossroads to the Future" by Dr.
Randy J.Paulling and Dr. Nils Salveston; "Automatic Finite Element Modelling of Stress Concentrations and Localized Damage Regions" by Professor Movses Keldjian, University of Michigan; and "Bulk Carriers: A Cause for Concern" by Philip G. Ryan, ABS Americas.
A banquet dinner will also be held following the early bird reception Industries Co., formerly Inchon Engineering and Shipbuilding, has an annual shipbuilding capacity of 180,000 dwt along with a ship repair capacity of 1 million dwt. Over the past decade, Halla has built a variety of ships, including a 40,000-dwt product tanker, 1,900-TEU container vessel, 14,300-dwt chemical tanker and a 37,000-dwt bulk carrier.
For free literature detailing the shipbuilding facilities and capabilities of any of the Korean shipyards detailed in this report, see the accompanying table.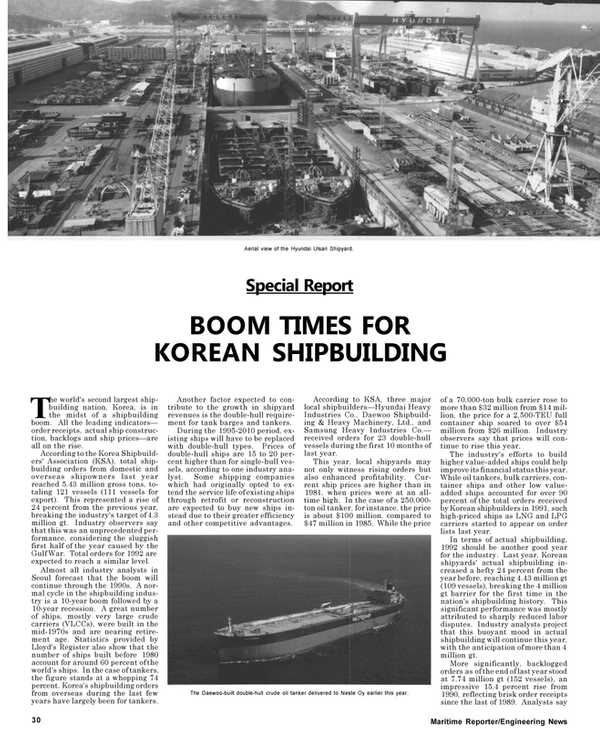 Read BOOM TIMES FOR KOREAN SHIPBUILDING in Pdf, Flash or Html5 edition of May 1992 Maritime Reporter
Other stories from May 1992 issue
Content