U.S. NAVY FY 1993
New Budget Proposes Over $23.3 Billion For New Ships, Repair & Ship Equipment Total Military, Government Maritime Spending Would Exceed $30 Billion Although scaled back, the new Fiscal Year (FY) 1993 U.S.
Navy budget, if approved, will offer a substantial number of market opportunities for U.S. shipbuilders and vessel repairers, ships, equipment suppliers and allied industry support firms. The FY 1993 budget proposes funding of $23.3 billion for the construction, conversion and repair of ships, procurement of ships' equipment and research, development, testing, and evaluation.
Furthermore, market opportunities could result from the President's proposed National Defense Sealift Fund (NDSF), which would be created for the purpose of acquiring and maintaining necessary sealift capability. If approved, the NDSF would initially start out with $3.1 billion in FY 1993.
Table 1—FY 1993 Navy Budget At A Glance New Ship Construction $5.32 billion Ship Repair & Modernization $3.55 billion RDT&E $8.52 billion Other Ship Equipment $5.86 billion Navy Total*— $23.25 billion Sealift Total-- $3.10 billion Coast Guard Total-- $3.72 billion MarAd Total- $0.31 billion TOTAL MILITARY, GOV'T $30+ BILLION *Note: Approximately 70 percent of Navy ship construction, ship repair and modernization funds are used by shipyards to purchase equipmentfrom outside suppliers. This amounts to approximately $6.2 billion for FY 1993.
Add to this the $5.86 billion proposed for other equipment, and the total Navy spending for ship equipment in FY 1993 is approximately $12.06 billion.
$5.32 Billion For New Ships The Navy Shipbuilding and Conversion (SCN) appropriation request of $5.32 billion in FY 1993 will fund six new construction ships. These ships include four Arleigh Burke Class guided missile destroyers (DDG-51) and two Osprey Class coastal minehunters (MHC-51). An advance procurement request of $832.2 million is also included for long-lead nuclear components in support of a replacement aircraft carrier planned for FY 1995.
The FY 1993 program includes $19.5 million for an oceanographic ship conversion program to convert retiring T-AGOS Class ships to fulfill oceanographic research requirements.
Additionally, advance procurement of $6.8 million and $30.4 million is included to support future refueling overhauls of CVNs and CGNs, respectively. The remaining $814.8 million primarily supports service craft, outfitting, and post delivery requirements.
Significant changes in the FY 1993 budget request from the FY 1992/FY 1993 Amended President's Budget submission include the deletion of one Seawolf Class attack submarine (SSN-21), one Dock Landing Ship, Cargo Variant, (LSD-CV), one ocean surveillance ship (TAGOS), and one oceanographic survey ship (T-AGS). These ships have been deleted in light of fiscal constraints and as a result of reevaluation of program requirements.
Due to the significant cost, complexity and the length of these type availabilities, the appropriation includes refueling overhauls of nuclear carriers and cruisers in order to reflect these availabilities as a major capital investment.
$3.6 Billion For Ship Repair & Maintenance Funded at $3.55 billion, the FY 1993 budget reflects a rebalancing of the overall ship maintenance program.
Ship Depot Level Repair funding decreases in FY 1993, as previously deferred maintenance and Desert Storm-related maintenance is completed during FY 1992.
FY 1993 funding supports 10 overhauls, including an extensive COH for the aircraft carrier USS John F.
Kennedy (CV-67), the overhaul of the ballistic missile submarine USS Ohio (SSBN-726) and the refueling overhaul of two Los Angeles Class submarines. Funding in FY 1993 also reflects the transfer of nuclear cruiser refueling funds from the Operation and Maintenance account to the Shipbuilding and Conversion account.
FY 1993 inactivation funding at $335 million includes the decommissioning funds for the retirement of the aircraft carrier USS Ranger (C V-61) and advance planning funding for the FY 1994 inactivation of the nuclear-powered cruiser USS Long Beach (CGN-9).
$8.52 Billion For RDT&E The appropriation request for Research, Development, Testing & Evaluation (RDT&E) is $8.52 billion in FY 1993. Part of the budget reflects an increase of $40 million as a result of the lessons learned from Operations Desert Shield/Desert Storm.
One significant program funded in the FY 1993 budget is the continued development of electric drive.
Program funding has been proposed at $99.2 million, a substantial jump over FY 1992's funding of $39.3 million.
Additionally, part of the $5.1 billion funding proposed for tactical programs includes the continued development of an advanced amphibious assault vehicle, electronic warfare systems, and a next generation submarine.
$5.9 Billion Requested For Ship Support Equipment The appropriation request of $5.86 billion in FY 1993 will fund the procurement of ship support equipment, communications and electronics equipment, aviation support equipment, ordnance support equipment, civil engineering, supply and command support equipment, and spares and repair parts.
The FY 1993 program includes Ships Support Equipment budgeted at $1.39 billion. Items procured in this budget activity include propulsion, safety and pollution control equipment, as well as design efforts associated with the modernization of Navy platforms. The most significant change from the FY 1992/FY 1993 Amended President's Budget is the transfer to the SCN appropriation of $17.7 million to procure components associated with the refueling of nuclear-powered surface ships.
Communication and electronics equipment is budgeted at $2.13 billion in FY 1993. This Budget Activity funds the procurement and installation of the latest communication systems such as the SHF Satcom ship terminal, as well as the improvement of current weapon systems. The budget also includes $62.9 million to support the multiyear procurement of the Enhanced Modular Signal Processor (EMSP). As a result of Operation Desert Storm, an increase of $30.7 million was budgeted for EHF satellite terminals for surface ships and submarines, bringing the total to $193.6 million.
$3.1 Billion In NDSF For Ship Acquisition, Maintenance A mobility requirements study recently forwarded to Congress identified the need for additional Roll-On/Roll-Off (RO/RO) vessels for prepositioning and surge shipping.
The study also recommended a further expansion of the Ready Reserve Force (RRF) through the acquisition of used ships or, alternatively, charter, build and charter, and military- useful features in new commercial ships or a combination of these programs. The NDSF would be used to obtain and maintain this capability, as well as additional sealift capability for force sustainment, primarily tankers and containerships.
Initial capitalization of the fund would be accomplished through the transfer of existing shipbuilding appropriations provided by the Congress for sealift totaling about $1.9 billion, as well as an additional $1.2 billion requested in the amended FY 1993 President's budget. Additional appropriations would be requested in future years.
The fund would fall under a cooperative management agreement between the Navy and the Maritime Administration.
At present, design contracts have been awarded to nine shipyards, and construction contracts may be awarded as early as the spring of 1993 whether the NSDF is authorized or not.
In a statement before a subcommittee of the House Armed Services Committee, Rear Adm. R.D.
Milligan, Director of Budget and Reports, Office of the Comptroller of the Navy, said, ". . . the creation of the National Defense Sealift Fund AT&T Contract For ASW Components Could Total $265 Million AT&T Federal Systems, Greensboro, N.C., has signed a contract with the U.S. Navy for additional production of its Enhanced Modular Signal Processor (EMSP). The new contract, which could total as much as $265 million over its fiveyear term, provides for the production of 150 EMSP machines which will be used in five major antisubmarine warfare (ASW) systems.
"This agreement represents a very major milestone in the life of the EMSP program, said Lawrence E. Hooker, director, AT&T Signal Processing Programs. "Built to the Navy's Standard Electronic Module Format E (SEM E) specifications, the EMSP will further enhance antisubmarine capabilities of Navy submarines, helicopters and surface ships." Signal processor computers are a will provide the necessary tools for the department to economically acquire and maintain necessary sealift capability over the long-term." Total Market: $30+ Billion In summing up, Navy ship construction, vessel repair and maintenance, ships equipment and research, development, testmgandevaluation will amount to over $26 billion. Combined with U.S.
Coast Guard and Maritime Administration appropriations of $3.72 billion and $312 million, respectively, total expenditures government and military-related maritime programs if approved would top $30 billion. Highlights of the Coast Guard and MarAd budget are detailed on page 71.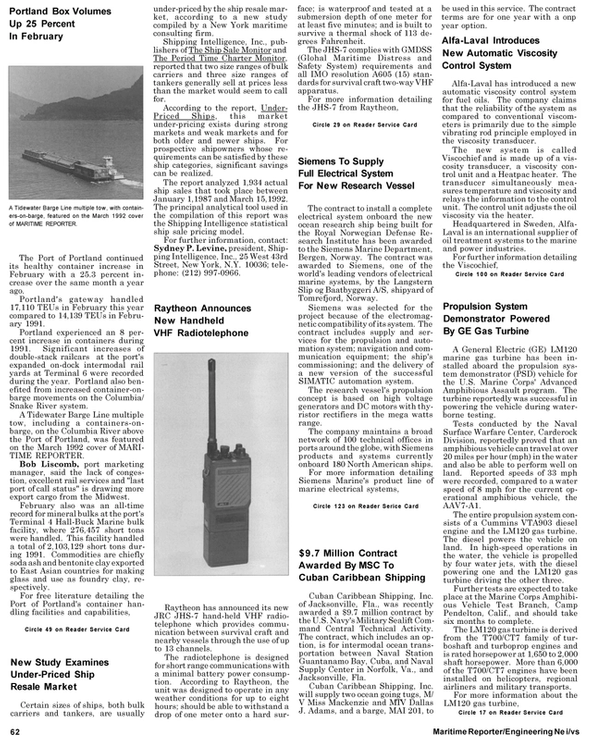 Read U.S. NAVY FY 1993 in Pdf, Flash or Html5 edition of May 1992 Maritime Reporter
Other stories from May 1992 issue
Content