Deep-Sea Towage, Salvage And Heavy-Lift Markets
The role of towage, salvage and heavy-lift within the shipping industry is not large, but its importance far outweighs its size and it embraces an impressive and diverse range of expertise. The individual markets have undergone major upheavals over the past ten years and are set for further change during the 1990s. All companies within the market sector have had to face up to painful rationalization in changing market conditions.
In a climate of rising operational costs and increasing economic discrimination each player is having to find new methods to secure a market position. Towage, for example, has lost part of its deep-sea market to heavy-lift vessels in some operational areas only to make gains elsewhere. New methods of handling heavy-lifts are proving more profitable, despite harsh trading conditions. Salvage, for its part, declared by some operators to be in crisis, continues to reward those bold enough to take an innovative approach.
Within a new report the technical aspects of tugs and heavy-lift vessels are concisely described and fleets analyzed by flag, age, and capability. The various market sectors of salvage, ship delivery, offshore cargoes and industrial cargoes are described, with the relationship between market sectors and vessels examined. An important section of the report details the trading positions occupied by more than 20 major companies.
The most political aspect of the industry relates to salvage, which has been subject to rising operational costs, fierce and growing competition, and static revenues.
Salvage is becoming more difficult, both technically and legally, and the whole topic of salvage is the subject of enquiries within the industry, both by representatives of the industry and by official organizations.
Public demand is for less maritime pollution (which appears to be more readily identified than landside pollution). Maritime pollution is now within the political arena and as a consequence a number of unilateral and international laws are encroaching on the industry without taking into account how the demands on the salvage companies are to be funded. Can local and offshore facilities be effectively organized and used for salvage purposes?
These and other problems of the industry are addressed with the report. The whole salvage industry seems to be bedevilled with such questions while it is often forgotten that good and effective work is done every day in saving ships and cargo by both large and small organizations. The outlook for the individual market sectors within the industry are examined.
Obviously, for the deepsea towage sector the inevitable upturn in scrapping will provide more work, but ship owners will strive to minimize the length of towage passages and in some instances may have to use semi-submersible vessels (SSHLVs) where there is danger of pollution. But despite better prospects for employment, there will continue to exist an oversupply of tugs, which is bad news for newbuilding, but tugs will be upgraded and modified for new roles.
Operators of heavy-lift vessels (HLVs) who are able to fit ships into liner or quasi-liner services will stand to prosper, and will build ships suitable for the services in question.
Salvage operators are awaiting the outcome of the enquiry into the whole state of the market instituted by the International Salvage Union (ISU). They are also looking towards decisions that might be forthcoming from IMO, the U.S.A.
and EC. While jealous of their independence, larger salvage operators are looking towards some form of financial help to assist with the high costs they face. Without such help it seems likely that there will be a continuation of the fall in investment that large salvage operators are prepared to make except where they see a good chance of a profitable return. It also seems inevitable that there will be an increase in official intervention and even of bureaucratic control in the light of the close connection of salvage with marine pollution control.
To order "Deep-Sea Tbwage, Salvage, And Heavy-Lift Markets" please contact: Drewry Shipping Consultants Ltd., 11 Heron Quay, London E14 4JF, England.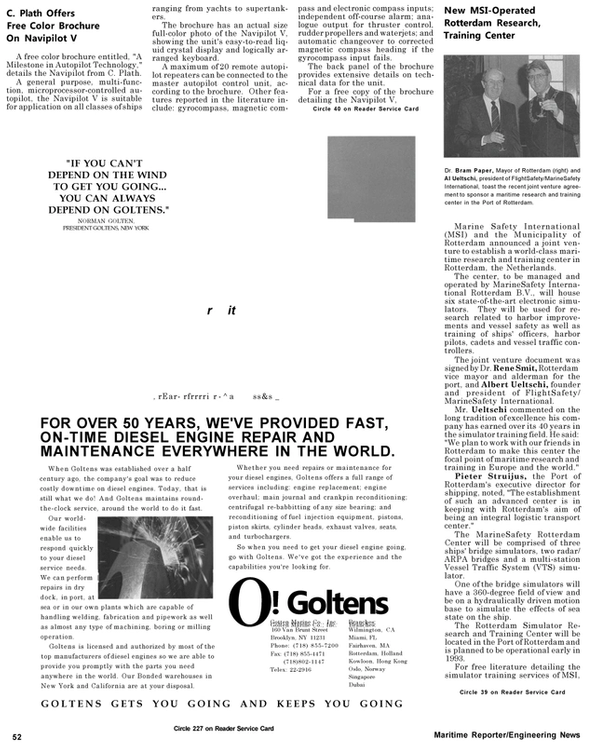 Read Deep-Sea Towage, Salvage And Heavy-Lift Markets in Pdf, Flash or Html5 edition of May 1992 Maritime Reporter
Other stories from May 1992 issue
Content