Overlay Finish For Fiber Ropes Improves Marine Performance
Military specifications for fiber ropes are now going to include a finish requirement to improve the rope's performance in the marine environment.
Where included in the specifications, rope manufacturers must use fibers with an overlay finish to ensure that their products provide superior performance in a marine environment, as compared, that is, to ropes made of fibers without an overlay finish. Major fiber producers and some manufacturers have developed these marine overlay finishes which generally include lubricants that are combined with other additives in proprietary formulas.
"Our SeaGardR over finish is an important part of improving the performance of cordage," said Earl B. Clark, regional sales manager, Allied Signal, Inc., Industrial Fibers Division. "We are continually striving to come up with the optimum fiber finish that rope manufacturers can translate into performance ropes.
"Furthermore, the government has recently recognized the success of an over finish on nylon and polyester ropes in the commercial fishing, pleasure and industrial marine areas. And, new government specifications are now being drawn up regarding all types of braided and twisted nylon and polyester ropes," he stated.
Another major producer of overlay finish products is E.I. Du Pontde Nemours & Co. (Inc.) Industrial Fibers, which offers these types of fibers as part of its "Performance Plus" line.
"Finishes have been one of the most important factors in the processibility and performance of synthetic fibers since their earliest days," said William Huffacker, account manager for the Wilmington, Delaware company's industrial products division.
"Du Pont is continually working to have available the right finish for the right application. In the case of fibers for many rope applications, it was determined that a secondary or overlay finish was very useful and such finishes have been a major factor in our portfolio of industrial fibers for over 20 years," he continued.
According to the data yielded by laboratory testing and actual marine applications, the specially treated fiber ropes can provide a significant increase in abrasion resistance, higher wet strength retention and longer overall life, when used in normal operations.
It is not possible, however, to establish a specific life cycle because there is a wide variety in the storage circumstances and conditions of use of fiber ropes used in marine operations. Because of this, requirements for a specific protection period are not being included in military specifications.
Marine overlay finishes are now available for use on high tenacity nylon, polyester and aramid fibers used in stranded, braided and wirelay type constructions. Rope manufacturers should be contacted for the physical properties of their ropes with these finishes, along with recommendations on working loads.
Manufacturers names are listed in the Cordage Institute Directory. To obtain a copy of the directory plus information from Allied Signal and Du Pont, Circle 111 on Reader Service Card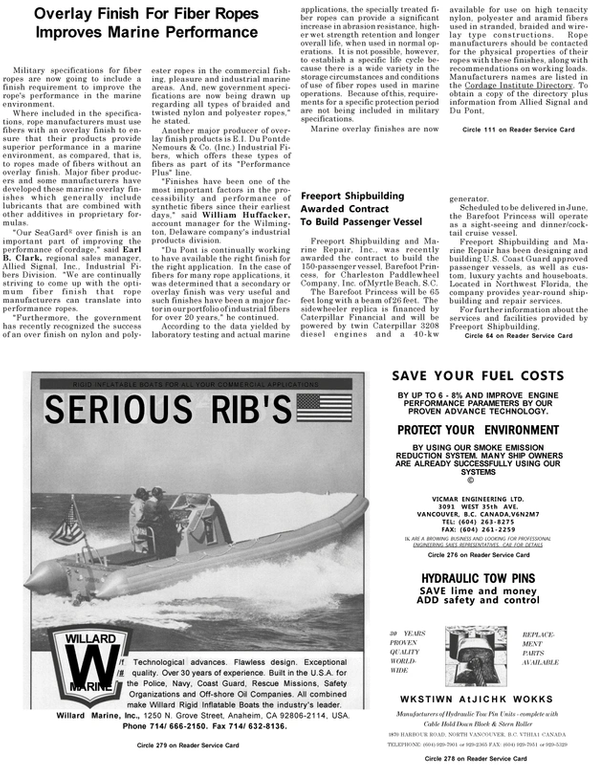 Read Overlay Finish For Fiber Ropes Improves Marine Performance in Pdf, Flash or Html5 edition of May 1992 Maritime Reporter
Other stories from May 1992 issue
Content